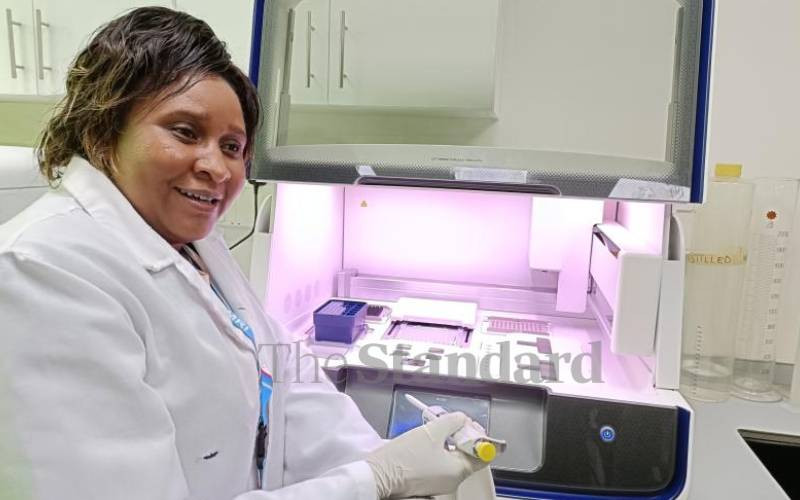 Kenya Medical Research Institute (Kemri) has launched its first stem cell regenerative laboratory.
The laboratory one of its kind in sub-Saharan Africa, is set to foster ongoing and future cutting-edge, research in revolutionary stem cell research and treatment.
The laboratory has been equipped with equipment like Next Generation sequencer, cells sorter, cell imager, biosafety chamber, carbon dioxide incubator, a freezer, a liquid nitrogen tank, a centrifuge, a PCR machine, a cell counter, and a medical refrigerator that are vital in stem cell harvesting and treatment.
Stem cells are young cells, undifferentiated, and they have not decided what they would be, bearing in mind the blood has different types of cells.
Stem cells are harvested by drawing the blood from a donor or a patient to a machine that spins the blood and creates layers. One of the layers is stem cell layers, while the other layers are other blood cells that are separated according to density.
The lab construction started in 2020 with the help of the National Research Fund (NRF) which contributed Sh77.2 Million to the establishment of the fund.
The lab is said to be a game changer in research and coming up with treatment, especially when it comes to tackling noncommunicable diseases like cancer and diabetes, cardiovascular diseases, road accident injuries, burns, oral diseases, and eye and dental diseases.
"We are seeing the prevalence of non-communicable diseases, which are strikingly disproportionate and we have seen an increase in prevalence and mortality and forming a major threat in sustainable development goals, and as such, the stem cell therapy regenerative medicine will play a big role in coming up with solutions." Says Prof Dickson Andala, CEO of NRF.
The unit is set to also create a database of information sharing of stem cell research,
"The unit will also spearhead training of postgraduate students, and research scientists in the field of stem cell regenerative medicine and establish a repository of stem cells in Kenya," Prof Andala said.
Most Kenyan patients in need of stem cell therapy, often visit countries like India, South Africa, Germany, and the USA, but now the knowledge on stem cell regenerative medicine will be explored in the country.
According to NRF chairman, Prof Ratemo Michieka, the availability of stem cell research in Kenya will spearhead drug, and vaccine development, strengthening existing research and tackling infectious diseases.
"We can use research such as this to create employment and engage the youth, productively."
Kemri is one of the institutions identified by the government to anchor Kenya's emerging biotech industry in response to the focus on local manufacturing of medical products. The institution also has a training institute offering biomanufacturing courses, According to the CEO of Kemri Prof Elijah Songok the inclusion of stem cell technology in their database is a milestone they have achieved.
"Stem cell research shall enable us to develop new therapies to regenerate repair tissues that have been damaged or affected by diseases or accidents," Prof Songok said.
It is approximated that almost 50 per cent of inpatient admissions in Kenya at the moment are noncommunicable and cardiovascular diseases and therefore a new approach to prevention, diagnosis, and treatment of such diseases is needed.
"As research scientists, we believe stem cell research will increase deeper understanding of how diseases occur and how best we can tackle them," said Kemri board chair Dr Abdullahi Ali Ibrahim.
Though the lab will not be accessible for general use only for research, the management of Kemri says, if they get extra funding they will be able to fast-track stem cell research and therapies that Kenyans are in dire need of.
Related Topics