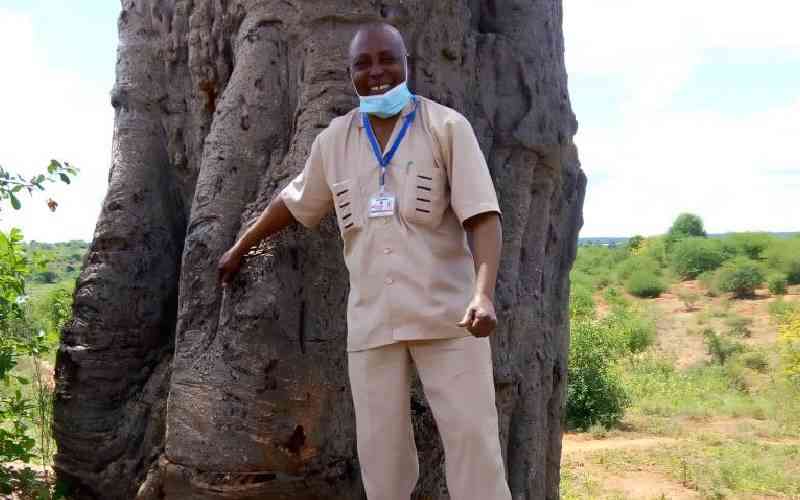 For Martin Musyoka, now 61, surviving two episodes of tuberculosis is something that he joyfully recounts.
"It was back in 2000 when my health changed abruptly. I started having unusual feelings like a sharp pain in my chest and a bad cough. Friends advised me to drink the yolk of a raw egg and certain herbs. After some days, the symptoms got worse. I decided to visit a health facility," Mr Musyoka recalls.
"When I explained how I was feeling to medics, they took samples of my saliva for tests. After an hour of waiting, they told me that I had tested positive for tuberculosis," he says.
According to the World Health Organisation (WHO), tuberculosis (TB) is an infectious disease spread through droplets in the air containing bacteria called Mycobacteria Tuberculosis. It affects the lungs mainly but can affect any part of the body except the teeth, nails and hair.
According to Dr Andrew Owuor, a chest specialist/pulmonologist at Kenyatta National Hospital, the signs and symptoms of TB will depend on the part of the body that is affected.
"For pulmonary TB (affecting the lungs), which is the most common form, the symptoms are fever, unexplained weight loss, excessive night sweating, chronic cough and coughing blood," Dr Awuor says.
Tormenting symptoms
After Mr Musyoka was found to be TB positive, medics prescribed drugs which they explained were to silence the underlying tormenting symptoms he was experiencing.
"Having TB can affect your productive life negatively. I remember when I was infected with this disease, I was unable to do strenuous work or walk long distances. Speaking audibly was cumbersome, so I would stay silent most of the time, " says Mr Musyoka.
To Mr Musyoka, tuberculosis was a disease he never thought would affect him. Unknown to him, the disease affects millions of people worldwide.
According to the World Health Organisation, 10.6 million people fell ill with this disease globally in 2021 where 6 million were men, 3.4 million were women and 1.2 million children, making the disease the thirteenth leading cause of death and second leading infectious disease after Covid-19.
In Kenya, according to the Ministry of Health, 9,0841 TB cases were reported in 2022, compared to 77,854 cases in 2021.
Mr Musyoka says when medics told him he had tuberculosis, he was sure he was going to die. "I had the notion that when you got infected with TB, the disease was sure to kill you," he says.
Despite his fears, Mr Musyoka took the drugs as prescribed. Gradually, the symptoms reduced and eventually disappeared.
After treatment, Mr Musyoka went on with his life. Years went by and he tried to forget everything that had happened to him. However, after 9 years, he experienced the same symptoms.
Shocking results
"In 2009, I had a bad cough that lasted three weeks. I had the same sharp pain in my chest and there was the emergence of new symptoms like a sharp loss of weight and sleepless nights.
"I went to a facility to get to find out what was ailing me. I had a clue that maybe it was TB but to be sure, I was tested and the results showed I was TB positive. It was a shock for me but medics explained to me that if someone was once infected with this contagious bacteria once, it was very easy to get it again, " he narrates.
After Mr Musyoka tested positive for TB for the second time, a doctor prescribed drugs that he was to take for the next eight months, alongside 56 injections. He says he took the prescribed drugs and faithfully visited a health facility for each of the required injections. Within 8 months, he was cured of TB.
Dr Onkar S Bhogal, a specialist in tropical and infectious diseases says that if someone gets TB for the second time, it could be a relapse (whereby a patient does not finish the TB medication course and the infection flares up again) or recurrence whereby the first TB infection is cleared and a patient gets a new TB infection.
"Injectable TB medication is needed for people who have a multi-drug resistant form of the infection where a treatment regime of second-line drugs are used that include medications that are given via injections, " Dr Bhogal says.
Since his recovery, Mr Musyoka has been creating awareness about TB with the aim of saving lives.
"I always attend chief's barazas to educate the community more about TB, telling my story about how I got TB twice and survived. I know I have educated thousands of people on facts surrounding this disease, " Mr Musyoka says. "I call upon everyone who regards this disease as a death sentence to stop immediately, " he says.
"What is good about TB treatment is it is fully sponsored by the government so there are no expenses to patients. It's only walking from your home to a facility that's all, " Mr Musyoka says.
According to Dr Bhogal, strategies to help prevent TB infection include getting the BCG vaccine (80 per cent effective in preventing TB for 15 years limited efficacy in people above the age of 35 years), early diagnosis which prevents the spread of TB as treatment for 2 weeks makes one non-infectious, good ventilation since areas with poor ventilation can leave TB suspended in the air for several hours.
He adds that direct sunlight, specifically UV light, kills TB bacteria. Cough etiquette (wearing face masks or covering the mouth when sneezing or coughing) also goes a long way in preventing the spread of the disease.
"Patient education is the most powerful tool for the prevention of TB. We must educate people about how TB is spread, what the symptoms are and that it is a treatable illness, " Dr Bhogal says.
He adds that some cultures regard TB as witchcraft or a curse on the family. It's also closely linked to other predicaments that have stigma attached to them (HIV infection, drug and alcohol abuse, homelessness, poverty).
"TB patients may be discriminated against and isolated socially, and even entire families may be shunned. This should stop. TB patients need love and support, " Dr Bhogal says.
According to Dr Bhogal, women are often blamed as the source of TB, and may be divorced or considered unworthy of marriage.
"The fear of discrimination delays seeking help, hence worsening the situation. This delay makes the patients sicker and increases the chances of spreading the infection, which in turn perpetuates the myth that it is the TB treatment that causes death, " he says.
"TB is a respiratory infection and can only be spread by being exposed to TB droplets in the air, it cannot spread by sharing cutlery, Dr Bhogal adds.
Related Topics