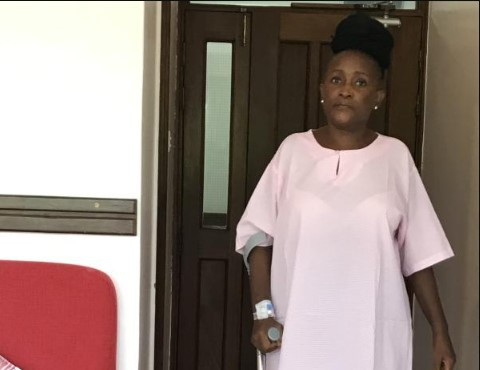 "I could not do anything on my own, the pain was too much that everything had to be done for me. Everything," says 52-year-old Wanjiku Wanjiku Wangari who underwent full hip replacement surgery to aid her walking.
We meet Wanjiku at a ward in Diani Beach Hospital, Kwale County, two days after her surgery.
The bubbly mother of four is dressed in a pink hospital gown with her eldest daughter Agnes Muthoni in tow, helping her when the need arises.
Wanjiku beams with excitement and hope after healing from the excruciating pain that almost crippled her.
In 2022, Wanjiku slipped and fell. She ignored the incident, failed to go to the hospital, and eventually, the pain disappeared. However, her health took a nose dive in February this year after she felt a sharp pain in her left thigh that compelled her to go in for assessment.
"I did not know my hip was broken, but after the X-ray, I was astonished. I think when I fell it cracked," she says.
The doctor advised Wanjiku to go for a full hip replacement. She decided to go back for the surgery after consulting her family and sourcing the funds.
"I am an independent person, I am so used to doing things on my own, but the pain made me feel helpless. If you'd left me somewhere, I could not move until someone came and helped. I thought I would never walk again, the pain would be so unbearable," she says as her voice breaks.
"Now I can move, much as I am still using the crutches but I can move, I feel like my old self."
Wanjiku says that after the surgery she was terrified when the doctor told her to make the first step. "But after making it, I just wanted to walk and keep walking. It felt amazing," she adds, mimicking how to walk while sited on the bed.
Now that she can walk again, Wanjiku says that all she wants to do is enjoy life. Her stitches will be removed after three weeks.
My children are my pillar of strength"My children would move me around and do everything for me, I am so grateful," she says.
Wanjiku's daughter, Agnes Muthoni, who has been at the hospital says that her mother had swollen feet for a while and when she started experiencing discomfort, she came back to the country and took her for a massage.
"We thought it was not a big deal until the pain became unbearable. We came here and we were given different options and the doctor advised us on what would best fit her," she said.
Muthoni says that she and her siblings were scared of losing their mother.
"Our Mum is everything to us and seeing her like that was heartbreaking. We were scared that she might lose the will to live. If you left her somewhere you would have to come back and move her. We did everything for her…taking her to the toilet, bathing her, everything. We knew she was stressed," said Muthoni.
Muthoni never expected her mother to walk a day after the surgery.
"For me, it's a miracle. The doctor said after the surgery it would take long but I never thought it would be that fast," she says.
Related Topics