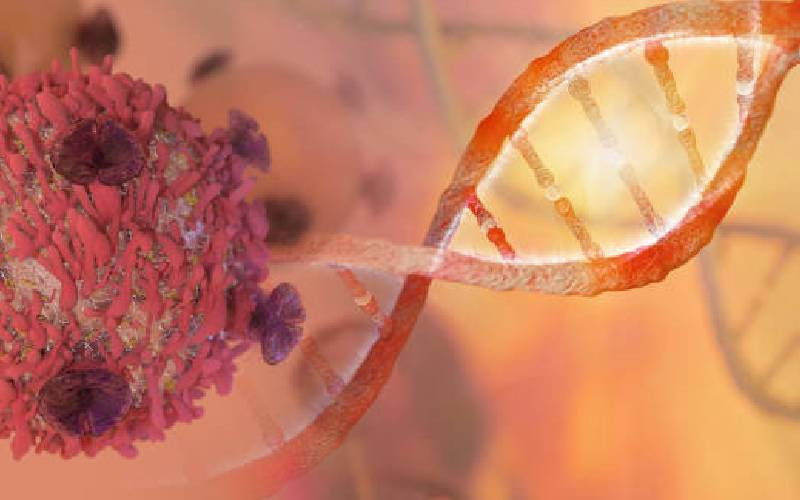 "We didn't understand until my father died of stomach cancer and that it was all genetic and frequent screening an only option to save my family," Eunice Mulehane narrates with tears in her eyes.
That was in 2017 and Eunice had just finished treatment for cancer of the cervix with major surgery to remove her womb.
The 48-year-old oncology nurse shares the pain of a family with a history of the scourge that has already claimed her father. Now, her sister is nursing breast cancer and her niece is suffering from cancer of the eye.
"It's not easy to see members of the family suffer from a slight pain. It sends a shiver down your spine at the thought that it could be cancer," she says.
According to Dr Mohammed Ezzi a lecturer at the University of Nairobi and a medical oncologist, there is a possibility that this is hereditary cancer that runs in family history.
Dr Ezzi explains that hereditary cancer is caused by mutations or changes to genes that control the way body cells function, causing them to behave irregularly making one susceptible to getting any type of cancer.
Families with hereditary cancer are not such a common occurrence; in a population of 500 cancer patients, there can only be three derived from a very strong family history.
He observes that there is a possibility for this family to have a hereditary type of cancer something in their genetic makeup that is predisposing them to get cancer.
"They might be living in an environment that is redisposing them to cancer or some toxins in the environment," Dr Ezzi said.
Eunice was the first in the family to be diagnosed in 2015 with cancer of the cervix at Stage Three. However, the pain started in 2013 with unpredictable bleeding spells which would last for two days and then stop.
It all started mild with a lack of balance on the left side of her body, but the pain persisted: "I arrived at work and lost balance completely, I fell down and suddenly started bleeding," she narrates.
This was the beginning of her suffering, which led to her husband abandoning her with four children.
As soon as Eunice sought medical care, she was advised to undergo screening at Moi Teaching and Referral Hospital (MTRH) where medics suspected that she had a physical injury in the cervix and uterus.
"It was clear that I had a problem but not as a result of physical injury," she recalls.
After a conversation with medics, they recommended a biopsy test the results showed she had cervical cancer and needed urgent surgery.
Eunice was admitted to the hospital and a biopsy was done. When the results came in two weeks the results showed she had Stage Two cervical cancer.
During this time, she was anemic as she had lost a lot of blood. However, the CT scan showed cancer had not spread.
Eunice had a carcinoma type of cancer and medics advised her to have surgery. Carcinoma is a type of cancer that starts in the cells that make up the skin or the tissue lining organs, such as the liver or kidneys.
"I ended up in ICU, everybody thought I wouldn't make it, even after tests showed some lymph nodes were still affected. I sank into depression," Eunice says.
However last year, Eunice's ovaries were also removed as they were swelling. with fears that they could be malignant.
"I went through another major surgery. Luckily, it was not cancerous," Eunice says.
Eunice says that around the same time, her father kept complaining about a stomachache but it took time before he was diagnosed with cancer which was at Stage Four.
Eunice's sister had her breast removed after a cancer diagnosis. However, another growth has appeared at the site where the breast was removed.
Her niece also went through surgery to remove her eye.
Dr Ezzi says the most common inherited cancers are breast cancer, ovarian cancer, gastric cancer and prostate cancer.
Eunice and her family still wonder if this can be averted and so cancer does not affect any other family member. According to Dr Ezzi, such a family must undergo genetic counseling.
In the counselling, specialists explain what genetic mutations mean and their implications and what can be done about them since genetic mutations cannot be changed.
After that, specialists carry out oncogenic gene therapy to identify a gene that is redisposing the family to getting cancers.
Dr Ezzi the oncogenic gene therapy process is very expensive samples are taken in private laboratories and sent to Europe and the United Kingdom for testing.
"We have seen a number of labs in Africa coming up with ways to carry out oncogenic genes testing," he stated.
DrEzzi says hereditary cancer is diagnosed when close family members are developing cancer: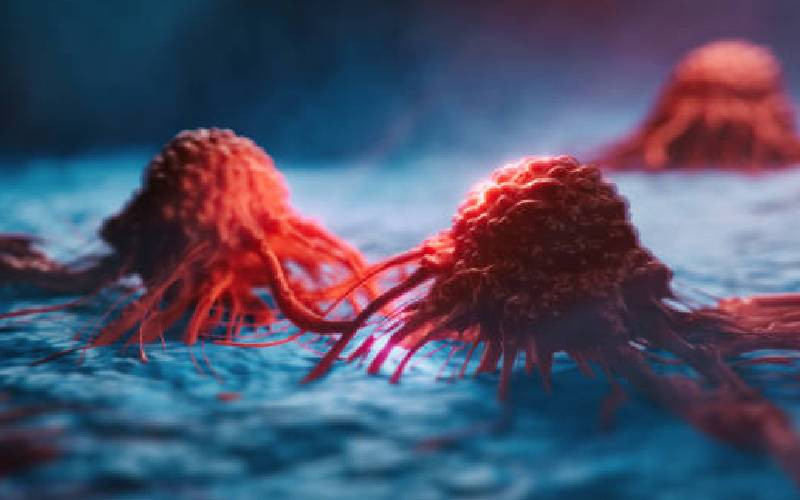 "When we see a very strong family history of cancer, especially in the first-degree relatives, we suspect there must be a hereditary problem," notes Dr Ezzi.
In most cases, when patients visit hospitals, they are interrogated. If the family has a history of cancer in most cases family gets screened for breast or ovarian cancers.
He advises such families to undergo early screening and more regularly, which could be yearly, to give them chance to get early diagnosis and treatment.
Research carried out by the Aga Khan University in 2010 titled, 'Familial Clustering of Cancer in Two Tertiary Care Hospitals in Nairobi, Kenya' found the prevalence of family history of cancer in the Kenyan population to be 18.8 percent and was highest among first-degree relatives. The study recommended that this has implications for targeted screening and therefore early diagnosis which is beneficial.
The study, which describes the occurrence of cancers in families of individuals diagnosed with cancer, was carried out at the Outpatient Cancer Clinics at Kenyatta National Hospital (KNH) and Radiotherapy Clinic at Nairobi Hospital.
It involved patients with a tissue histological or cytological diagnosis of cancer. A total number of 485 cancer patients were recruited, 382, from KNH and 103 from Nairobi Hospital.
These index cases had 45 different types of cancer, with the most common being breast and uterine-cervical malignancies.
Documentary evidence was seen in 48.4 per cent and the history of cancer was corroborated by medical personnel in an additional 11 percent in 18.7 percent of cases more than one relative was interviewed to confirm the family history of cancer.
Educational levels of the index cases correlated with knowledge of the family history of cancer, with those of higher educational level have been more informed about their families' medical history.
There was a prevalence of familial cancers of 30 per cent at Nairobi Hospital patients and 15.7 per cent at KNH patients.
Another oncologist at Jaramogi Oginga Odinga Teaching and Referral hospital (JOOTRH), Dr Lillac Wattanga acknowledges that epidemiological surveys indicate that patients with certain cancers often have a family history of cancer.
She explains familial cancers with clear patterns of mendelian inheritance are very rare. However, in the past decade, many genes responsible for these rare disorders have been identified.
"The cancer genes' inheritance patterns are associated with specific family cancer syndromes with two or more patterns," she stated.
She says there is a need for improved education among Kenyan cancer survivors about genetics. With a better understanding of genetics through tailored education in support groups, patient-oriented genetic testing and counseling could be introduced in Kenya in the near future.
Related Topics