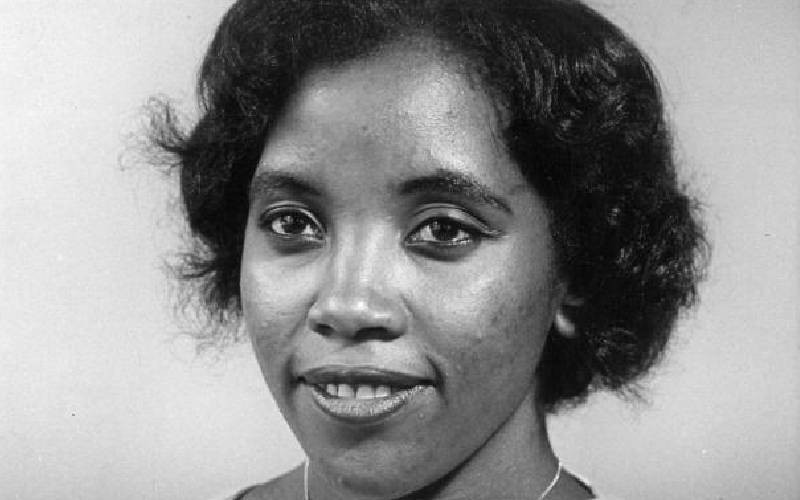 Dr Ng'endo Mwangi was Kenya's first female physician when the country relied on a few missionary health facilities and traditional healers. It was normal to give birth at home and in areas like Ukambani, many girls named Nzilani and boys named Mwanzia were born en route to far-flung hospitals.
The names mean 'by the roadside' which is today, uncommon owing to the expansion in the road network and the number of health facilities since independence in 1963.
Indeed, Dr Mwangi returned to Kenya after graduating from After Smith College in Northampton, Massachusetts Class of 1961.
The woman from Kinoo, Kiambu County, was the first black African woman student at Smith College, then one of America's largest women's colleges, before proceeding to the Albert Einstein College of Medicine in New York.
After a stint at the Kenyatta National Hospital, she opened a community clinic in dusty Athi River in present-day Machakos County where patients walked more than 80 kilometres to receive medical treatment for their diarrhoea, TB, malaria, polio, chicken pox, measles and tetanus.
There were countless challenges: no electricity, just one external tap for water supply and poor patients left her in financial constraints she wrote in the Smith Alumni Quarterly in 1986 while marking the 25th reunion.
She continued to note that her patients were mostly poor rural pastoral folk who came from an area that is "dry with an annual rainfall of 22 inches. Drought and famine are frequent features...the Maasai are nomadic, migrating with their herds which overgraze causing desertification....my clinic is no longer adequate. A bigger, better clinic with more doctors is needed," she wrote, seeking assistance. "I am working on this and would like to inform you of development that has taken place since my reunion in 1986."
She only had four staffers but went on to open a second clinic named Reto Medical Centre in Sultan Hamud.
Reto is Maasai word meaning "help yourself so that you can be helped" but the second clinic was merged with the first in Athi River for logistical reasons.
Dr Mwangi oversaw the expansion of Reto to have a mobile clinic, a base clinic and a 50-bed facility as she underwent chemotherapy herself.
Dr Ng'endo Mwangi received an Honorary Degree from Smith College in 1987, but two years later succumbed to breast cancer.
Such was the spirit of Kenya's pioneer, homespun professionals when Kenya's three biggest challenges were poverty, ignorance and disease-which needed trained medics-before independence came calling.
It so happened that nationalists Tom Mboya and Dr Gikonyo Kiano teamed up with Robert F Stephens, a cultural attache at the American Embassy in Nairobi where interviews for the famous Kennedy Educational Air Lifts were conducted and took place between 1959 and 1963.
The Air Lifts irrevocably reshaped the country as Stephens' notes in his book, Kenyan Student Air Lifts to America
The Air Lifts were scholarships bankrolled by the Kennedy Family, with the help of civil rights crusader Dr Martin Luther King Jr and musician Harry Belafonte.
The graduating students returned to Kenya to replace the departing colonialists from the civil service, industry, politics and other spheres of Kenyan life.
Dr Mwangi was a beneficiary of the Air Lifts that saw over 3000 of Kenya's brightest students, irrespective of ethnicity, earn an American university education.
The Mwangi Cultural Centre was opened at Smith College in her honour in 1973. Her daughter, Prof Wambui Mwangi, also attended Smith College where she delivered a keynote address during the dedication of the Afro-American cultural centre after its relocation to a larger space in 2005.
Smith students wrote: "We, the Smith students of today, owe Mwangi a great debt for being one of the vanguard of women who broke down racial and gender barriers, thereby making our progress a little easier."
Related Topics