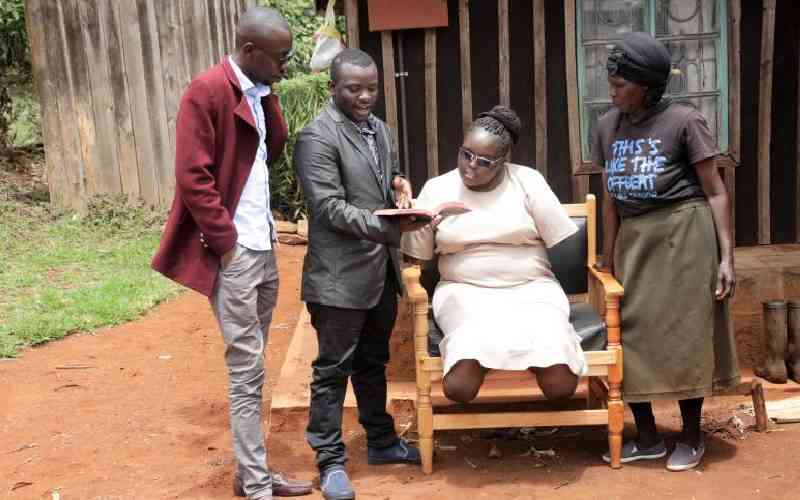 Leah Mukami has always wanted to be a paramedic with a focus on clinical practice, education, leadership, and research.
This was due to the fact that she was exposed to suffering as a result of a medical condition at the tender age of 10.
She could get patchy bald spots on her head that would later turn into wounds, her lips would blacken, and she'd get tonsillitis.
Her condition could deteriorate at any time if her mother stopped transporting her to the hospital.
Despite being in and out of the hospital, Mukami, now 25, earned 296 points in her admission to Kabiruini Girls' School, but she attended Gikumbo Day School because her family could not afford to send her to the boarding school. This was in 2011.
Her medical condition worsened while she was in Form Two when she was taken to the hospital and diagnosed with pneumonia.
Every time she went to the hospital, she was given medication for her skin condition, vitiligo, and tonsillitis, but her condition deteriorated despite being treated for Pneumonia.
She was later referred to a rheumatologist, who diagnosed her with Lupus (a disease in which the immune system of your body attacks your own tissues and organs).
This came after she experienced severe muscle pain, anaemia, fatigue, fever, joint pain, stiffness, and swelling.
"Despite having registered for KCSE, I did not take the exams, but the papers were delivered to my empty desk. By this time, my eyes had been operated on because doctors said there was internal bleeding," Mukami recalled.
Her mind juggled how she could repeat Form Four and sit her exams to fulfil her dreams as she continued to seek medical attention.
Mukami had to learn to live with the pain that had become a part of her life once she realised this. In 2019, however, she was able to sit the KCSE exam.
"Even though I didn't perform well, I knew the grade would get me somewhere," Mukami says at their home in Kirima village, Mathira constituency.
On October 23, Mukami awoke hoping to accompany her mother to her job of picking tea, but her legs couldn't move and her hands became numb. She was taken to Kenyatta National Hospital during a strike, which meant she would have to wait longer to be examined.
She lost one of her legs while waiting to be attended to after it rotted. Worse was yet to come: when the doctors arrived, they recommended that her other leg and both hands be amputated.
"It was the worst nightmare of my life; I couldn't imagine living without walking, washing, feeding myself, going to the toilet, and picking tea to help my mother support the family," Mukami said.
Since one of the vital nerves was affected, she had no choice but to consent to the surgery, which resulted in a partial loss of hearing.
"I thought the condition would derail my plans to become a paramedic, but I learned to accept and appreciate my new self. I am determined to follow the doctors' advice to manage my condition," Mukami said.
She adds that she has no regrets because she is no longer in pain as a result of the operation. Mukami came to accept that the operation was what she needed to get rid of the pain she'd been living with.
"Although I feel that if I had been diagnosed with Lupus disease at a tender age, I would not have lost all hands and legs."
Her new status changed everything for her, from her diet to living with diapers on a monthly basis and taking drugs that cost an estimated Sh20,000. "I now depend on my mother to feed me, to dress me up, and to hold the Bible for me to read verses," said Mukami.
Mukami's main motivation is that the amputation has restored her joy and rekindled her desire to continue her studies, which will allow her to pursue her dream course.
Her mother Margaret Wangui says Mukami is her last-born daughter in a family of eight. She said she divides her day between caring for her and doing casual labour to put food on the table.
"I look for tea picking jobs in nearby farms so that I get time to check on my daughter about three to five times a day. Although this affects my productivity and wages, she is all that matters to me," said Wangui.
Related Topics