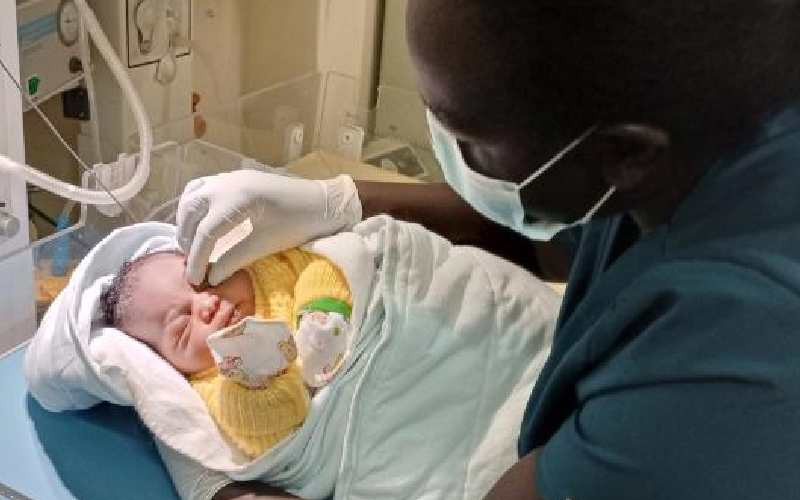 Caroline Kirui, a nurse at the Uasin Gishu County Hospital, cleans the eyes of the newborns and trains mothers how to do it. Checking their eyes is good for early diagnosis of retinoblastoma - cancer of the eye - whose signs include glittery pupils and squinted look.
Eye cancer is called retinoblastoma and at the clinics, mothers are also trained to look for any swelling, reddening, or protruding sockets and have their children referred for examination and treatment.
"Cancer of the eye is ignored, yet it causes blindness and death in children," says Kirui.
Dr Festus Njuguna, a paediatric oncologist at the Moi Teaching and Referral Hospital (MTRH) says retinoblastoma affects children mostly below five, leading to loss of vision and life, if not treated well.
During diagnosis, a doctor examined the back of the eye, through the pupil and retina, to observe the tumor in the eye as retinoblastoma arises from the retina.
Dr Hillary Rono, an ophthalmologist in Trans Nzoia County, says retinoblastoma is either hereditary or sporadic. Unlike inherited ones, sporadic cancer tends to be more aggressive and requires early attention.
Dr Njuguna says children diagnosed with retinoblastoma can undergo laser therapy, whereby high-energy lights are shone on cancer to freeze and kill cancer cells.
Laser therapy is done when the tumor is small. Chemotherapy can be used together with laser therapy.
But when the tumor is bigger, and the eye is bulging with white reflects, a patient has to undergo surgery (removal of the entire eye), which is combined with therapy.
Bigger tumors are also not controlled by chemotherapy or laser therapy.
"If the cancer is not removed at an advanced stage, even if patients are given chemotherapy alone, it will not kill all the cancer cells," says the oncologist.
If the tumor is not removed, cancer spreads to the brain, and since the brain is within limited space, as the tumor grows, pressure increases, causing death.
An enlarged tumor is dangerous if it is not removed and most times at such a stage patients have already lost their vision "and it is dangerous as it can cause cancer cells to continue spreading, risking their lives," says Dr Njuguna, adding that cancer can be treated if diagnosed early.
MTRH receives an average of two cases every month and all end in the removal of eyes as they report when in advanced stages.
Ruth Akiru's 12-year-old daughter, Lucy Alimlim, found herself in such a predicament, having been diagnosed at six months at the Nakuru Level Five Hospital
Initially, Ruth assumed it was a normal eye deformity and she recalls how "my daughter had a small whitish spot only to be told the eye had cancer" on her left eye.
Both eyes were enucleated at Kenyatta National Hospital and placed on chemo.
Despite Lucy being on treatment, the family faces stigma as most people link cancer to bad omen. Ruth was forced to sell her parcel of land in Naivasha and other properties to afford treatment and "I am living in abject poverty because of cancer".
Ruth calls on the government to supply cancer screening kits to remote villages and conduct civic education on cancer of the eyes to enable for earlier diagnosis.
"Eye healthcare has been integrated into maternal and child healthcare services and I encourage mothers to be keen on their children's eyes, and when they notice anything abnormal, they should raise an alarm and visit a specialist," says Dr Rono.
He adds that Kenya has a shortage of eye specialists, but continuous medical education of healthcare workers through seminars helps, lack of awareness by parents and healthcare providers has been the main hitch in diagnosis.
"Goal of any cancer treatment is to save a life, save the eye, and save sight. This can only be attained with early detection, referral and treatment," says Dr Rono, adding that by 2007, only 30 per cent of retinoblastoma cases lived up to the fifth year, but today the cases have gone up to at least 70 per cent, with a number healing from cancer of the eye.
Among measures adopted includes enhancing collaboration between the maternity and child-friendly department through the National Guidelines for Retinoblastoma developed in 2019.
"It is so traumatising to witness a child's eye removed when it can be treated," says Dr Rono.
Related Topics