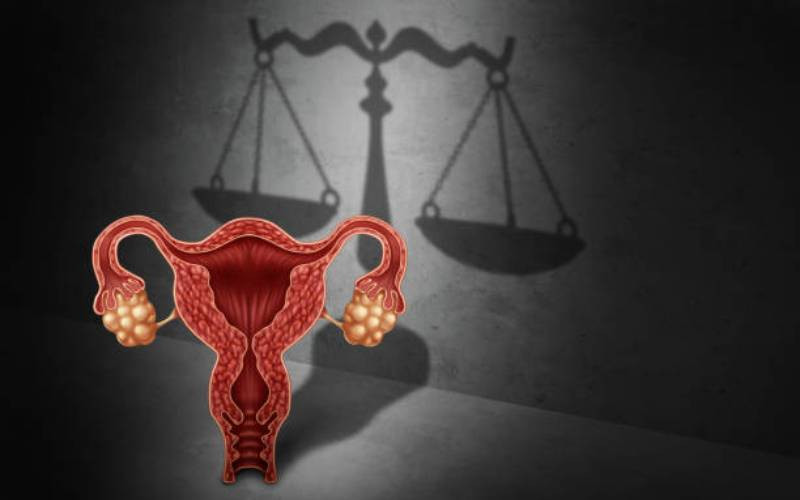 A judgement in the US that ended the right to abortion has thrust two Kenyan cases into the limelight.
The US Supreme Court, last month, reversed Roe v. Wade, declaring that the constitutional right to abortion, upheld for nearly a half a century, no longer exists.
In March this year, Justice Reuben Nyakundi found there are gaps in the law on terminating pregnancies that need to be sealed instead of criminalising the entire act.
He relied on among others the 1973 Roe vs Wade judgement to find that access to abortion achieves vital constitutional values, including dignity, autonomy, equality and integrity.
Section 158 of the Penal Code states that a person who, with intent to procure miscarriage of a woman, whether she is or is not with child, unlawfully administers to her or causes her to take any poison or other noxious thing, or uses any force of any kind, or uses any other means whatever, is guilty of a felony and is liable to imprisonment for fourteen years.
Section 159 provides that any woman who, being with child, with intent to procure her own miscarriage, unlawfully administers to herself any poison or other noxious thing, or uses any force of any kind, or uses any other means whatever, or permits any such thing or means to be administered or used to her, is guilty of a felony and is liable to imprisonment for seven years.
Section 160 provides that any person who unlawfully supplies to or procures for any person anything whatever, knowing that it is intended to be unlawfully used to procure the miscarriage of a woman whether she is or is not with child, is guilty of a felony and is liable to imprisonment for three years.
Director of Public Prosecutions Noordin Haji and Kenya Christian Professionals Forum (KCPF) criticised Justice Nyakundi for finding that Sections 158, 159 & 160 of the Penal Code are inconsistent with the Constitution and filed an appeal.
Justice Nyakundi's verdict stemmed from a case where a teenage girl named PAK from Ganze location, Kilifi County, and Salim Mohammed, a clinician, had been charged with procuring an abortion.
"Take notice that the second respondent herein the Office of the Director of Public Prosecutions being dissatisfied with the decision/judgement of the court delivered on March 25, this year by Justice Reuben Nyakundi intends to appeal the judgement," DPP's notice of appeal reads in part.
Lawyer Charles Kanjama has also filed his notice of appeal against Justice Nyakundi's judgement on behalf of KCPF.
In the Kilifi case, PAK became pregnant after sexual intercourse with a fellow student.
The court heard that upon experiencing complications with her pregnancy, she went for treatment on September 19, 2019.
She was in severe pain and bleeding.
Emergency care
At the Clinic PAK received emergency care from Mohammed who upon examining her concluded that she had suffered a spontaneous abortion. Miscarriage is synonym to spontaneous abortion.
Justice Nyakundi heard that Mohammed performed a successful manual vacuum evacuation, after which PAK was in fair general condition.
With mild lower abdominal pain, PAK was then allowed to return to the female ward to recuperate.
According to court documents, Mohammed is a registered Clinical Officer with the Clinical Officers' Council.
He holds a Diploma in Clinical Medicine and Surgery from the Kenya Medical Training College.
The police thereafter stormed the clinic and demanded to be given PAK's treatment records.
PAK, Mohammed together with two female employees who worked at the clinic as cleaners were arrested and taken to Ganze Police Patrol Base.
The Police officer at Ganze Police Patrol Base made PAK sign a statement written by the inquiring Police officer.
On September 22, 2019 PAK underwent a medical examination at Kilifi County Hospital where a medical examination form was filled out.
The police then pressed charges against her and the doctor.
Concurrent with the criminal charges against PAK, the children's officer in charge of Ganze Sub-County made an application to send PAK to a children's home from September 23, 2019 to October 23, 2019.
The two sued Attorney General Kihara Kariuki, Haji, Inspector General of Police Hilary Mutyambai and the magistrates court.
They argued that arresting and prosecuting women seeking abortion care services from a trained health professional and arresting and prosecuting a trained health professional providing abortion care, as provided in the Constitution, the Health Act, 2017 and the Sexual Offences Act, 2006 is unlawful and a violation of the constitution.
The AG, IG and the magistrates court urged the court to dismiss the case. They argued that the intention of Article 26 (4) was to make abortion illegal save for instances when in the opinion of a qualified health practitioner, the life of the mother is in danger or that there is need for emergency treatment or where permitted by any other written law.
According to them, human life begins at conception, and that abortion is prohibited under Article 26(4] and sections 158-160 of the Penal Code.
"They have failed to demonstrate that the process within which the Legislature used to enact the legislation was unconstitutional or was flawed," the AG replied on behalf of IG and the lawyer court.
He continued: "No attempt whatsoever has been made to demonstrate that the parliament in enacting the Penal Code and specifically the Sections claimed to be unconstitutional failed to follow the due process."
The DPP on the other hand argued that having perused the police file, he noted that an offence had been committed a crime. He asserted PAK's statement had not been procured using torture or undue influence.
"The statement does not amount to a confession and cannot be adduced as evidence by the petitioners. It simply informed the third respondent on what to further investigate," he stated.
A second appeal against a five-judge bench verdict reinstating 2012 safe abortion guidelines is before the Court of Appeal.
Outlawed sections of Penal Code
The appeal by KCPF is against Federation of Women Lawyers (Fida-Kenya), a minor named JMM, Attorney General Kihara Kariuki, Director of Medical Services, East Africa Centre for law and Justice, Catholic Doctors Association, John Mbugua, Article 19 East Africa, Physicians for Humans Rights, Women Link Worldwide, National Gender and Equality Commission (NGEC) and Kenya National Commission on Human Rights (KNHCR).
Justices Lydiah Achode, Mumbi Ngugi, Aggrey Muchelule, George Odunga and John Mativo outlawed sections of Penal Code which made it criminal to offer abortion, saying that it offered 'blanket' limitation to women rights to health.
While faulting the five, KCPF in its appeal argues that the judges erred by finding that abortion is a right without finding that an unborn child has a right to life too. "The learned judges erred in law by wrongly applying the doctrine of progressive interpretation of the Constitution to paradoxically narrow and threaten the basic human right, the right to life," KCPF court papers read in part.
In their June 2019 verdict, the five judges said that a woman or a girl who is raped and whose life and health, which includes mental, physical and social well-being are in danger can abort.
"The Penal Code and Sexual offences Act prohibits abortion. These Acts predates the Constitution. Hence the Constitution takes precedent. The apparent blanket prohibition of abortion in the penal code cannot stand while the Constitution gives the right to a woman to abort when their life and health are in danger," the judges ruled.
The court made its finding in a case where a 14-year-old girl named JMM procured unsafe abortion in a backstreet facility, after which she ended up in a Kisii County Hospital which failed to offer post abortion to her.
The court found that the hospital abdicated its duty of care to her and ordered that it should, alongside the Health ministry pay Sh3 million for pain and damage.
On February 24, 2014, the director of medical services issued a memo banning all healthcare workers from participating in any training on safe abortion. This meant that pregnancies resulting from rape, incest and defilement could not be legally terminated.
He also banned the use of an abortion drug - Medabon - which is a combination of two other drugs (Mifepristone and Misoprostol), also used in abortion.
The verdict, it was argued, opened doors for all those qualified in the medical field, besides doctors, to offer abortion and post abortion care. In addition, it opened doors for medical training institution to offer abortion as a part of the course.
The case split doctors in the middle.
In the case, Joseph Karanja, a former obstetrician and gynaecologist, said he did not believe that an unborn child was a human being.
Although the Constitution provides that life begins at conception, the doctor told the court that it starts the moment one is born.
"A person becomes a person when they are born. No woman is forced to undergo abortion," he said
"We are pro-life but if one has to be saved then the life of a woman is more important as the baby relies on the mother," he said when asked whether he advocated saving lives.
According to the doctor, between 10 and 15 abortions are procured at a public hospital on referral every day.
[email protected]
Related Topics