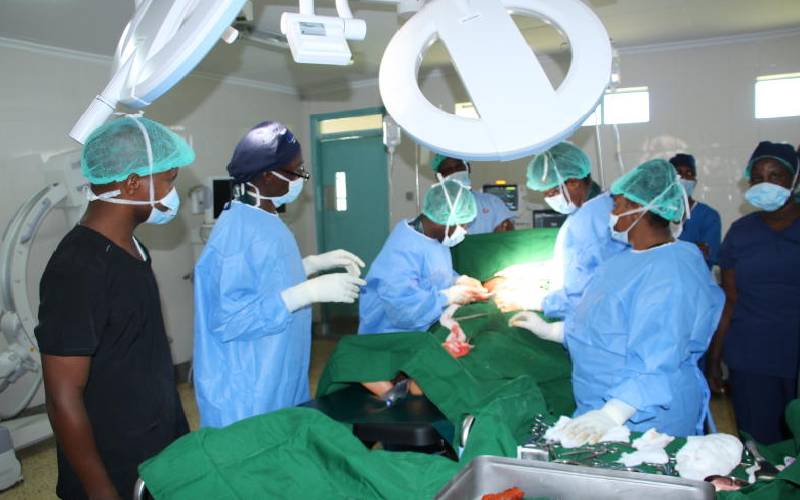 Nyeri County has kicked off a programme to entice pregnant women to visit local dispensaries and health centres in an effort to discourage home deliveries.
New mothers who deliver in the health facilities located in eight sub-counties will receive a baby bag containing a baby wrapper, diapers, a leso, sanitary towels, slippers and a bag.
County Director of Health Services Nelson Muriu said at least 1,000 mothers are expected to benefit from the package that is aimed at decongesting hospitals.
The programme has seen an increase in new births in Endarasha, Bellevue and Mweiga health centres in Kieni West Sub-county.
"In Narumoru Health Centre an average of 50 babies are being born at the hospital per month and Wamagana Health Centre has also seen a similar increase in newborns," he noted.
The mothers are also treated to balanced meals, hot showers and heater for their ward for 48 hours after delivery.
"We wanted the mothers to feel pampered and welcomed by improving their experience and offering them better sanitation and services in the health centres," Muriu explained.
Issues a special pass
The county issues a special pass to the mothers and their relatives to enable them to move during curfew hours in the event one goes into labour.
"There was an incident where a mother had to walk alone from her home in Ngangarithi Estate to the County Level 6 hospital at 1am when she went into labour. Taxi drivers were not willing to take her because of the curfew, so she walked," Muriu said.
"The efforts have seen hospital deliveries increase to 96.6 per cent compared to 92 per cent in 2019," he noted.
According to the county health department, women opted to give birth at home following the outbreak of Covid-19. Home deliveries were reported in Mukurweini and Kieni constituencies.
"Women were fearing to seek maternal care or deliver in hospitals because of Covid-19 especially in March and April, but this trend has been reversed by our efforts," Muriu said.
The project is funded by the World Bank under a programme dubbed Reproductive Newborn Child and Adolescent Health through the Department of Health Services.
The nursing officer in charge of Wamagana Health Centre, Mary Ndegwa, said they have recorded an increase in hospital deliveries after refurbishment.
Related Topics