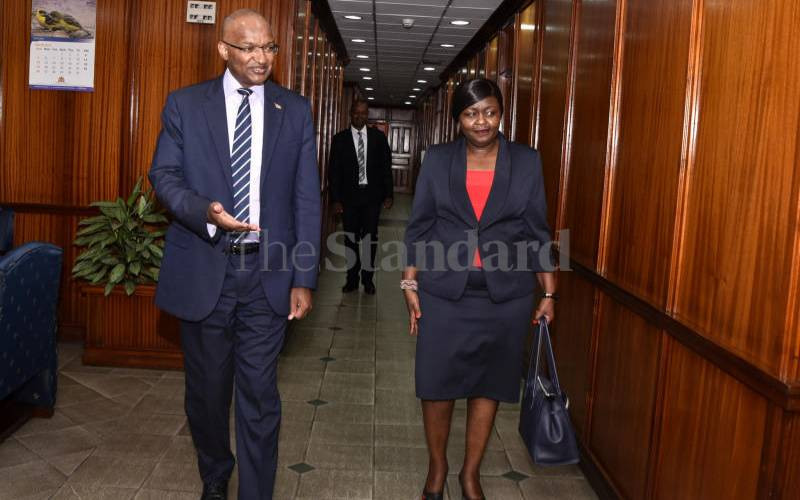 The race to succeed outgoing Central Bank of Kenya (CBK) Governor Patrick Njoroge and his deputy Sheila M'Mbijjewe has started after the government invited applications for the roles.
The 62-year-old Dr Njoroge, an ex-International Monetary Fund (IMF) adviser and devotee of the conservative Roman Catholic group Opus Dei, is serving his second and final four-year term alongside M'Mbijjewe.
Former President Uhuru Kenyatta appointed Njoroge for a second and final four-year term as Kenya's ninth CBK governor in 2019.
The former President also at the time renewed the terms of M'Mbijjewe and CBK board chairman Mohammed Nyaoga. Their terms expire on June 17, this year.
Public Service Commission (PSC) Chairman Anthony Muchiri said in a notice dated March 30, that eligible candidates for the position of governor and deputy governor must have over 10 years of experience at a senior management level in the field of economics, banking, finance, law or any other field relevant to the functions of CBK.
The PSC recently concluded the hiring of the second deputy governor Dr Susan Koech on March 10, 2023, beefing up the management of the apex bank.
"For appointment to this position, a person must be a person of integrity and meet requirements of chapter six of the constitution," said Muchiri of the advertised roles of CBK boss and deputy. The governor and the deputy governor shall hold a term of four years but are eligible for reappointment for another term.
He is set to leave office in two months at a time when the twin challenges of high inflation and weakened shilling that he first confronted over seven years ago have resurfaced on the back of global factors. During his two tenures, inflation largely remained under check averaging at 6.2 per cent within the government's target band of 2.5 per cent to 7.5 per cent until a few months ago when it breached the upper limit and has remained stubbornly high.
Njoroge's entry into CBK spawned the emergence of a new order for financial institutions marked by, a "big stick ideology", with several banks facing his wrath for regulatory breaches. In 2019, Njoroge presided over the long-awaited and controversial printing of new-generation banknotes in line with the Constitution despite criticism from some quarters.
On Thursday, March 30, the governor offered to make reflections on his tenure at a later date when asked by Standard Business for a self-assessment.
"My tenure is still going on. Maybe these questions apply but they apply after the tenure has ended," said Njoroge during a virtual post-Monetary Policy Committee (MPC) briefing yesterday. Economic managers at Treasury and the CBK are racing to help the country fight off inflationary pressure brought home by a stronger dollar, rising oil prices and the economic fallout from the Russian invasion of Ukraine which has hit food supplies.
Related Topics