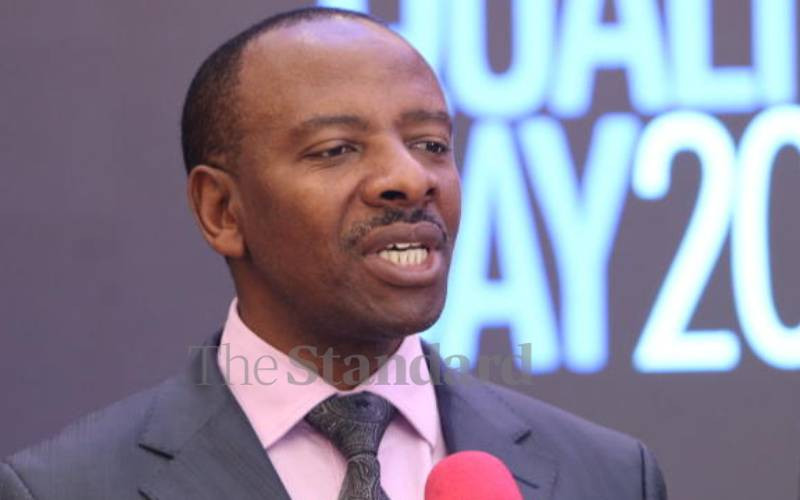 Bernard Njiraini almost pulled a rare feat. He nearly finished two terms as chief executive at the Kenya Bureau of Standards (Kebs).
But his good run ended last week following his suspension after the release of sugar that Kebs had deemed unfit for human consumption under unclear circumstances. The standards agency is notorious for the high turnover of CEOs and over the last 15 years, none of the occupants of the corner office has been able to hold the job for an entire term.
Many of them have been hounded out of office for various scandals. Mr Njiraini appeared on course to break this jinx being in his second term.
He was suspended from office last Wednesday as President William Ruto cracked the whip following the irregular release of a consignment of poisonous sugar. Kebs had condemned about one million kilogrammes of sugar in 2018 and had been earmarked for destruction.
However, it found its way into the market last year, with the circumstances surrounding its release still under investigation. Mr Njiraini's case reads like that of his predecessor Charles Ongwae, who had joined Kebs in 2014 from Barclays Bank Uganda where he was the managing director. On Ongwae's watch, a consignment of sugar which was claimed to contain mercury found its way into the country. But after tests, Kebs would later say the sugar did not have mercury but contained copper and lead but was all the same unfit for human consumption.
It condemned the sugar and decreed that it be converted into industrial ethanol. It is unclear whether the sugar that claimed Mr Ongwae's career is the same consignment that is haunting Mr Njiraini five years later.
Since 2009, many of the occupants of the agency's corner office have been unable to hold the job for the first entire three-year term. Mr Njiraini sailed through his first term – albeit having had to fight numerous battles – but it is now unclear whether he will finish his second term following his suspension.
He was initially appointed CEO in an acting capacity in June 2019 and confirmed two months later on August 30 by the then Trade Cabinet Secretary Peter Munya. He was the substantive replacement for Mr Ongwae.
Trouble would, however, find him immediately. In March 2020, a report table in Parliament showed that in interviews to find the replacement for Mr Ongwae, the National Standards Council, which is equivalent to a board of directors for Kebs, had ranked Mr Njiraini sixth with a score of 64 per cent. The best candidate had a score of 76 per cent.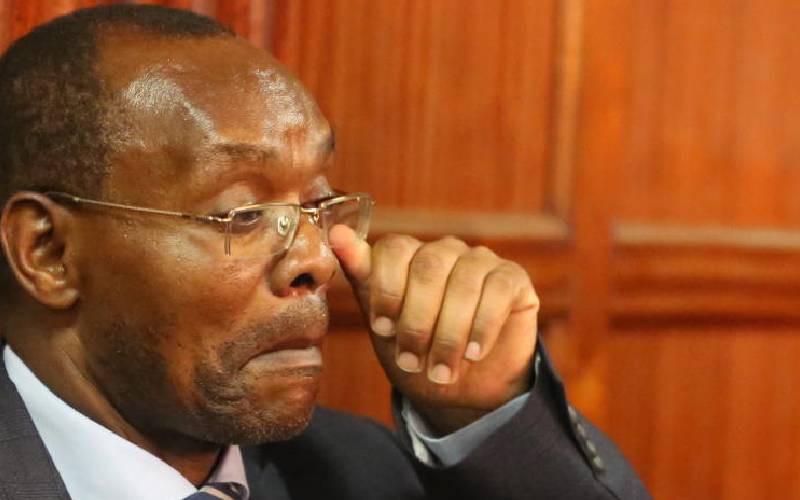 He survived but controversy would follow when his appointment was in May 2022 revoked by the Employment and Labour Relations Court, which noted that the hiring had not met the Constitutional threshold.
The court said the Trade and Industry Ministry had specifically failed to undertake competitive recruitment and that the process lacked public participation.
Following the revocation, the Trade and Industry Ministry tapped Esther Ngari as the interim boss. Ms Ngari was last week appointed as acting managing director following Mr Njiraini's suspension. In June 2022, Mr Njiraini was reinstated after appealing the decision by the Employment and Labour Court at the Court of Appeal. He would stay in office until the case was heard and determined by the Court of Appeal.
He was fully reinstated in October last year after the court ruled in his favour together with members of the National Standards Council whose appointments had been revoked on grounds they violated the Constitution in his appointment. Other than concerns about how he got into the office, his tenure has been marked with other controversies.
Just like last week's release of the dirty sugar that could very well mark the end of Mr Njiraini's time at Kebs, his entry at the agency coincided with the release of an edible oil cargo that the standards agency had been withholding for failing to meet local standards.
Before his confirmation as the substantive Kebs MD in 2019, Kebs released a consignment of edible oil that had been impounded as it was found to have been fortified with Vitamin C.
Mr Njiraini – then acting as the interim boss – found himself having to explain to the Directorate of Criminal Investigation (DCI) how the sub-standard cooking oil had been released to the market, despite the reservations about its quality.
As Kebs MD, he also had to fight with small-scale traders, whose imports were at some point said to be counterfeit and had to be destroyed.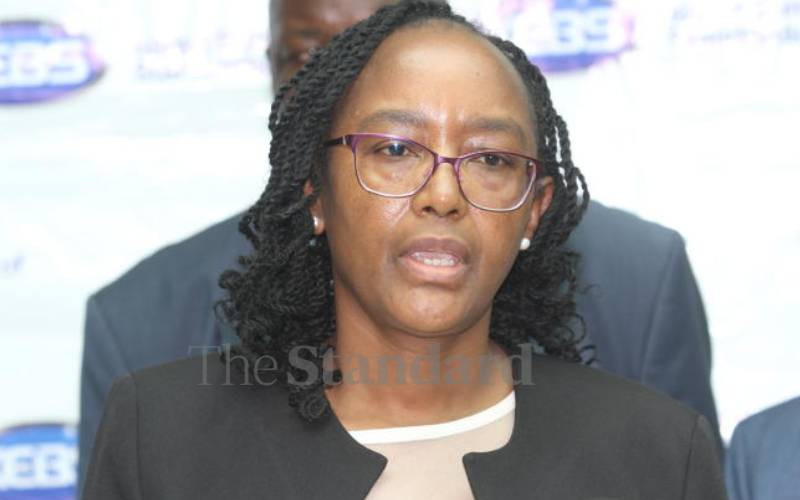 On the other hand, local manufacturers and consumer lobbies have claimed that Kebs is too lenient with imports, opening the door to counterfeits and, in turn, hurting the manufacturers who cannot compete with such goods.
Mr Njiraini also had to grapple with regular fights with international firms that sought the job to inspect goods before they are imported into the country.
The contracts for Pre-Verification of Conformity (PVOC) are fiercely fought. PVOC is a process through which Kebs employs inspection firms to inspect goods at their countries of origin, ensuring that they are up to standard before they set sail for Kenya. Before Kebs, the retired lieutenant colonel headed the Numerical Machining Complex (NMC), the outfit that produced the Nyayo Car in the early 1990s.
He now joins the long list of men and women who have savoured the good and the bad of the corner office that appears too hot to handle. Before Njiraini came in an interim and then substantive capacity, Kebs had also seen the exit of two acting MDs - Bernard Nguyo and Moses Ikiara.
Mr Nguyo is a Kebs insider and would go back to his job as head of quality assurance.
Mr Ikiara also doubled up as the chief executive of the Kenya Investments Authority (KenInvest), which he explained he found having two CEO jobs too taxing for him. The late Kioko Mang'eli started off what has been a tumultuous period for subsequent bosses.
He was appointed in 2006 and kicked out in 2009 on allegations of illegal hiring of officials and corruption, as well as faking a payslip to justify his high pay.
Mr Mang'eli was replaced by Joel Kioko in an acting capacity before Joseph Koskey was appointed as a substantive MD.
Mr Koskey, however, did not last long and was sacked in 2011, a year after his appointment. He was succeeded by Eva Oduor in January 2012 who would in August 2013 be fired over the award of a Sh1.3 billion tender. for the construction of Kebs' offices and laboratories in Mombasa.
Related Topics