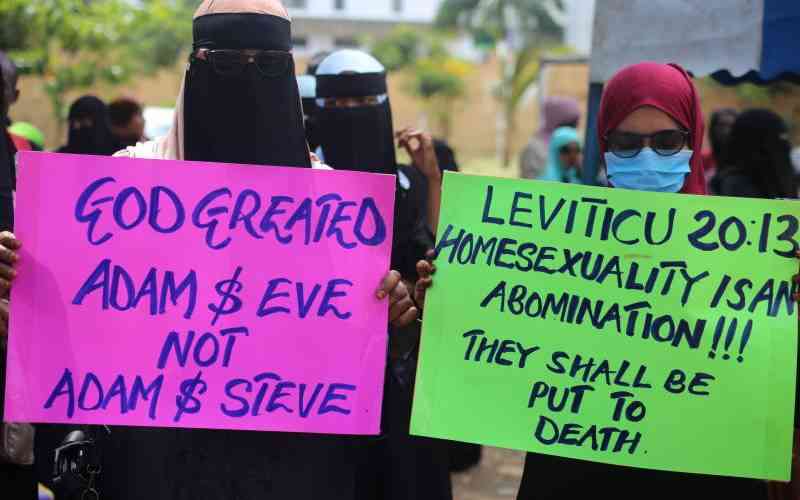 Muslim and Christian clerics at the Coast yesterday led a demonstration in Mombasa to denounce the Supreme Court ruling upholding the lesbian, gay, bisexual, transgender, and queer (LGBTQ) rights to assemble.
The clerics also asked President William Ruto to "unequivocally denounce LGBTQ" like his Ugandan counterpart Yoweri Museveni. They alleged that Ruto "appears to sit on the fence, fearing the wrath of the Western nations".
Muslim faithful poured onto the street after Dhuhr (afternoon prayers) chanting 'Allah-Hu-Akbar' (Allah is great) as their leaders called for severe punishment for those culpable of practicing or promoting LGBTQ.
Nyali MP Mohamed Ali, who joined the demonstrators at Makadara Grounds, called for severe disciplining of those who are propagating and encouraging LGBTQ in the community.
The MP said that a Bill that seeks to ban LGBTQ in the country has been prepared and will be tabled soon for enactment and assented by the president.
"The Supreme Court betrayed us. We are here to tell America to give the gays visas and take them because we are a godly nation. We are putting the anti-gay bill in parliament to be signed by the President soon," said Ali.
He said there is no one has denied gays the right to work, shop, or eat and therefore there is no right that has been violated.
"We are supposed to follow the Bible teaching against gays and discipline them. We told the American ambassador that they are collapsing nations by targeting family planning, which we don't have. If your government is interested in your country, take them to your country. We shall not accept your laws," said Ali.
Pentecostal Church
He called on all leaders to show up and express their support "like you did during the politics". Pastor Justus Muli of the Pentecostal Church said the church opposed the ruling.
Anti-LGBTQ chairman Salim Karama said they want to petition for a referendum to amend the Constitution and ban gay rights. He said the Supreme Court judges are "just interpreters of the law, and cannot influence the change in the Constitution".
"We are here to oppose the LGBTQ as Kenyans and religious people. We are against any organisations funded by America and Europe to spread LGBTQ rights," said Salim.
He said that, if allowed, future generations will lack soldiers and medical practitioners. Salim called on parents to monitor their children because they are recruited at a tender age.
"Be keen to observe your child at home, don't focus on radicalisation into al-Shabab alone because they are introduced into LGBTQ," said Salim.
Former Ambassador to Oman Sheik Mohamed Dori said that despite the Supreme Court issuing orders in favour of gays, God's laws are against such and they shall observe God's laws.
"Today is a sad day that we are at this backward in religious matters. It is our responsibility as parents and leaders to get to know God and their religious teachings as early as three years," said Dori.
Anti- LGBTQ committee member Zeinab Juma said that as mothers, they are opposing the Supreme Court ruling okaying the registration of gay organisations.
"We are opposing LGBTQ in the country because as mothers we expect grandchildren from our sons. We want the president to ban the same," said Juma.
She said that all judges in the Supreme Court are parents and should have considered the future generation.
"How do they expect the future of the nations to continue without procreation? There is no religion or African culture that allows LGBTQ. Me as Zeinab, I voted for you, Mr President, because you are God-fearing. How can you then allow same-sex marriage? We are going to fast against this," said Juma.
Related Topics