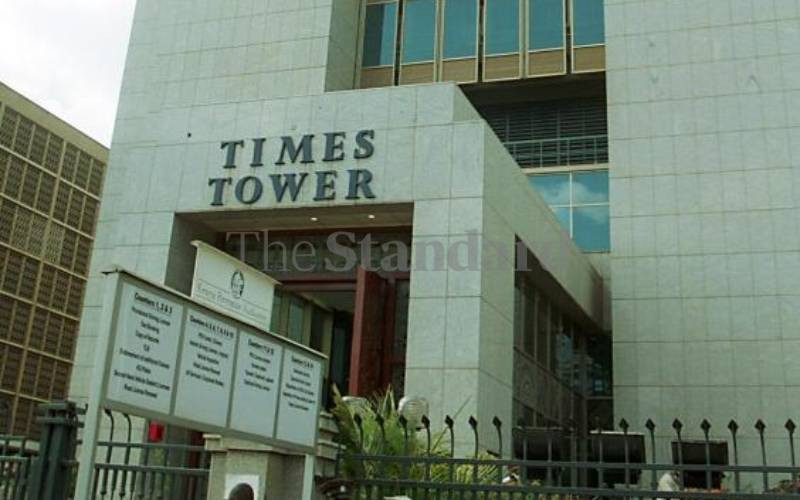 Kenya Revenue Authority's (KRA) bid to recover Sh1 trillion in unpaid taxes from former government officials could have informed last week's purge of its top officials.
KRA board last week sent packing Commissioner General James Mburu and six other commissioners in what was the biggest purge at the authority in recent years.
The board however claimed the Commissioner General had "resigned to pursue personal interests".
Mburu was appointed in June 2019 and his term was to end in 2024 alongside those of a number of the commissioners purged.
The purge at the authority, according to an insider who sought anonymity, stemmed from investigations that indicated that some senior officials in the previous government had been exempted from paying taxes.
President William Ruto has been adamant that all Kenyans, no matter their standing in society, must pay taxes.
"Even if they sponsor demonstrations so that they don't pay taxes, I want to promise them, they will pay tax. There is no more exemption… This country is not the animal farm where some are more equal than others. We are going to have a society where every citizen carries a fair share of our burden to raise their taxes," Ruto said.
Yesterday, KRA chair Antony Mwaura said they sent the team packing after they realised that there were individuals in the previous government who were still being paid tax refunds.
"There are firms dealing with milk and bread that were given Sh5 billion tax refunds as late as last week. This is blatant abuse of office. We are pushing Kenyans to pay taxes and the KRA management was refunding people billions illegally," said Mwaura.
"That is why we said enough is enough and purged them. We will through the help of Treasury ensure that unnecessary tax exemptions are reversed."
Mwaura said in the past three years, the country had lost about Sh1 trillion because of tax abandonment, exemption and refunds to local companies and multinationals and the KRA board would stop at nothing in recovering the money.
"People think we are fighting a lost cause but they will be surprised. I have targets to meet with my board and I will not relent. We are committed, even if it means risking our lives to see the country become self-reliant on its taxes," said Mwaura.
Immediately after the purge, the source within the Investigation and Enforcement department told The Standard, they ransacked some of the commissioners' officers and found letters from former State officials seeking refunds and exemptions on a number of their enterprises.
"We cannot be pushing hard to meet our targets for taxes so that Kenyans can enjoy a better life and there are leakages seeping through KRA, we are determined to stop as we also increase the tax bracket," said Eng Mwaura.
The KRA chair noted that they had increased their target by Sh400 billion from Sh2.2 trillion to Sh2.7 trillion and they would achieve this by sealing the loopholes from tax cheats, illegal refunds, unnecessary exemptions and complicit employees.
"We want to have a balanced budget with a collection of Sh4 trillion by 2026. This requires that we weed out those shenanigans used previously, we want to increase the tax from property from 6 per cent to at least 70 per cent, increase VAT collections from 4 per cent to 6 per cent," said the KRA chair.
He noted that other measures were to put more vigilance on tax collections from the Port of Mombasa and bring a system that will get the value of imports from the point of origin into the country so as to stop the loopholes of the people undervaluing their imports.
"In the Port of Mombasa alone, we lose Sh428 billion per year, this is a huge haemorrhage from one of the tax arteries," he said.
Before the purge, there had been concerns about how some commissioners got appointed.
The purge, a source said, was meant to cure an anomaly that was overlooked during the appointments.
Five years ago, Activist Okiya Omtatah (now Busia senator) moved to court to challenge the appointment of Mburu as the commissioner of Intelligence and Strategic Operations by former Commissioner General John Njiraini.
David Yego was appointed Commissioner in charge of Investigation and Enforcement on March 22, 2017. Ten days later, Njiraini appointed Mburu commissioner of Intelligence and Strategic Operations. The positions were seen as overlapping -- a move that was claimed to be calculated to elbow Yego from taking over at the helm of KRA.
Previously, Mburu had unsuccessfully competed for the position of Commissioner of Investigation and Enforcement but did not even make it to the shortlist.
In Thursday's changes, Rispah Simiyu was picked to be the acting Commissioner General with seven acting commissioners. Yego made a comeback as Commissioner in charge of Intelligence, Strategic Operations, Investigation and Enforcement.
The board also appointed Pamela Ahago the Acting Commissioner of Domestic Taxes and David Mwangi as the Acting Commissioner of Customs and Border Control. Nancy Ng'etich was appointed as the Acting Commissioner of Corporate Support Services.
Meanwhile, Dr Mohammed Omar was retained as Commissioner of Strategy Innovation and Risk Management alongside Dr Fred Mugambi Mwirigi (Commissioner of Kenya School of Revenue Administration) and Paul Matuku (Commissioner of Legal Services and Board Coordination).
The changes saw the offloading of Edward Kinyua Karanja and Lilian Nyawanda who were serving as Commissioner of Investigation and Enforcement and Commissioner of Customs and Border Control respectively.
The two were appointed in March 2021 in what Mburu said was part of key roles in spearheading and sustaining revenue mobilisation and institutional transformation agenda.
KRA's latest changes also saw the exit of senior KRA managers including Grace Njeri Murichu (Supply Chain Management), Sammy Gichuhi Muchemi (Intelligence and Strategic Operations), Patience Nduta Njau (Contract Support Service), Dorine Mbingi (Domestic Taxes Department), Rosemary Njeri Mureithi and Joseph Kiago Kaguru (Customs and Border Control).
Related Topics