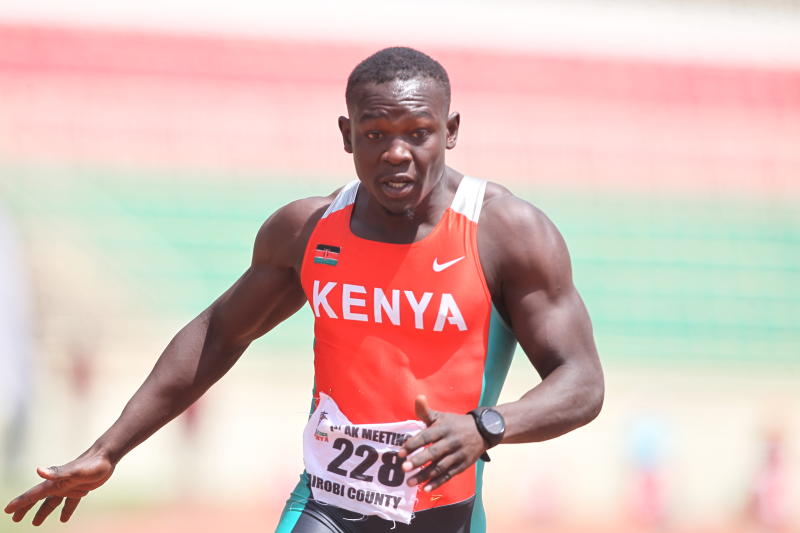 Upcoming 100m sprinter Tyson Juma on Friday lowered his personal best by two seconds after sprinting to the finals of the 2022 Athletics Kenya Track and Field second leg being hosted at Moi Stadium in Kisumu.
Juma from Masinde Muliro University of Science and Technology clocked 10.5 seconds in the semifinals (heat 10) to glide into the finals.
Juma who recently ditched rugby for track defeated Reegan Simani (10.9), David Lekishon (11.2), Kalistas Juma (11.4) and Stephen Sakwa (12.2).
Speaking after making the finals, Juma said he is happy with his progress and glad that he has put behind his disappointments off missing the finals during the first leg in Nairobi earlier this month.
"It is a great feeling to not only getting to the finals but also lowering my Personal best. I am glad this is an improvement from the first leg and now I am focusing on giving it all in the finals on Saturday," Juma said.
The men 100m finals will consist of Juma (10.5), KDF's Elija Mathew (10.5), Moses Masike (10.6), Lewis Dichoe (10.7), Robinson Motende (10.7), Charlse Nyamweya (10.8), Reegan Simani (10.9) and Hesbon Ochieng (10.9).
In the women's 100m category, Mercy Chebet of Kericho (11.8) will face Millicent Nduro, Diana Chet, Susan Nyambura, Edna Ogendi, Joy Akinyi, Dorine Waka and Muimu Safina in the finals.
Related Topics