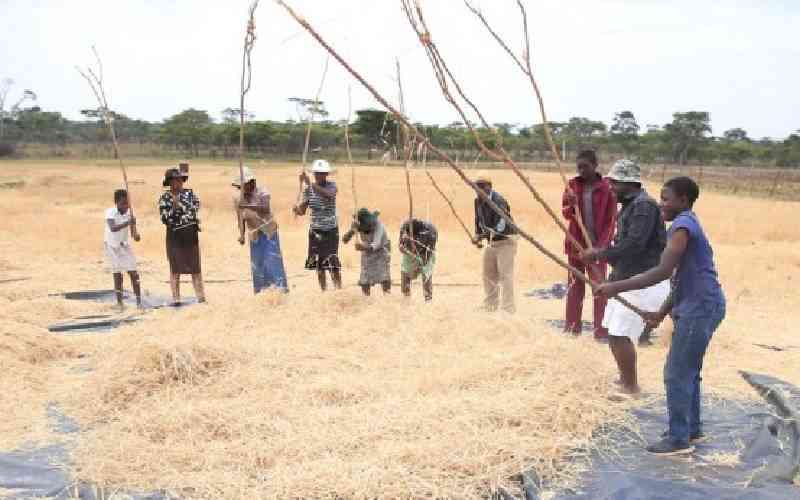 Zimbabwean farmers are bracing for declining precipitation in the forthcoming agricultural season, with some opting to plant early and others to skip maize and go for other drought-resistant and early-maturing crops.
In an interview on Tuesday, President of the Zimbabwe Farmers Union Abdul Nyathi told Xinhua that farmers should acknowledge the impact of the El Nino factor, which is bound to cause poor rains or even drought, in southern Africa in the 2023-24 season.
The phenomenon, which is not new to Zimbabwe and the region, usually causes delayed and erratic rains, thus adversely affecting crops and livestock.
Most farmers do not have irrigation facilities and depend on rain for their crops and livestock.
Nyathi therefore urged farmers to consider options available in the coming season to optimize yields.
"We want all farmers to know about El Nino and understand its impact," Nyathi said. "For this season, farmers should determine the size of hectarage they want to plant early."
He also urged farmers to consider planting crops that are drought-tolerant to minimize losses.
"You may also want to ... increase the amount of drought-resistant crops, and if you're going for maize, go for the short-term, early-maturing varieties," he said.
In Mashonaland East Province, village head Robson Zindonda said farmers in his area had been advised to go for the government-sponsored climate-proof agricultural practices such as digging holes, applying compost and manure, and covering the fields with mulch to retain moisture.
"We were also advised by the local agricultural extension officer to plant early because of the anticipated erratic rains, so some people will soon start digging the holes," he said.
Some other farmers are considering dry planting whereby they cast the seeds and then wait for rain to fall.
"You don't want to miss the opportunity to utilize the early rains, so it is better to be ready before the rains come," said Zindonda's nephew Simon.
The Zimbabwean government is also acting. "In light of the predicted normal to below-normal rainfall, the government has adopted a plan of action dubbed AMA -- Adaptation, Mitigation, Action," reported the official newspaper Sunday Mail, citing government official John Basera.
He said the measures include accelerated rehabilitation of infrastructure, a countrywide adoption of climate-proof agricultural practices, and promotion of on-farm feed formulations.
In addition, the government allows private companies to import maize without paying duty, as part of measures to ensure adequate grain supply in the country.
Related Topics