Home
/
Your Home
Six easy tips for decorating a big house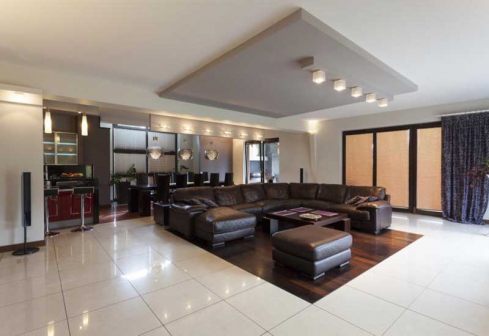 While many dream of owning a big house one day, those with them know that making such houses feel cosy can be a huge challenge. Houses with a lot of space to fill, and especially those with high ceilings, can be difficult to decorate.
They could present an uphill task when trying to make them feel comfortable. So how do you do it?
Use bold colours
A large house can get away with bolder and darker colours such as dark blue or deep red accent walls which help the space feel smaller.
Avoid use of monochromatic neutral colours on all walls, and in particular white walls, as the space will only feel larger. Work with warm colours like earthy reds, oranges and yellows to warm up your spaces.
Bronze and wood finishes will also feel more comfortable than silver and chromes though the latter may give you a greater sense of sophistication and minimalist ambience.
Try out two tone walls
This is where the bottom half of the wall is painted in a darker colour than the top half of the wall. The wall can be demarcated with a skirting or simple stick tape in a straight line across the wall to help the painter separate the top colour from the bottom colour. Painting in two tones will make the walls feel shorter than they actually are especially in rooms with high ceilings.
Add textures
Due to the extra space, large houses tend to feel colder. Add textures to your space by using large printed carpets or one with large stripes will help. Textured fabric like velvet, corduroy or tweed can be exceptionally hardworking and durable on curtains, sofas and scatter cushions and will add character to your space.
Use room dividers
These are another tool to use to make large spaces feel smaller. This can be done using an L shaped seat which not only takes up more space but also immediately adds a comfortable feel to the room.
Alternatively, you can divide the sitting room from the dining room by using a console table or by using a screen to divide the spaces.
Pay attention to the walls
Rather than leave walls bear, it helps to add large paintings or use tapestry hanging on the wall so the eye is drawn upwards towards the vertical space. Keep furniture away from the walls and instead bring sofas closer to each other for extra cosiness around larger surfaced coffee tables.
Potted plants and vases
Strategically position tall potted plants in the rooms so that they can fill up vertical space. Talk to your landscape architect who will advise you on the most suitable plants to use indoors, which will purify the air in the house as well as meet your need to fill up empty spaces, especially at room corners. Large floor vases are another aesthetic option of filling up empty floor spaces and can also be placed at a corner of a staircase landing to add interest to the space.
Is it okay for men to wear pink?
Related Topics