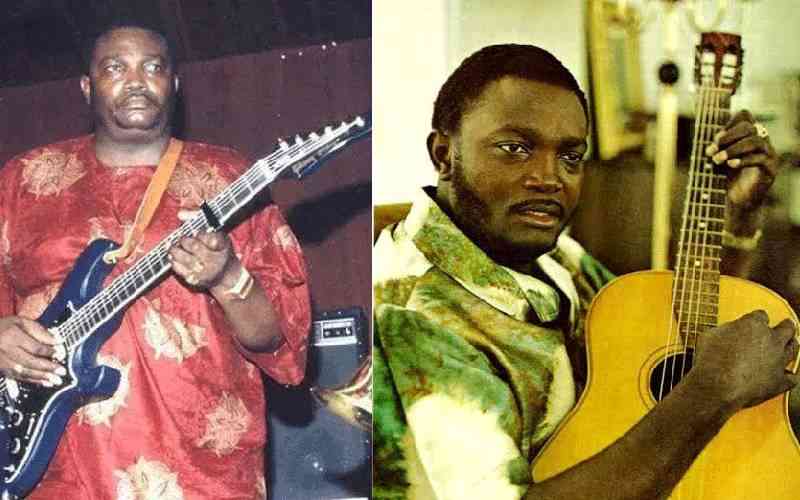 The life of Franco Luambo, one of the kings of Rhumba was exhilarating. Rather, beyond the rich date of his musical accolades is the webbed truth about his entanglement with the politics of DRC Congo, then Zaire.
It is the illumination of Mobutu Sese Seko's reign, his hold on power through music and so at the ruthless detrimental shame of his political adversaries.
As much as Franco was a talented musical icon who forever remains memorable as one of the biggest exports Africa ever had in terms of pollinating the African beat across France and most parts of Europe, beneath his beats and sounds, there was a catalyst.
Sweet and sour was the legend's relationship with the then one of the most powerful African presidents and the fans, some of whom did not subscribe to the agenda that sometimes drove the big hits.
Else, how would one rate Tabu Ley who arguably pioneered African Rhumba - the Soukous sound - in the early 1950s before flying to exile in France after falling out with the powerful man?
And there was the maestro Papa Wemba - the pope of Sapeurs and skilled Zaika Langa Langa connected star who was accredited for fusing fashion into Rhumba.
Even after Papa Wemba's departure in 2016, his great hits such as Show Me The Way, Maria Valencia, and Yolele remain top in the playlist of every Lingala die-hard. There is Le Grand Kalle, Papa Wemba, Koffi Olomide, Samba Mapangala, Roga Roga, and Sam Mangwana; all those before the now icy cool Werrason and Fally Ipupa came into the picture.
Franco and Mobutu had a creepy affair. A story is told on the death of Patrice Lumumba, one of the most powerful ministers of Congo whose death was associated with Mobutu's quest for power.
It is an alleged plot between the American CIA, the Belgians, and Mobutu that arguably was coined to pave way for Mobutu's rule. After Lumumba's death, Franco mourned him by releasing Liwa ya Lumumba (The death of Lumumba), also titled Liwa ya Emery.
It was shortly after this release that Franco started playing to Mobutu's tune as Mobutu, then president sponsored Franco's TPOK Jazz band alongside others that, seemingly, became patriotic State projects made to keep Mobutu's image polished. Here came the grand album Au Commandement, meaning To Authority whose title single idolised Mobutu's coming into power.
The year 1965 was a strange one in Congo's politics. In what looked like a political cleanup exercise, five political dissidents who had been powerful appointees in the previous regime were hanged in public with a huge crowd witnessing the daylight act. The execution happed on the Christian faith annually observed Pentecost Day. Franco saw it all on this dark day.
Triggered by this, Franco released Luvumbu Ndoki, a fictional tale highlighting a Bakongo sorcerer Luvumba, all tied around someone who harms others especially by killing them innocently.
Luvumba Ndoki was seen as Franco's attack on Mobutu and in his wrath, Mobutu's government banned the song and confiscated all sale copies after which Franco was detained in 1966. After his release, Franco fled to Brazzaville for a self-imposed exile. The song was released again the following year.
It is a tale with a twist on the tail. Mobutu called for a cultural revolution in 1971. All names that had political connotations were banned. Western dressing style was replaced by a new African image; suites and ties - as well as trousers and miniskirts on the part of women - were replaced with 'Abacost'.
In the awakening, Mobutu organised a mega cultural bonanza where the country's top musicians presented their patriotic prowess. Again, Franco was here with a new number Oya, which means identity or belonging. The song touched Mobutu's soul and got Franco back to his good books.
Together with his TPOK Jazz band, Franco, again became Mobutu's point man for drumming this new revolution with tours across the country. Playing the piper's tune, Franco composed more songs in praise of the president and his rule.
Among them was Cinq Ans Ekoki, meaning five good years of Mobutu rule are over. And with this, Franco made a kill, later releasing 10 Eme Anniversaire to celebrate the president's 10-year rule.
To tame Franco's popularity, Mobutu's men stayed close to his TPOK Jazz band, and at some point, it is claimed that they diverted some of the band members to offshoot groups, weakening Franco during his latter days.
Franco's spirit in music has continued to live on three decades after his death. The music he composed 60 years back is still popular with the older and current generation owing to their moral teachings of a true testimony of real-life experiences people undergo in day-to-day life. It has continued to be adored by all Rhumba fans in Africa, the Francophone countries, and globally.
Franco Luambo Luanzo Makiadi died on October 12, 1989, in Namur, Belgium.
He was the master of African Rhumba and led the most popular and respected African Orchestra TPOK Jazz Band to great success, a feat that has not been achieved by an African artiste of modern times.
Born in Kinshasa (then Leopoldville) in Zaire in 1938, Franco honed the skills of many living artistes.
Most of the artistes have featured for TPOK Jazz Band, rising through the ranks to form their orchestras after touring the globe on official assignments with Franco in a chequered history whose songs have refused to die down.
And as we celebrate the 33rd memory of his death this week, his ardent fans are still in denial of a past music legend who is celebrated annually in the continent and the world over.
This is because his songs have lived the test of time and continue to boomerang in most social joints, commercial vehicles and even in homes in Nakuru, Kisumu, Mombasa, and Nairobi and in some rural set-ups.
The same has been witnessed in several parts of Africa and global cities as his music is played on national radio stations and international channels.
One of the most known and celebrated hits by the band was Mario, whose lead soloist was the late Madilu System who in partnership with Josky Kiambukuta and the late Lutumba Simarro Massiya took over the reins of the band after Franco's death in 1989.
Mario went ahead to sell for over 200,000 copies, thus achieving certification of gold, one of the most respected awards in the music industry globally.
Elly Ogutu, a Rhumba fanatic who at times speaks Lingala said Franco was a Rhumba guru whose institution will live forever.
"TPOK Jazz Band was a breeding ground for most renowned Rhumba artistes in East and Central Africa and the Great Lakes Region. It is a fact that any serious artiste of the older generation passed through the hands of the legend Franco," said Elly.
Them Mushrooms band leader John Katana Harrison described the fallen legend as the father of Rhumba, whose composition and live performance have lived the test of time.
"His reputation in Rhumba has been unbeatable and his style of music composition has been evergreen over the years. Through him (Franco) we have managed to learn a few techniques in the music industry," said Harrison whose band is famed for the Jambo Bwana hit.
Harrison describes Franco as the world's king of Rhumba. "He leads and others follow. He was unbeatable for the years he was on stage," he said.
Friends of Lake Nakuru singers Joseph Odhiambo said Franco was a strong musician and his music is still fresh and relevant since his demise.
"Great musicians like Faya Tess have tried to replay the songs of Franco but they cannot match the original compositions of the legendary musician," said Odhiambo whose group also replays some Franco numbers whenever they are performing in different functions.
He advised the upcoming artistes to compose songs of great meanings that have moral teachings and, which should stand the test of time.
"When you compose serious songs with rich moral teachings, chances are high they will never die down over time," said Odhiambo about songs by TP OK Jazz band and DDC Mlimani Park Orchestra of Dar es Salaam, Tanzania.
Franco also could afford to hire some of the top DRC musicians like the late Lutumba Simarro Massiya, the late Madilu System, Faya Tess, Ntesa Dalisient, and Josky Kiambukuta, among others who prominently featured with TP OK Jazz Band.
Sam Mangwana of All African All Stars, Passi Jo of Orchestras Kass, Lokassa Ya Mbongo of Four Stars, and Bopol Mansiamina of Mode Success also had time to play with the fallen legend.
"Franco was a good manager and an entrepreneur who hired the services of top musicians and managed to maintain a long-standing relationship with them," said Kenyan-born Rhumba expert Tabu Osusa who lived in Kinshasa for five years.
Osusa was a member of Orchestra Virunga of Samba Mapangala when they shared the same stage with TPOK Jazz band when Franco toured Nairobi for a series of shows in 1984.
He described Franco as a legend. Kenyan-born musician Ochieng' Kabasellah, whose Orchestra Lunna Kidi's style of play was full of Zairean beats was a great admirer of Franco.
The worst came in 1978 after the star released Helene and Jacky, two songs that were deemed immoral by the government of the day.
For six months, Franco and some of his band members remained behind bars. His club Un-Deux-Trois and others that played his music were shut and so was his recording label.
Related Topics