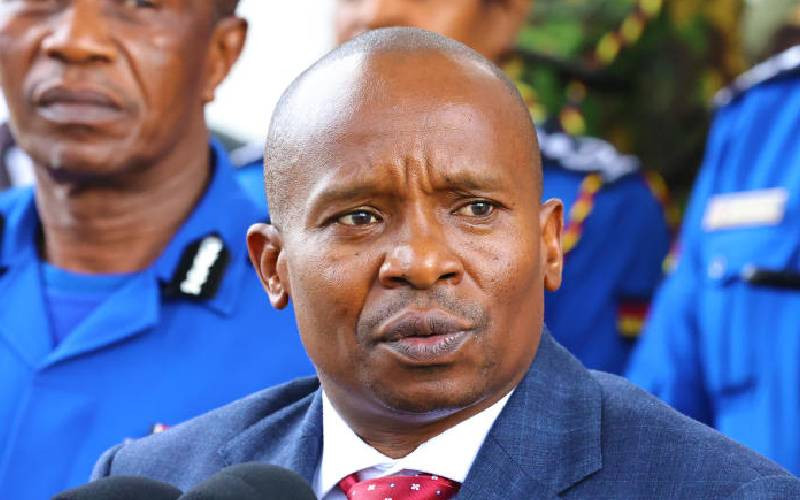 All options including the recent reinstatement and deployment of over 300 police reservists, increased number of police stations, signing of a peace accord and proposed disarmament of bandits have failed to bring calm in troubled Kerio Valley.
Elimination of individuals suspected to be behind the incessant mayhem in areas occupied by pastoralists in the North Rift counties, through extra-judicial methods has also not cowed brazen bandits who continue to kill and maim.
By Friday, more than 13 people in Elgeyo Marakwet and West Pokot alone had been shot dead and several others injured by armed bandits in cattle rusting missions and revenge attacks.
Border areas in Elgeyo Marakwet, Baringo, West Pokot, Turkana and Samburu, have borne the brunt of worsening attacks perpetuated by criminals who hide deep in thickets in remote areas and come out to launch deadly raids before making away herds of cattle, which are rarely recovered.
A week ago, a school and at least seven houses were torched by bandits in Kaptir Ward in Turkana South, a day after the visit of CS Kithure Kindiki in Turkana.
Interior Cabinet Secretary Prof Kithure Kindiki reinstated 300 police reservists who had been withdrawn in 2019, but the attacks escalated. One community in the troubled region said NPR from one side in the conflict were recalled, leaving them vulnerable.
The Marakwet and Pokot communities who had engaged in frequent banditry-related fights since the 1970s inked a peace on July 31, 2019, in a ceremony witnessed by President William Ruto, who was then the Deputy President. The peace pact resulted in a two-year calm in many areas of the Kerio Valley, before an upsurge in 2021.
In 2018, the number of police stations in Kerio Valley was doubled in a bid to contain banditry attacks and recovery of stolen, but the police were overwhelmed by bandits who continued raids and animal theft.
Six years ago, additional police stations were built in Tot, Liter, Embobut, Kapyego, Mogil, Chebilil and Kamogo to enhance the war against armed bandits, but it never solved the problem.
Desperate for peace, locals and leaders from the vast region now want President Ruto to issue executive orders to end the menace, saying government options to end banditry have, since the 1970s, haven't borne fruits.
In Elgeyo Marakwet, one person was shot dead by bandits at Chabashak near Tot trading center in yet another banditry attack on Thursday. Another attack led to the killing of a man last Sunday.
Governor Wisley Rotich said: "It is unfortunate that as we worshipped criminals from our neighboring community struck and killed one person and seriously injured another young man who is currently recuperating at Moi Teaching and Referral Hospital. Someone will cry louder and pain more than what we are going through."
The Thursday killing brought the death toll in banditry attacks in Elgeyo Marakwet to eight since January 1, 2023.
Sally Kipkemoi, a resident of Chesongoch in the volatile valley said she has not tilled her farm for the last two years after bandits started killing innocent women and children.
"We were hopeful that 2023 would be better but it's turning out to be the worst year. The number of widows in Kerio Valley are increasing every day. Mr President, please use your powers to end this problem. We can no longer produce food in our fertile valley," she told the Standard.
Marakwet West MP Timothy Toroitich, who is the Pastoralist Parliamentary Group legal advisor said the buck stops with the President in the fight against banditry in the Northern Kenya counties.
Mr Toroitich claimed the Kerio Valley is now under a militia that poses as cattle rustlers. He said politicians from worst-hit areas are selfish and will continue defending their constituents whenever attacks happen.
"President Ruto should immediately convene a special National Security Council Meeting and declare banditry a form of terrorism. With an executive order declaring banditry as terrorism, all state machinery and resources will be channeled to fight it," the MP said.
He added: "Bandits have committed massacres and are walking scot-free. It is shocking that nearly 60 years after independence, civilians own illegal firearms and are using them to attack locals and security personnel. The government ended the Sabaot Land Defense Forces (SLF) and the Mombasa Republican Council (MRC). It should also deal with bandits the same way."
There are claims that more than five people had been shot dead by bandits in the neighboring West Pokot since the beginning of the year.
His Marakwet East counterpart Kangogo Bowen called for a thorough investigation to ascertain the financiers and beneficiaries of the unending menace.
Baringo South Charles Kamuren says bandits have discovered that the government was unable to disarm them, and have turned more audacious, killing and displacing locals in various villages in his constituency.
Two weeks ago, three people were killed by suspected bandits suspected to be from Elgeyo-Marakwet County.
Pokot community professionals who spoke to Sunday Standard, said one person was killed near Cheptulel Boys High School, and two others were brutally killed in Akiriamet village, near the border with Elgeyo Marakwet in the Kerio Valley. Several livestock were also reportedly stolen in the attack.
The professionals led by human rights activist Dennis Kapchok blamed the government for lacking a decisive strategy and at the same time faulted security organs for laxity amid the intensifying deadly counter-attacks and asked President Ruto to personally order the restoration of law and order in areas hit by the banditry cycle.
According to Mr Kapchok, professionals from communities affected by banditry should sue the government for failing to contain armed criminals and financiers of banditry.
The activist expressed displeasure with what he termed discrimination in the recent deployment of National Police Reservists, claiming only NPR from one community were reinstated in the recent move sanctioned by Prof Kindiki.
"Forceful disarmament will only ease tensions in border areas across the region where hundreds of people have been shot dead by bandits, but it is not a lasting solution to banditry. We suspect that there the issue is escalated by a silent boundary issue, and therefore a clear drawing of boundaries might be a solution," he said.
Sigor peace coordinator Kelvin Moutich says the government abdicated its responsibility of protection of life and property.
"Many schools have been closed in Sigor, but the government is not offering any solution. We thought police reservists would be reinstated in all communities," he said.
West Pokot leaders, in a joint statement by Governor Simon Kachapin, said the reinstatement of police reservists in one community could have triggered the latest attacks.
"We note with great concern the arming of one community against another by the government. We recently lost our county residents at the hands of bandits with government-issued rifles.
"To arm one community through police reservists against the others is a gross violation of human rights and goes against every tenet that the Constitution of Kenya stands for which include protecting all citizens against discrimination of any kind. The ease with which firearms are accessed is equally a worrying trend," the leaders said.
Rift Valley Regional Commissioner Abdi Hassan declined to discuss the available options after previous decisions failed. But noted that he was working with his team of security apparatus to contain criminal activities in the valley.
"We have not been defeated by bandits. I am confident that together with my team, we will restore peace in Kerio Valley and other areas of the North Rift," the administrator said.
Related Topics