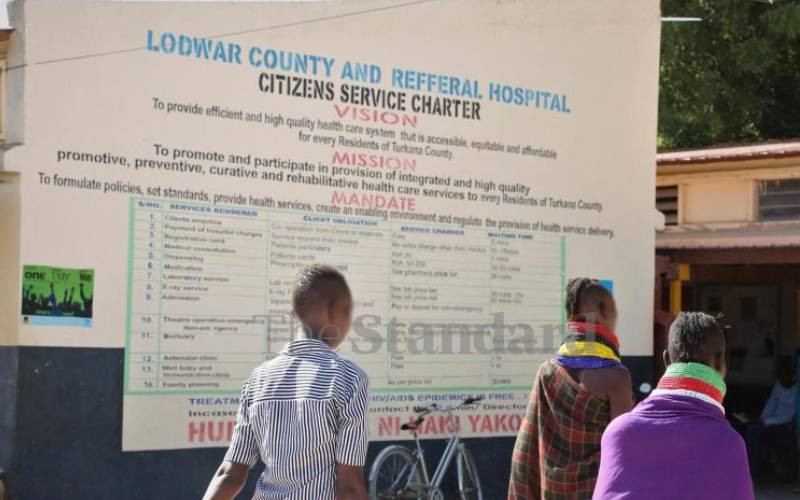 A court in Lodwar has ordered a public hospital to pay the family of a woman who died at the facility two years ago Sh5.9 million.
Lodwar Senior Principal Magistrate Desderias Orimba found Lodwar County Referral Hospital guilty of neglect, leading to the death of Hellen Natini on May 29, 2020.
Orimba awarded the family Sh5.9 million as compensation for pain and suffering, special damages, loss of expectation of life and loss of dependency.
Ms Natini's husband Paul Nangiro, a police officer, sued the hospital, its medical superintendent, the County Government of Turkana and the county's secretary on July 28, 2020 over the death of his wife at the hospital's maternity unit.
The hospital was directed to pay Sh1 million for pain and suffering, Sh518,000 for special damages comprising hospital and funeral expenses, Sh1.5 million for loss of expectation of life and Sh2.9 million for loss of dependency.
The court said Mr Nangiro had convinced it that his wife was neglected by the health facility, leading to her death.
The court relied on testimony by Nangiro and Rose Ekai, a neighbour, who had accompanied them to Lodwar County Referral Hospital maternity after she experienced labour pains.
Mr Nangiro told the court that his wife had called him at 3.20pm on September 29, 2020 while on duty in Kiambu County and informed him she was experiencing labour pains.
He told the court that his wife, a businesswoman in Lodwar town, arrived at the health facility at around 3.40pm, accompanied by Ms Ekai.
At about 8.30pm the same day, he said he received a call from Ekai informing him that his wife had not been attended to. He told the court that he asked Ekai to seek assistance from the doctor in charge.
According to Nangiro's testimony, his expectant wife was not attended to, despite the pleas of the neighbour who was with her at the hospital.
"At 11pm, the neighbour called again saying that despite the pleas, she had not been attended to," the husband told the court.
He said he was informed by the neighbour hours later at 3.20am that his wife had died.
Ekai told the court that Natini was told to wait outside after coming back from the lab.
"The waiting took too long and nothing was happening. She was complaining of severe pain. She requested to lie down and a few minutes later, upon touching her, the body was cold," said Ekai's.
The court ruled that the woman would not have died had the health personnel acted immediately.
It reprimanded the hospital for refusing to produce the woman and child's health records.
Related Topics