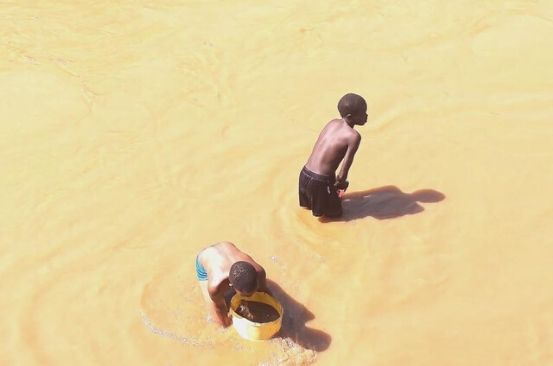 On a late Saturday evening, Mary* is clutching three containers full of home-made detergent.
"Can you please buy one. Mum said we have to get something for supper," she murmurs to a motorist, looking frail and dejected.
Mary tells The Standard team that she has been on the street since 8am, and is expected back to the house once she has sold her stock.
The 10-year-old girl, who claims to be a Standard Four pupil at a local public school in Nyalenda slum, says she has been doing this job from the time schools were closed due to the coronavirus pandemic.
Several pupils
A spot-check by The Standard revealed that several school-going children have been thronging the streets to sell boiled maize, detergents, vegetables and masks.
With the hard economic times occasioned by Covid-19 pandemic, children are being pushed into the labour market to support their parents, many of whom have lost their jobs.
READ MORE
Mary claims her father is a boda boda operator while her mother had been cleaning homes for pay.
But with the new normal, the income has become too little to support the family of five, and even the children have to do their bit.
"My mum makes the detergent then we hawk it. If we are lucky to sell them out before evening, we get back home for more," she said.
Jane*, not her real name, has also been hawking boiled maize on Kisumu streets.
Despite the risks involved in this, the girl from Kajulu in Kisumu East works on the streets till late in the evening.
"Most of my customers are night guards and boda boda riders, so late evening is best for my business," she said.
The 13-year-old Standard Seven pupil says she has been engaged in the trade for the last three months.
Her parents are peasants and have many mouths to feed, a situation which has seen the young girl brought in to help put food on the table.
Basic needs
She says her parents told them that without their help, they would not afford their basic needs.
"I rarely get time to do my home studies because I come from the streets when I am tired and I just eat and sleep," she says.
Once in a while, she returns home without making any sales.
But on a good day, she manages to sell all her wares.
"I am not the only one selling maize on the streets. I meet many of my friends from my neighbourhood, and we sometimes walk in a group."
When The Standard visited River Kibos yesterday, Peter*, who claims to be a Second Former at a nearby secondary school, was busy harvesting sand.
Together with his colleague, he said they are able to get five tonnes of sand in one week.
"We sell five tonnes for Sh1,600 and share the amount. We work together, about five to seven of us," said the 16-year-old.
According to Peter, the long stay at home pushed them into the business to earn some money which he uses for his needs and the family's.
Economic hardship
His parents have been doing some businesses within Kibos Market, they have been affected by Covid-19.
County Children Coordinator Humphrey Wandeo said his office is worried by the trend of children being on the streets, but noted that there is little his office can do without the support of parents.
"As you may be aware, the schools are currently closed, and the biggest responsibility in taking care of the children now lies with parents and guardians.
"We cannot be everywhere to protect the children," he said.
He added that his office has no official records of children engaging in dangerous economic activities.
He challenged parents to ensure that they care for their children and ensure their safety during this period.
"We have witnessed some of these children in the streets without masks, and in dangerous places, but how many will you arrest?" he posed.
*Names have been changed