Home
/
Nuptials: Couple holds 30-minute wedding worth Sh80k with nine guests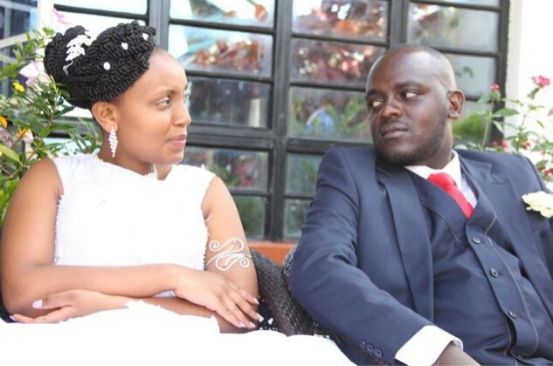 For two months, George Lewis Kariuki and his fiancée Rachael Wanjugu have been anxious as they made final plans for their so-to-be 'big wedding day'.
April 25 was the day the lovebirds had scheduled for the event, when they would say 'Yes, I Do' committing to a lifetime relationship.
Most things went down as planned except for the date, the list of guests to witness the exchange of vows and the amount of time they took, thanks to the COVID-19 crisis that has disrupted daily life across the world.
PCEA Muhito church in Mukurwe-ini, Nyeri County would have been packed to capacity as friends and family witnessed the vows but only two seats were occupied in the church with guests keeping the one-and–half metre rule.
Kariuki swapped over a 500-person park wedding to a nine-person ceremony after a deliberate agreement not to cancel or postpone the event as the COVID-19 crisis continues wreak havoc on social activities.
The wedding was held on Monday, three weeks before the scheduled date. The family had to forgo a glamorous wedding detail, from an exquisite table setting, floral arrangements, elegantly dressed maids and grooms, for a simple ceremony that lasted 30 minutes. Only nine family members and friends and the officiating priest were allowed.
The initial wedding budget stood at Sh1.2 million but they spent Sh80,000 only. One item they had to add on their list of must haves was bottles of sanitiser for their guests.
"It did not happen as we had wished but we had fun at the church and at the reception party. It was a simple but beautiful ceremony," said Wanjugu.
The State has restricted weddings and funerals to have only 15 people and to take just 30 minutes.
"We could not cancel the wedding because we were in the final stage of arrangements. Bookings for the reception venue had been done, we had already hired a photographer and our guests had invitation cards," said Kariuki.
What 'old person' things do you do?
Related Topics