Home
/
Parenteen
Confessions: My teenage son has become disobedient and rude, could he be taking drugs?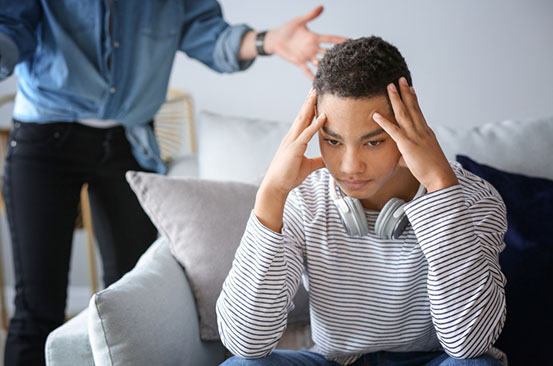 My son is in Form Two in a boarding school in Nairobi. He has been performing well in school and was formerly a well behaved boy until this year when the pandemic began. He has changed and spends most of his time locked up in his room, he does not take care of himself. He has become disobedient and rude, not to mention that some valuable items are now missing from the house. I suspect he is taking drugs but I don't know how to ascertain this. He is the firstborn, so I am scared his siblings might follow in his footsteps. Please advise me on how I can deal with him to put him back on track. Where do I even start?
Renee
What the readers say:
Renee, this pandemic has brought to light the negligence and irresponsibility among parents. Parents left the parenthood role to teachers. This is evident now that children have been out of school for months. Let's admit it, these children have now been left to learn from their peers and social media. Without forgetting, in this era of digital, parents are to a larger extent supposed to censor and monitor what their children interact with in daily life. Monitoring them now is not easy since that responsibility was long left to teachers. If you try it now, expect acute resentment from the teenagers. Yes, your child is addicted to either drugs or some strange lifestyle due to loneliness. Engage experts to help your child.
Ouma Ragumo-Sifuyo
The best way you can help your son is by gently persuading him to seek professional addiction treatment options. You may not realise it, but anything else is likely to make the problem worse. The nature of this illness means your young adult child is likely to have developed deceptive or manipulative strategies to hide his substance use and protect his habit. This behaviour is common among addicts. I wish you well.
Fred Jausenge
Though those are some of the tell-tale signs of drug and substance abuse, the problem could be deeper. For a lasting remedy to the issue, which could even degenerate into cult, through his trusted friends (whom I believe you know), cleverly establish the root: whether rebellion or pure deviance. From here, you will seek medical treatment and counseling, and the sooner the better. At this point, he is not yet too far into it, the reason I advise you to act quickly. The police service has special departments dealing with drugs and substances among the youth, you may share this with them since, at some point, their services will be needed (remember he may turn violent or resistant to some of your interventions and only the tack of the specialised department can work it out here).
Tasma Saka
Sorry madam. As parents we pass through many challenges. Your child is either using drugs or is in the wrong company -- or he is dating a sugar mummy or a lady pushing him to a bad wall. Talk to him to find out what he is going through. Talk to him in a motherly manner. If this fails, look for a close relative or friend who is free with him. Then get the help of a professional.
Onyango Outha?
Renee, disobedience is a common part of teenage growth and development but this phase usually passes. At the moment, your son is expressing/testing independent ideas and he is trying to balance his need for privacy. Again, there may be possibility that he is either worried or stressed about something. Please start by scheduling one-on-one time with him. Do something that he enjoys most and share a moment with him. This will give both of you an opportunity to talk openly. Through this you will develop positive communication and a strong relationship and you will be able to set clear family rules that need to be adhered to.
Rev Willis Atoyo
Renee, matters concerning your son's change of behaviour are weighty and cannot be fully addressed in limited space. In Form 2, perhaps he is 16 years hence in developmental stage of middle adolescence. Here, everything related to human development that is: physical, physiological, psychological, emotional, spiritual and sociological areas is changing rapidly with disruptive outcomes; rudeness and disobedience are "thirsts" for independence that is not real. Of course, the disrespect and defiance breed trouble but he still lacks the balanced right skills to handle independence. And this is exactly where he needs the help of a trusted young adult in the age range of 25 to 30 years for mentorship. Preferably, it should be a maternal uncle or a paternal aunt because of the hegemony they exert, especially, in the African family setup. Your suspicions of stealing to finance drug use aside, if you trace your steps as a mother you probably lost personal bond with your son during early adolescence (age 10 to 14). So, at the moment you may not hold a shared beneficial discussion with him. However, directly you can (or use friends to) encourage and support him (financially and materially) to join a physical sport such as football, swimming, tennis, or basketball that will create a scheduled activity which requires high discipline in the observance rules and consistency away from idleness. Slowly before you know it, he will become a positive influencer and silent mentor to his siblings.
Andrew N Wasike
Boke says:
Dear Renee,
Covid-19 has brought to the fore unprecedented challenges. Among them being how to parent teens not formally engaged. This is not just unique to parents but also to the young people themselves. It is also apparent that the society offers little intervention and that the responsibility boils down to parents.
The danger in the house is the free time. I suggest you take charge of not only his programme but everything that concerns him. I understand it could be a challenge to balance love and firmness at this stage, knowing that it is at this time that they learn to manage a reasonable extent of freedom.
From your description, something wrong could be happening. You cannot continue guessing. Get to the root of it. Establish exactly what he is up to. He is only 15 or 16 years old and does not watch him ruin his life.
If he is into drugs, get professional help for him. Particularly a substance abuse therapist. If he is not, that will be good news. However, you need to come up with measures that make it difficult to hide any strange conduct. For example you should do away with his mysterious living. Encourage family time, let him interact with family members and minimise time alone. You could also introduce an open door policy for his bedroom except for the obvious private moments.
Secondly draw up a programme for him such that he is not only occupied but you are also aware of what he is doing. Get to know his friends. Vet them and do not hesitate to end some of his friendships.
You could also team up with other parents with children of the similar age as yours and come up with activities such as sports. By all means get him usefully engaged. A mentor too, will be a valuable addition in his life. Do not underestimate the power of inspiration.
I do not know of your family structure but a male voice will be of tremendous help during this time. Finally let there be consequences for going against the set rules. Withhold and withdraw favours. It is godly to punish a wrong, so do not shy away from it. Remain loving but firm.
Hilda Boke Mahare has a background in Counselling Psychology
Related Topics