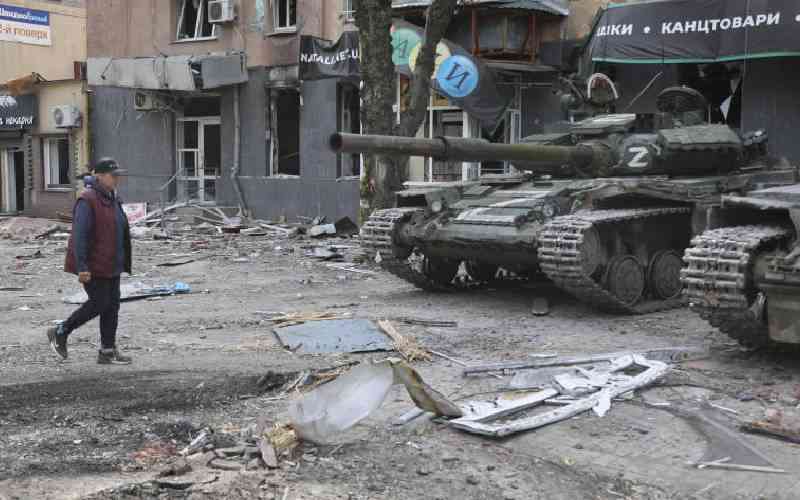 Years ago, I read an endearing article in the Reader's Digest set in some idyllic Danish farmland, which created in me a deep determination to one day visit rural Scandinavia. Most ingredients resonated with my own circumstances in the African countryside.
Particularly etched in my memory was the picture of a sweet young girl ascending up grassy steppes carrying some buckets. She proceeded to spend several days alone milking her family's hereditary cows, whose udders would have otherwise burst with milk.
I found it so reassuring that in an increasingly unsafe world, there existed a peaceful society where young girls could camp alone in forests without any fear of assault. The quintessential snowy, blissful Christmas scenes, complete with reindeer, must have been copied from this region.
Later on, I came to appreciate that the unique Nordic concept of peace and security transcended local communities. In the international arena, Sweden and Finland, particularly, have had a centuries-old policy of neutrality.
No wonder then that Nordic countries have often been veritable human rights havens, and the first destinations of African dissidents fleeing persecution at home. The ordeal of Koigi wa Wamwere, a famous Kenyan refusenik of the 1990s immediately comes to mind. It is quite fitting that Sweden, Finland and Norway are perennial entrants in the list of the top five happiest countries in the world.
Additionally, the intrinsic attraction of political neutrality to all cadres has made these countries, alongside Switzerland, magnets for external investments. Many nations consider them stable and reliable trading partners. Even Russia, the pre-eminent belligerent of modern times, has substantial investments in Finland, which in turn has injected 12 billion dollars into the Russian economy.
It is not hard to understand the motivation of Sweden and Finland's recent about-turn in seeking to ditch neutrality to join Nato. What, with millions of Ukrainians continuing to endure Putin's unrelenting cruelty, and gnashing teeth through an unforgiving winter without any heating after Russia's well-coordinated strikes obliterated crucial power installations?
It doesn't help matters that, according to several intelligence reports, Russia is girding up for yet another round of even more brutal assaults. And this is while the rest of the world nonchalantly wallows in a facade of a peaceful and harmonious cultural intercourse, complete with a highly successful FIFA football World Cup fiesta in Qatar!
Therefore, the lessons of Putin's unprovoked invasion of Ukraine are crystal-clear, especially to the European countries in its immediate neighbourhood. You might be the next in line, and you might have to endure the clobbering alone! Finland's case is especially precarious. The country not only shares a 1,340 km long border with Russia but has a history of bitter hostilities as well.
Too much water has passed under the bridge, with Sweden and Finland having already applied to join Nato (despite the stumbling block of Turkey's obstinacy). Yet, I believe that for the good of both countries and mankind, there is more benefit in upholding Nordic neutrality a little longer.
Firstly, there is real hope that the Russia, having publicly and arguably without tangible results expended vast resources in Ukraine, will have neither the wherewithal, nor the will or support to attempt the conquest of another country any time soon. The shame, and the adverse impact of the international sanctions on the economy are enough to make the Russian citizens themselves oppose any further wars.
Secondly, joining Nato will metaphorically deflower these nations, whose primary distinction and allure has been staying outside the box, and sitting out of rat races. Finland and Sweden will needlessly suffer a hefty loss of moral authority, vacate their honoured perch as potential mediators, and worst of all, share in the collective responsibility for Nato's past, present and future misadventures. It feels eerily discordant to even imagine Finland and Sweden as culpable for the destruction of Libya, or the killing of innocents in Iraq.
Third, the Nato security umbrella which has proved time and again to conveniently leak (so to speak), seems to possess extreme alacrity in adopting kinetic defence of a member state. Even the renowned Article 5 which harks on collective victimhood has fine print which makes going to war with a fearsome entity like Russia quite easily avoidable.
Sample the loud silence after a recent New York Times headline screamed 'Russian missile strike kills two in Nato member Poland'. I doubt that there will be any special treatment for any new Nato entrants.
Lastly, a famous children's story teaches us that sometimes, there is much strength in apparent weakness. Cat reportedly followed Hunter home after he had slayed its previous heroes, Lion and Buffalo. But finally, it stayed in the kitchen with Hunter's wife believing she was the ultimate conqueror. Cat has seen the wife 'dispossessing' Hunter of his trophies and guns!
When you seriously think about it, there might arguably be less protection for Sweden and Finland in Nato than in neutrality. It is unbearable to watch these two longstanding role-models for developing nations succumb to the fear of the Russian bully.
Related Topics