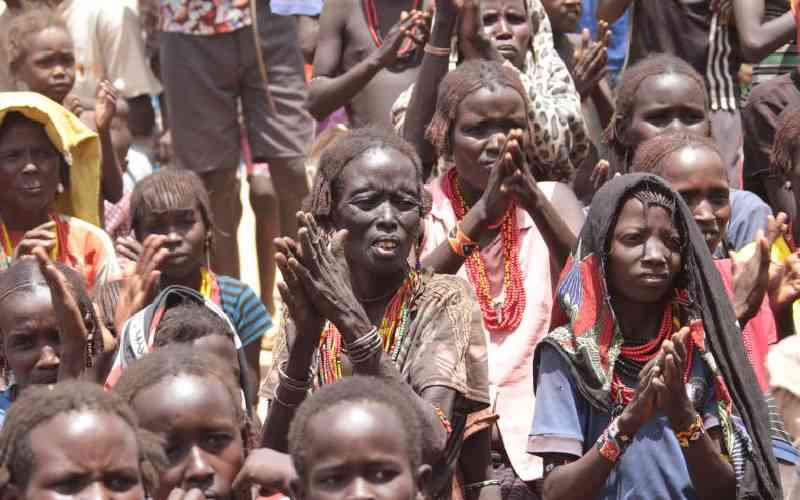 Katelo Mamo stands over his sheep carcasses, watching as his son drags them far out into the bush into a mass grave.
Flocks of carrion birds congregate near them as the pair performs the exercise early in the morning.
Mamo, a resident of Bubisa, 48km from Marsabit town, is perplexed. Residents have been piling their dead animals in the grave for months, but Mamo is dropping his last sheep this morning.
"I have been left with nothing, this has never happened to me". As he watches his son drag their last remaining sheep, he says he has little to say as a dispossessed man.
The carcasses of animals that died of starvation were strewn about Bubisa. The strong odour of death pervades this village in NorthHorr Sub-county.
The situation is the same in Kambi Nyoka village. Dansa observes her goat shrinking and dying. She says as the pastures dried up, her animals became thinner and died.
Over two-thirds of her goats had vanished by the time we arrived, and she is in tears.
"Normally, you would not find us at home at this hour; we would be in the grazing field with our livestock," she says, struggling to lift the already dying goat with the assistance of her daughter.
"Life is hard here; every day we wake up counting losses; we are losing all of our livestock," she added.
Gumato, a mother of five, is next to her hut, feeding flour to her surviving goats. Normally, she would be serving porridge to them.
She says this is the only way to save the animals. "I only have four goats left, and we share whatever relief food we get with these goats to keep them alive."
For nearly three years, the village has survived on relief food. "A local NGO occasionally gives us porridge and maize, but it is never enough; we are pleading with the government to help us during this dry season."
The residents of Marsabit County are experiencing the worst drought in decades. Parts of Kenya, particularly the arid and semi-arid regions, are experiencing a long dry season, which is wreaking havoc on many families' livelihoods.
According to the National Drought Management Authority (NDMA), for the past 25 years, 23 arid and semi-arid counties have been affected by drought due to insufficient rainfall in previous seasons.
"The drought situation remains critical in 22 of the 23 arid and semi-arid (ASAL) counties following poor rains through October-December 2022 when short rains usually appear," said Rebecca Miano, CS EAC, Regional Development and ASAL Regions.
Many people in the affected communities rely on rainfall for their farmlands and livestock, but most ASAL areas have seen little or no rain for more than five years.
They are currently dealing with the consequences of five consecutive failed rainy seasons, which have resulted in severe water scarcity. A closer look at the villages in Marsabit reveals a bleak picture of the effects of the drought on both humans and livestock. Villagers are now on their own for survival, as most households no longer have animals.
As the drought worsens, livestock carcasses are scattered across many ASAL areas. Most villages have seen young men leave with herds of livestock in search of grass and water, leaving the elderly to tend to homesteads.
Enroute to Demo village, a patch of sun-fried barren terrain covered with cattle carcasses infested with live maggots can be seen east of North Horr sub-county.
Talaso Adano walks home with hay on her back. She has lost 203 of her 207 cows due to the drought and is concerned that if nothing is done to help the affected communities, the situation will worsen.
"Because my husband is unemployed, we used to rely heavily on our cattle for a living," she says.
Adano had been watching her cattle collapse and die one by one for three months. One hundred died before she moved to Demo village, and the remainder died here. The four survivors are chained inside a fenced-in shed.
The animals are unable to stand, have sores on their hides from lying on the ground, and their ribcages protrude from their sides. This is the heartbreaking sight that Talaso and thousands of other herders in Marsabit county are witnessing.
Animals are more than just an investment for residents of Marsabit and neighbouring frontier counties.
Resident Adho says she is losing hope that the remaining cows will survive as she feeds them with hay she purchased for Sh500 per bale earlier that day.
As one walks around Demo Village, one comes across empty cow sheds and cows who are too weak to stand up and are waiting to die.
Men at the far end of the village are burying their livelihood by tipping carcasses into a mass grave. The stench of rotting flesh emanating from camels, sheep, goats, and donkeys is intolerable.
"The goats and cattle died, and you can see the carcasses all over; we are devastated," says Jillo Galgalo, who once owned over 70 cows, but he now has only one.
Galgalo, who once had a fortune, now has no way of making money; he says his children haven't eaten in days.
"I've lost everything. Now I'm at a loss as to what to do with them (children); I haven't given them food in days."
Pastoralists like Galgallo are being pushed to the brink as the climate crisis causes severe food and water shortages. Many people in this area only eat one meal per day. Others go for days without eating.
WWF-Kenya is running a programme to distribute food packs to families most affected by famine in the villages. Yusuf Wato, manager in charge of biodiversity and research and innovation at WWF-Kenya, said the effects of climate change, combined with long dry seasons, have exacerbated a long-standing problem in most ASAL areas.
Related Topics