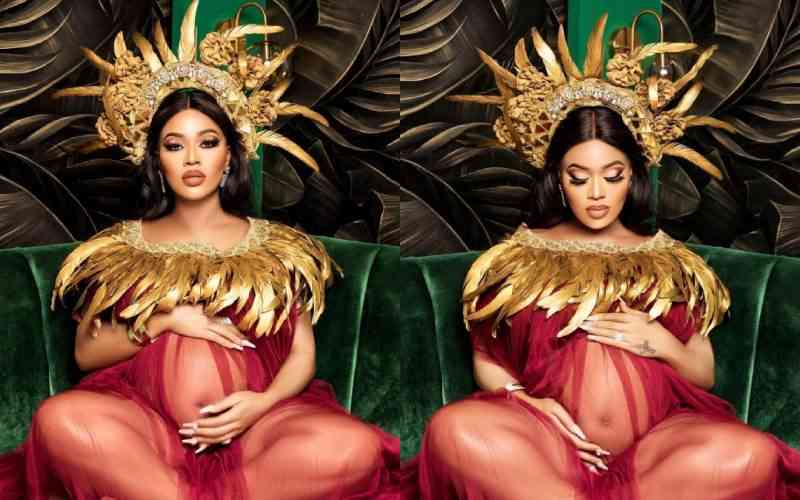 Vera Sidika has informed her fans that she has already settled on a date to give birth to her second child.
Through a Question and Answer session (Q&A) on her Instagram page, Vera said she will go for cesarean delivery (CS) as was the case with Asia (her firstborn).
"I am doing everything the same as last time. I loved my entire experience with Asia and I will do it all over again without doubt," she said.
Asked whether she planned her second pregnancy, Vera stated that they found out at four months.
She further added that she is working on a 'big gender reveal party'.
"I have scheduled a date for CS surgery. Like I said before, I prefer CS…zero pain. The gender reveal is coming soon and it is going to be a big party this time around. I can't wait," she wrote.
"I am so excited to find out our baby's gender."
Asked whether she is done having kids, Vee said she might add one more but after five years.
In 2021, Vera took her fans through her pregnancy journey, highlighting why she settled for Elective Cesarean Section, which is basically a CS delivery on maternal request.
At the time, she stated that she wanted Asia to be born on October 20, 2021, a public holiday, to ensure she always spends it with family.
"Since elective CS allows you to select a date within a particular timeframe, I personally chose the date 20th October 2021 So she can be celebrating her birthdays from home with family since it's a public holiday, Mashujaa day and phewx! Curfew got lifted a few hours right after she was born. Such a blessing," she said.
Adding: "My honest opinion on CS delivery, (based on my experience so far). During surgery I felt no pain. It's been 21 hours after surgery, still no pain at all. And I can get up, walk around on my own. Waaah. I am surprised. Actually felt so good during surgery. Some kind of high. I was awake. Saw, heard everything. Even told stories with my Anesthesian with some nice old school RnB music in the background," she said at the time.
View this post on Instagram
A post shared by VERA SIDIKA (@queenveebosset)
Related Topics