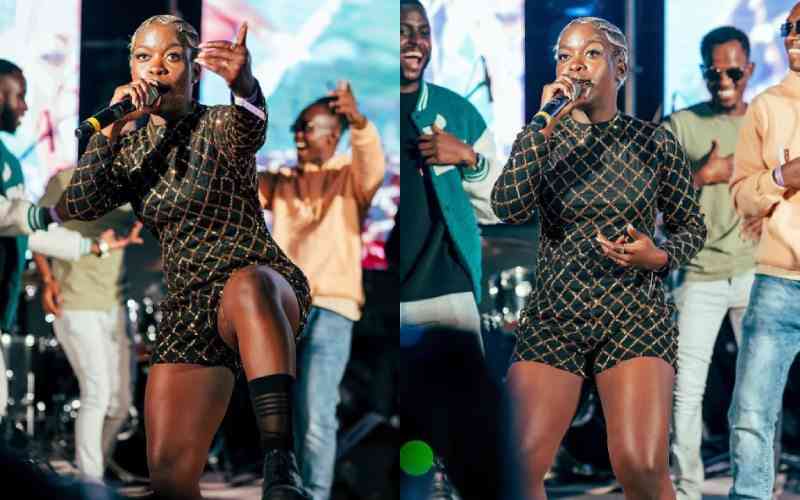 Who is Brandy Maina?
Brandy Maina is a sister, a daughter, a friend, and a beautiful babe who is passionate about doing what makes her happy and inspiring people around her.
You are a multitalented artiste; tell us about this woman who wears all these hats.
I always think about diversifying my ability and what I can do and how best to expand what I know. Also, I love trying new things that all encircle around art; dancing, songwriting, singing and even hairdressing.
How would you describe your music style?
I like my music catchy, relatable and groovy. This is why I switch up the lyrics between Kiswahili and English when writing my songs. I also play around with different genres like reggae, soul, and Afrobeats.
What was the biggest breakthrough in your music career?
Definitely the song Kuna Kuna. Numbers never lie. We worked on the video with Vic West and the feedback has been amazing since then.
What has changed since you stepped into the spotlight?
I just arrived... (laughs) So many people are around you; wanting to be close to you, some feigning friendship. You have to be able to discern who is true and who isn't. This is why I am always very aware of my surrounding and the people I allow into my life and space. Another thing is almost everyone recognises me now, I can't just go anywhere without people noticing.
What doors has music opened for you?
The opportunities have been tremendous and now I am able to work with more corporates.
If you were not a musician, what would you be doing?
I love animals. I would definitely be a veterinary. Am still going to do that someday. Am not letting go of that dream.
Who is your celebrity idol?
Omg Temz! I love him.
Which was your biggest performance? And how was it?
My biggest show has to be Koroga Festival. I curtain-raised for Diamond. I was fresh, new and I had never performed for such a big crowd. That was back in 2017 and 2018.
How do you manage stage fright before a performance?
I pray a lot. I affirm myself and keep it positive. I sit alone in silence and do breathing exercises. Also, I love stars, they calm me down.
What's the craziest rumour you have heard about yourself?
Someone once told me that I behave like a star all the time. I don't even know what that means.
Tell us about the most remarkable moment for you during a performance.
I once sang Kubali and people were literally crying. It was one of a kind.
Are there projects your fans should look forward to?
Definitely more music.
Goals for your music career.
I just want to have a very significant collaboration outside Kenya. Like with one big international artist.
What future collaborations should we expect?
That's up to God.
Quickfire
Who is your celebrity crush?
Temz.
If you had a superpower, what would it be?
Telepathy.
What was the weirdest fan request?
If I could marry them.
What book are you currently reading?
None at the moment, podcasts work best for me.
Related Topics