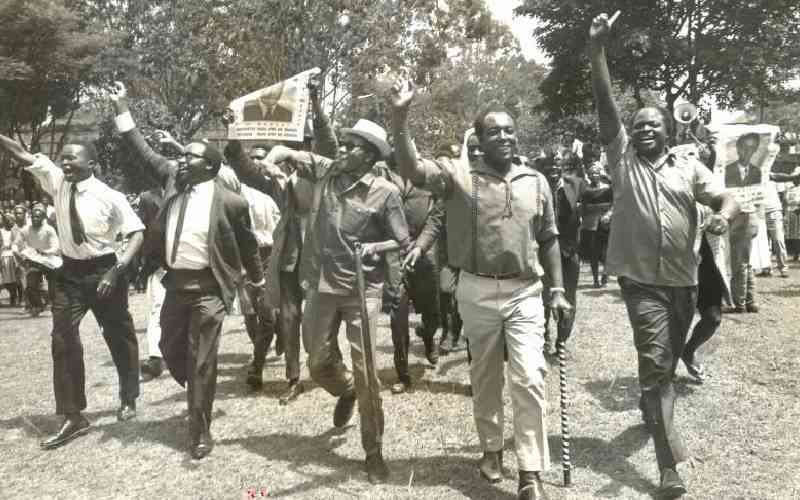 Power is sweet, good and intoxicating. It affords those who wield it rare opportunities, and abilities, which can only be imagined by others.
On May 6, 1973, East African Airways' regular plane to Mombasa took to the skies from Nairobi, carrying with it tourists, government officials and other passengers.
Mid-air, the plane was recalled from the tower to pick up a very important person who had either missed it or had been summoned to an urgent, important business. Dr Magana Njoroge Mungai was many things at the time.
He was a first cousin to President Jomo Kenyatta, the President's personal physician, a Member of Parliament and the country's Foreign Affairs minister.
At the time, Mzee Jomo Kenyatta was on a working trip in Mombasa.
Meanwhile, Senegal President Leopold Sedar Senghor was passing by Mombasa on his way from Mauritius. He was hoping to see Jomo.
Mungai was needed urgently in Mombasa to receive the foreign dignitary on behalf of his client, Mzee Kenyatta, who was unwell at the time. He would then tend to his client after attending to his guest.
He arrived in Mombasa in good time to join his colleagues Mbiyu Koinange (minister of state), Gikonyo Kiano (minister of commerce and industry) and Robert Ouko (Minister of East Africa Community) to welcome the Senegalese leader.
When Senghor landed, he was clearly not amused that Kenyatta was not there to receive him. He had earlier on passed by the coastal city on his way to Mauritius and had not seen him. He had left a special message for Kenyatta.
Now he was on his way back and still, the old man had not shown up at the airport.
He had no idea the trouble Mungai's team had gone through to be there for him. He nevertheless accepted the trio's invitation, courtesy of Kenyatta, to undertake a state visit to Kenya. Mungai served as foreign affairs minister between 1969 and 1974, during which he made a lot of foreign travels on behalf of Kenyatta.
When he died in 2014, his nephew President Uhuru Kenyatta honoured him with the distinction of being a pallbearer.
For the first time, a sitting President of Kenya carried a casket.
Related Topics