Home
/
My Man
Christopher Kirwa caught the love bug!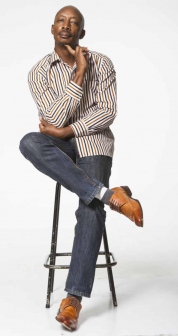 Veteran event planner CHRISTOPHER KIRWA talks to GARDY CHACHA about his belief that marriage is sacred
How long has it been in showbiz?
Man! Seventeen years... and still counting
And all that while you have had this 'upara'?
It is not really an 'upara'. I have bits of hair. I like shaving it like that. It is easier to deal with and saves me a lot of soap.
We hear that nowadays, you are all about celebrating marriage...
You can say that. I got married in October 21, 2013. It was a special occasion in my life. I have never liked how people associate pain and negativity with marriage – especially if the couple is in the limelight.
So, we got the idea to start a topic on social media using #WarmestCouple. We post a photo of a couple every so often. In a way, we are celebrating marriage.
You remember the date: that is good
You have to remember the dates if you don't want trouble. My wife and I are big on anniversaries.
Marriage is good?
Yes. It is beautiful. But that is not to say that couples don't disagree. There are challenges which all of us experience but that is just normal
So for you a society where marriage is falling apart is total dread?
That would amount to anarchy. Imagine children growing with no idea of who they are and no perspective of what life is about. The society becomes self-centred and no one believes in any particular thing. Then the streets overflow with thugs, bandits and every kind of lawlessness.
You have managed many pageants: was your wife a pageant contestant when you swooped in on her?
I spotted her when she was auditioning for beauty pageants 9 years ago
With her on your mind she must have won the contest...
We didn't even get close that first time. We would meet again three years later at another audition. She did pass and was among the best – genuinely! I can show you the video clip
What did you tell her after you realised you were seriously smitten?
First, I knew my interest in her had gone past the point of no return when she only muttered ten words for her maiden speech. I was like, 'Huyu ndio mambo yote'.
The truth is girls in the pageant world – and showbiz in general – are loud. Then comes this calm soul: that was it for me. And God, didn't I love her beautiful eyes?
Did you purpose to marry a beauty pageant girl?
Not really. But a lot of my friends swam in on me at pageantries because they knew I would have beautiful women around me. And many did marry girls they saw on the runway.
Something you credit your wife for?
She cured my ulcers. I used to suffer from those when I lost my mother because of too much stress. When she came into my life, the ulcers cleared. She was the medicine that had been elusive for so long.
When you wrong your wife and she is fuming, how do you handle it?
Whatever I do, I won't raise a finger against her. But I have learnt that sometimes it helps just to say, "I am sorry". Because she will shed tears – of relief; not pain – afterwards.
Do you ever shed tears of relief?
When I want to shed tears I wait until it rains. I will move into the rain and cry. When I emerge back, it will be difficult tell the difference (speaking of which the recent El Nino rains were a blessing for many of us men).
You are a modern man; it shouldn't be so difficult to show emotion
I agree it shouldn't be so difficult. However, the Nandi in me is just not comfortable shedding tears.
Your wedding was pretty colourful and very Indian
It was my wife's choice. And my wife comes from Kamba. Kambas are like Chinese: they put blue, yellow and red together and the colours will match.
When girls throw themselves at you, how do you handle the situation?
I never take alcohol: I don't take alcohol
How is that a solution?
Alcohol has a way of weakening one's resolve in fighting temptation and making the right calls.
Does your wife know where you are right now?
Down to the person I am with. In fact, let me call her and inform her that I will be dropping you first.
Related Topics