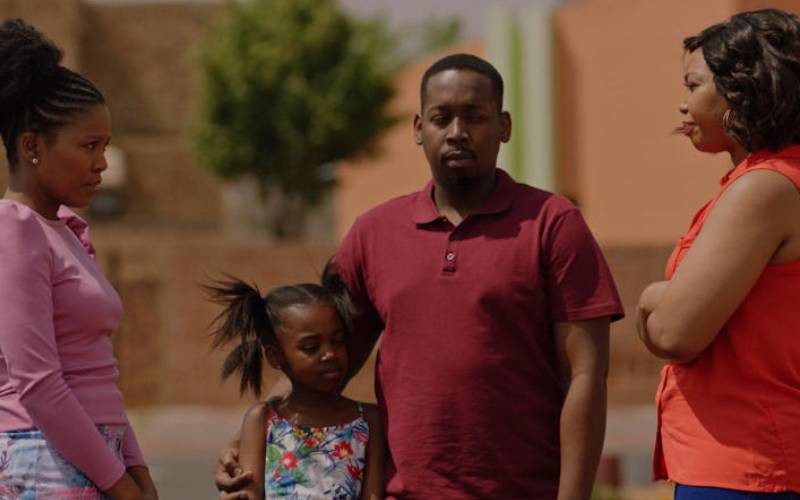 The love triangle starring Mugithi artiste Samidoh, his wife Edday Nderitu and nominated Senator Karen Nyamu, the mother of his two young children, is on everyone's lips.
Nyamu and Samidoh had attended a funeral together and were photographed sitting side by side. The situation left Edday fuming, and the marriage on the line.
While condoling with the family of the Deputy President, whose sister-in-law passed away, the Senator and her famous 'baby-daddy' appeared to be in good spirits.
She shared the moments on an Instagram post on February 23, including multiple photographs in which Samidoh was captured.
The Senator simply captioned the post: "Today I condoled with the family of the Deputy President HE Rigathi Gachagua on the demise of his sister-in-law Nancy Muthoni. She was laid to rest at Kamunyaka Village, Gatanga Constituency, Murang'a County."
And her followers went wild with comments on the post, some picking sides between the two ladies involved in the love triangle, while others criticised Nyamu for it.
"Tulikukataza tena umerudi," wrote one Innocentia, saying that loyal fans had previously urged Nyamu to end her relationship with the married musician.
In an apparent response to the post, Samidoh's wife Edday did not mince her words at what she said was "disrespect."
Edday took to Instagram, where she uploaded a throwback snap of herself and her husband in uniform, presumably in high school. The second slide was a more recent picture of the couple.
"It has been exactly 15 years of marriage full of ups and downs, it was a humble beginning where little was enough for us, but for the last three years it has been nothing, but pain," Edday wrote.
She added: "I have remained faithful to you regardless of disrespect, humiliation and being trolled on social media, you have made me look dumb and taken my silence for granted."
The mother of three then detailed her side of the love triangle, writing that she had supported her musician husband as he grew his talent.
"I will not raise my children in a polygamous family, especially with a woman who is older than me by more than 10 years, has no morals and zero respect for my family," Edday hit out, before declaring that she has been through "an ocean of pain."
In the comment section of her post, a familiar name popped up, that of Amira, the ex-wife of popular matatu boss Jimal Marlow Rohosafi.
"A coffee date inatuhusu," Amira wrote in a comment seen by The Standard Entertainment, hinting that the two ladies should get together.
And it's not surprising that Amira would want to discuss her experiences with Edday, given that she too was involved in a very public love triangle.
Her ex famously got involved with the wildly popular - and now-engaged influencer Amber Ray.
Amira and Jimal had heated social media spats last year and broke up after his continued involvement with Amber.
Even as Edday, Samidoh and Nyamu figure out their situation - and Jimal moves on with another influencer, the cute, reserved, and now expectant Michelle Wangari, other popular personalities demonstrate that things can get messy between wives and 'baby mamas.'
Recently, singer Bahati Kioko's wife, Diana Marua has been avoiding rumours of a fall-out with the mother of her husband's daughter.
Diana hinted that not all was well between her and Yvette Obura, the popular artiste's baby mama.
While responding to a Question-and-Answer session with her fans who wondered where Yvette and Bahati's daughter Mueni was, Diana was cryptic.
"Let us not involve Jesus where there is ungratefulness, bitterness and spite. Love and Light," Diana wrote.
The two ladies had been known to be cordial and friendly with each other for a long time before reports of the fallout.
The gospel singer Mr Seed has also seen his fair share of public attention for disagreeing with his baby Mama, Liz Sonia.
While denying allegations of not being present in his child's life in an interview with Mambo Mseto, Mr Seed maintained that he respects his 'baby mama' and did not want to speak about his children publicly.
He also said that the lady and his wife, influencer Nimo Gachuiri are on good terms.
"Ni mtu at the end of the day, tutafanya nayeye life. Yuko kwa maisha yangu na mtoto hadi ile siku atakuwa mtu mzima. I respect her so much, but I am not going to talk about my children," he said.
Other celebs have managed to keep co-parenting with their baby mamas low-key and unproblematic, while keeping their marriage together too, like the rapper King Kaka.
King Kaka is married to media personality Nana Owiti. He shares a child with musician Sage Chemutai.
Despite admitting to going through ups and downs during their 11-year marriage, Kaka and his wife form a united front and seem to be as very in love.
While celebrating their anniversary last year, the rapper showered his wife with sweet words.
"Thank you for all the lessons, thanks for holding me down, and thanks for creating room for conversations and words that cannot describe you. Thanks for defining what love is," he wrote on Instagram, adding, "We have many more years to come. We keep thanking God for this union."
The 'baby mama' culture continues to be popularised by renowned personalities, both locally and internationally. As such, it remains between a married couple to decide if they can work through the issues that come with having children with other parties outside the union.
Doctor Zoe Shaw, a life coach and psychotherapist, writes on her website that 'baby mama' drama goes back to even before civilisation, and is described in various books, including the bible.
"Think Abraham from the Bible. Sparks were going off between Sara (his wife) and Hagar (baby mama). Abraham could not deal with the drama and finally shipped Hagar off with their child, never to be seen again," says Dr Zoe.
She adds that the modern reality is that almost half (46 per cent) of marriages involve a step-parent situation.
The psychotherapist writes that it is up to you, who is looking to make your marriage work to know when to take a back seat and when to step up.
"Sometimes your role will be the back seat and sometimes it should be front and centre. You deserve to be respected as the new woman in his life and she needs to be respected as the mother of his children."
She adds that mutual respect, open communication and cultivating a relationship between the two ladies may help smooth things over.
Related Topics