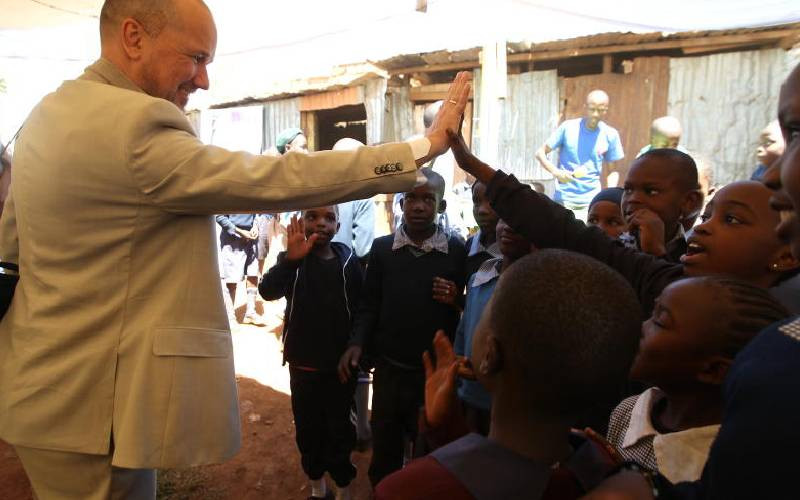 Residents and learners at St Juliet School in Lindi Ward in Kisumu Ndogo village in Kibra have a reason to smile as an ablution block that has been under construction for the last six months has been completed.
The project, funded by German's Federal Ministry for Economic Cooperation and Development (BMZ) among other partners cost Sh5.8 million and will serve the school and the community.
The facility has two storage tanks with 2,300 litres of water capacity.
The community section has a washing area, three toilets separate for women and men and people with disability, and two communal showers.
The services will however be accessed at a small fee for maintenance and other expenses related to running the facility.
Washing clothes will be charged at Sh50, toilet use at Sh10 same as a cold shower. A hot shower will cost Sh20 while a 20-litre jerrican of water will be sold at Sh5.
The last separate section has an incinerator to take care of used sanitary pads from the school and the community at a fee that is yet to be decided on. The project is expected to benefit over 500 pupils.
"Previously, we had a problem of disposal, sanitation, and hygiene within the community as you know Kibera has been known for flying toilets and the project has come with much excitement from the community,'' said the school's director Jared Kataka.
Christian Friedemann, the policy officer, of development cooperation with Kenya and Somalia at the Germany Embassy in Kenya said education is a key factor in transforming lives and communities, and access to basic facilities such as the sanitation block is crucial in providing students with a clean and healthy learning environment.
''However, this centre will not only serve the pupils of St Juliet School but also the community. It will provide a safe and hygienic place for pupils and community members to wash their hands and clothes, promoting good health and helping to reduce the spread of diseases,'' Friedemann said.
He said Germany will continue to support education and improve the quality of life in developing communities and challenged other organisations and individuals as well to also play their role in supporting education and improving the lives of children.
Peninah Munguti, arche noVa regional coordinator for East Africa which also supported the project said phase two will involve the integration of WASH with nutrition-sensitive activities like vegetable farming.
Kibera Assistant County Commissioner Juma Walela thanked the donors saying the project will go a long way in ensuring the availability of water for the residents and improving community sanitation and hygiene.
Related Topics