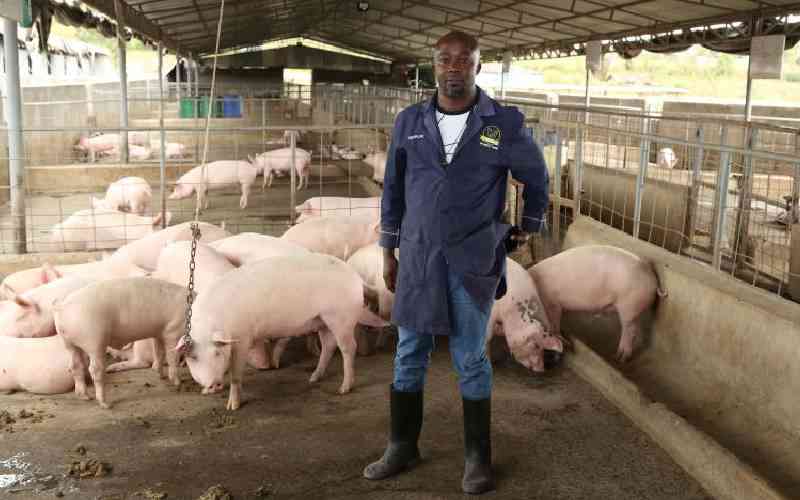 When the country was hit by Covid-19 in March 2020, many institutions became dysfunctional.
With social distancing and minimal visitation, lives were destroyed, jobs were lost, and then came the utilisation of technology as organisations appreciated digitisation, and meetings via Zoom became the norm.
As much as there were discrepancies, it came with lessons: idle time generated good ideas, business ideas were initiated and innovators even became more creative and innovative.
Morris Muiruri, 41, ventured into pig farming from which he makes millions of shillings.
Muiruri earns about Sh250,000 per month by selling pigs.
"Covid-19 pandemic taught me a lesson, at the time I was supplying stationery to schools, but it stopped. To make ends meet, I was forced to be innovative and creative by coming up with a plan to make money," he said.
Growing up in Murang'a, Muiruri was passionate about rearing livestock. He had rabbits when he was in primary school.
His parents were farmers and had dairy cows, goats, and sheep. This is what motivated him to concentrate on rabbits.
"At the time, I was passionate about rearing animals, which originated from my parents, they were farmers, and seems that it's in our blood as my relatives have also ventured into farming," he said.
Good environment
After finishing his studies, he started supplying stationery to secondary schools but things got worse when the pandemic hit the country two years ago.
He consulted his wife Jackeline and decided to venture into pig farming.
He bought four pigs at Sh30,000 each in May 2021 and in July, he added more and now he has 32 females with two males. He has around 290 piglets.
"We bought the first four pigs in May 2021 at around Sh120,000. We wanted the first batch to have a difference of two months as we continue to add more pigs.
"In August we bought eight more pigs, and we have been selecting and breeding from our mother stock," he said.
He calls the farm Amani Porkie.
"The goodness of venturing into pig farming is that it is cyclic, it doesn't have daily sales, it takes time and with good management, it can work well," Muiruri said.
He added that for the business to be successful, a farmer needs to create a good environment for the pigs in terms of structure to avoid exposure to direct sunlight and rain. The temperature in the pens needs to be moderate.
The breed is another factor that should be considered. Feeding is important for the development and growth of pigs as proper feeding will prevent diseases and help in maintaining weight.
Sourcing for a good market is paramount for the business to avoid falling victim to people who take advantage of the farmer's naivety.
Muiruri said most farmers fail to establish the market before venturing into a business.
Initially, he would use Sh8,000 on feeds for one pig but with the current high price of feeds, he uses Sh11,000, and that is expensive.
"Raising one pig until maturity and attaining good weight for the market will cost a farmer around Sh13,000 inclusive of veterinary services and feeds."
When it comes to selling, he said it depends on the full weight it has achieved as 100kg pig will earn him Sh22,000.
Cost of production
Among the breeds he rears are landrace, duroc and large white which he sources from farms after benchmarking.
"Pigs are disciplined, in my case they know where to pee, where they get water and the time they receive their feeds. To maintain hygiene, we do cleaning after morning meals and in the evening," he said.
To reduce the cost of production, he buys the raw materials, mostly maize, and then grinds them.
The pig market is a challenge in Nakuru, but Muiruri's major clients are from Central Kenya, Nairobi and Farmers Choice.
"We have challenges here in Nakuru that is why I depend more on Farmers Choice and clients from Nairobi and Central Kenya, but with good planning, one can sell the pigs even in Nakuru and still get good money," he said.
His wish is for the government to stabilise the economy so that the prices of animal feed and other products do not rise every now and then.
"My call to the government is to import animal-grade maize to help the farmers. It also needs to encourage farmers to venture into planting soya beans which is an ingredient of pig feeds," he said.
For a farmer eager to venture into the business, he advises them to have good planning in terms of funds to avoid using substandard feeds.
His lowest moment was when two of his pigs died. One had just delivered while the other was nearing weaning.
Diseases are also a problem when rearing animals but he said they can be reduced by maintaining a clean environment and introducing biosecurity. "Like for us, we have biosecurity which prevents diseases inside and outside the farm," he said.
The gestation period of a pig is three months, three weeks, and three days.
His highest moment was on May 17, 2021, when he received the first pigs on the farm, and August 17 same year when the pigs gave birth. His dream is to add other structures and make his own sausages.
Frenzel Otieno, a veterinarian employed on the farm said that he has been vaccinating the pigs and making sure they are treated on time.
He emphasised that biosecurity was important in preventing the transmission of disease to pigs. Deworming and vaccinating pigs during weaning and the gestation period is also important.
Related Topics