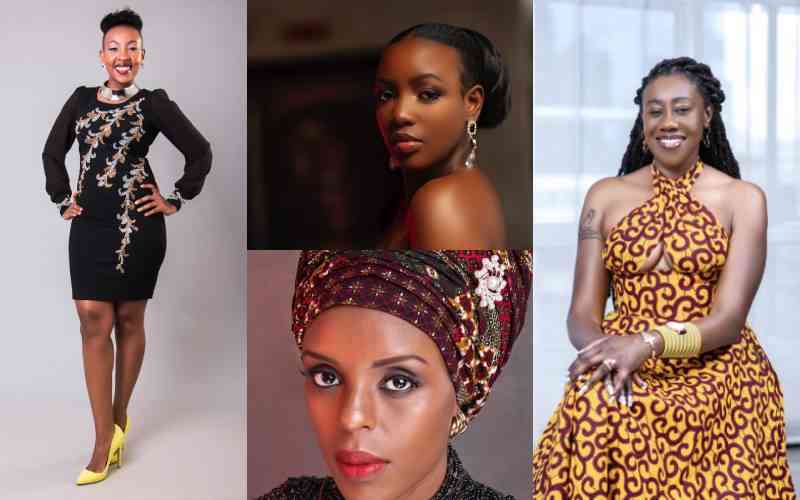 The holidays are here, and they afford us to slow down from the hustle and bustle of everyday living. Parents and guardians get to pass on much-treasured Christmas traditions to their children, and those who do not have children, get to relive and/or create novel ways to spend this most magical time of the year.
Indeed, all over the world, families have unique traditions of observing the festivities, with most having already put up the Christmas tree.
There are those who will spend time listening to Christmas carols, go to church, and travel to the village or a holiday destination. Others prefer to binge on Christmas movies while wearing ugly Christmas sweaters or matching pyjamas.
Eve spoke to some public personalities to find out what Christmas traditions they follow and what they mean to them:
Jacquey Nyaminde (Wilbroda), Theatre and Screen Actress, Radio Presenter:
WHAT CHRISTMAS TRADITIONS DID YOU OBSERVE GROWING UP?
My dad was a staunch Catholic and we would go to the local Catholic Church, but on Christmas day my dad believed the best Christmas message could only be found at Holy Family Basilica in town.
So, we would all dress in our new clothes and board a matatu from Langata to town. After Mass, we would go back home and enjoy specialities like chapati and kuku!
WHAT IS YOUR MOST MEMORABLE CHRISTMAS MEMORY?
We used to live in Rubia estate in Langata and every child knew the other, so we would show off our new shoes and clothes. My parents were stylish, so we always had beautiful clothes and shoes. We often stood out.
WHAT CHRISTMAS TRADITIONS HAVE YOU KEPT?
I have maintained the tradition of spending Christmas with family, so we always travel to the village to spend Christmas with my mother. We cook a feast; eat, drink and dance! My son loves it. The only thing we do not do is buy new clothes or shoes. You will find my son in crocs and sweatpants all day!
Mwalimu Rachel, Media Personality:
WHAT CHRISTMAS TRADITIONS DID YOU OBSERVE GROWING UP?
We lived in Mombasa, and so Christmas was my parents, my sister and I getting into a car and driving from Mombasa to Embu to visit our grandparents. It was a long but fun trip. It was exciting - we would sleep, sing and enjoy the scenery.
Those are memories I cherish. At the village, we would play barefoot, which we enjoyed so much. We would sleep in a mud-thatched house, which was novel for us children and what made the experience more special is we would participate in doing repairs on the house. This involved helping to thatch the wall with cow dung.
WHAT IS YOUR MOST MEMORABLE CHRISTMAS MEMORY?
When rural electrification was launched, we went to ushago on Christmas and alas - there was electricity. Previously, we would use the car battery to power the TV, and the charge was short-lived. Often, we would carry the battery to town on a wheelbarrow to charge it. Now we could afford to stay up the whole night watching TV.
WHAT CHRISTMAS TRADITIONS DO YOU OBSERVE TODAY?
I work in the media and even though most people get to stay home, we go to work to keep the public engaged and inspired during the festive season. This year Christmas will fall on a Sunday and because I do not work over the weekend, I will be able to celebrate it with my family. I plan to go to the village with my son to visit my parents and the rest of the family.
I went to Dubai a few months ago and got presents for my parents but I have not had a chance to deliver them, so it will be nice to take the presents to them then. I look forward to bonding with my parents and for my son to bond with his younger cousins. I am intentional about spending time with our family, especially now that my parents are getting older.
Njambi Koikai, Reggae MC:
WHAT CHRISTMAS TRADITIONS DID YOU OBSERVE GROWING UP?
Christmas was all about family coming together under one roof and enjoying each other's company. We would cook and eat like there was no tomorrow while enjoying good conversation. It was that day when you ate lots of chapatis and drank copious amounts of soda.
WHAT IS YOUR MOST MEMORABLE CHRISTMAS MEMORY?
I have wonderful Christmas memories. Christmas is always special to me because you get to spend time with family. Over the years we have lost some members of the family, and that makes the time we get to spend every year even more special.
WHAT CHRISTMAS TRADITIONS DO YOU OBSERVE TODAY?
I will be carrying on my childhood Christmas tradition of meeting family under one roof, and we will cook and enjoy each other's company. However, now we are more health conscious so we make sure we cook healthy foods. No more soda; we eat in moderation, no more overdoing it (laughs).
Mumbi Maina, actress:
WHAT CHRISTMAS TRADITIONS DID YOU OBSERVE GROWING UP?
We would go to the countryside and spend time with family. We would do a lot of cooking and just hang out together. I especially enjoyed spending time with my grandparents. However, I struggled a bit because my Kikuyu was not so good. I am a city girl by heart.
Also, I am quite awkward and shy with people and even today although I am an actress, I am still shy and so I struggled in social setups. Thankfully, as I get older I have learnt how to navigate those. When we did not go to the countryside, we would stay in Nairobi and still enjoy family time together. Sometimes we would go somewhere special for lunch or dinner. Also, Christmas was the time we would get Christmas presents, which was mostly a new outfit. I loved that!
WHAT IS YOUR MOST MEMORABLE CHRISTMAS MEMORY?
I cannot pick one as being more special than the other. To me, the Christmas season is always special because we get to come together as a family, spend time together and catch up.
WHAT CHRISTMAS TRADITIONS DO YOU OBSERVE TODAY?
For the last three or four years we have come together for nyama choma, drinks and to open presents which the children enjoy very much. We do not travel to the village anymore, we stay in Nairobi. It has now become the season to overindulge in some good food in peace.
Being an introvert, I prefer the indoors and, after spending the day with family I head home to snuggle up and watch some Christmas specials on TV. I also do a closet audit and remove clothes I have not won in a year and donate them to a home. It is not only a way of giving back, it is also therapeutic. Giving out my clothes is metaphoric in that it represents letting go of some things so that I can an n start a new year on a new slate.
Liz Lenjo (IP & Entertainment Lawyer; Copyright Tribunal Chairperson):
WHAT WERE YOU CHRISTMAS TRADITIONS GROWING UP?
As a child, my late Dad would take us to mass on the night of 24th and sometimes on the 25th during the day. My mum would cook her state-of-the-art pilau and we would eat and watch movies all day as a family.
FAVOURITE CHRISTMAS MEMORY LOOKING BACK?
Watching movies with my late dad at night. He enjoyed the comedies. My favourite memory is his laugh and my mum making sure there was food in plenty during the holiday season.
WHAT ARE YOUR NEW CHRISTMAS TRADITIONS?
Now with a family of my own, we enjoy nyama choma and ugali on Christmas eve and opening presents and going to the beach on Christmas day. There is something about that Christmas choma. It slaps different.
Jeniffer Salome Kanini (Cyclist):
WHAT WERE YOU CHRISTMAS TRADITIONS GROWING UP?
Growing up my sister, my two cousins and I stayed with my grandmother in Machakos county while mom and uncles were in Nairobi working. We grew up Catholic and loved going to church, it was like a treat for us. We especially loved Sunday school and liturgy dancing.
This basically involved dancing around the alter. Although we loved church, we knew that if we did not finish our chores, we would not be allowed to attend church on Christmas, hence me and sister Faith came up with a plan to ensure that we would be able to go to church on Christmas.
Two days before Christmas, the 23rd and 24th, we would make sure we woke up as early as 5:30 am and would cultivate the land, and once we did our chores she would let always allow us to go spend Christmas at church.
FAVOURITE CHRISTMAS MEMORY LOOKING BACK?
I have two. Firstly, when my uncle Joseph Muatha would dress me and my favourite cousin Eva Muatha (aka sweet) in matching clothes, and if he failed to do it, we would cry for hours.
Secondly, whenever our parents would get late travelling to see us during Christmas, the temptation for chapo would overcome my cousin Eva and I. So, we would sneak out of our home and head to neighbouring houses where we could smell chapo being cooked and pretend we were looking for our lost goat Once invited in the chances that we would join in on the food festivities were always very high. Those were good times!
WHAT ARE YOUR NEW CHRISTMAS TRADITIONS?
I always send something for my mother so she can enjoy her Christmas. I then go to church, and after I head home and rest.
Related Topics