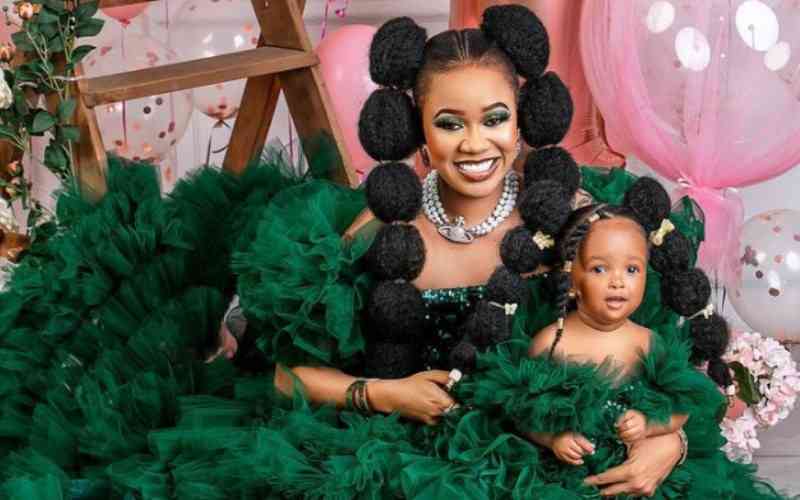 Vera Sidika has come out to defend her choice of Asia Brown's hair during her birthday photoshoot.
This is after some of her followers criticised her saying the hair looked too heavy for Asia, who celebrated her first birthday on October 20, 2022.
Vera described the braids in question as feather-light and disclosed that she removed the extensions immediately after their photoshoot.
She added that she knows what is best for her daughter, asking naysayers to conduct research and familiarise themselves with different hairdos before pointing an accusing finger.
"Lakini ushamba ni mbaya. People who experiment with different hairstyles will tell you how light Marley braids are. As light as a feather, and with how I treasure my child, there's no way I would ever put anything harmful or heavy on her.
"So before you, all judge, sit down and think. Then do some research. The concept was a mummy-daughter shoot. We had to have a similar look that fits best with the outfit we chose," she wrote.
Adding: "People are always quick with negative vibes as if a mom that gives birth to that child doesn't know best."
Vera could not hold back her joy as she looked back at how motherhood has transformed her over the past year.
She stated that she was hesitant at first due to various uncertainties but she would not trade the experience for anything.
The Veetox founder added that she is still learning but will go out of her way to give Asia the best life.
"For many years I postponed this phase because I was scared of motherhood. I was clueless. Still am. Because It doesn't come with a manual, but all I know is, as moms we always do the best we can for our little ones.
"I'm so proud of myself for making that decision & taking up the role as your mom. I'm grateful for Asia's growth, she has a personality to die for, very lovable, kind, jovial & happy baby," she wrote.
View this post on Instagram
A post shared by VERA SIDIKA (@queenveebosset)
Related Topics