Newly-elected governors have approached their assignments with zeal, some turning to populist moves to show intent.
Many have come up with policies such as cleaning up county payrolls of ghost workers in headline-grabbing antics.
Kisii Governor Simba Arati last week asked all county drivers to stand next to the vehicles they drive at the Gusii stadium. He carried out an inspection where he said he found out that there were 256 drivers compared to the 82 county vehicles. He said some did not even know how to drive a car, wondering how they were employed in that position in the first place.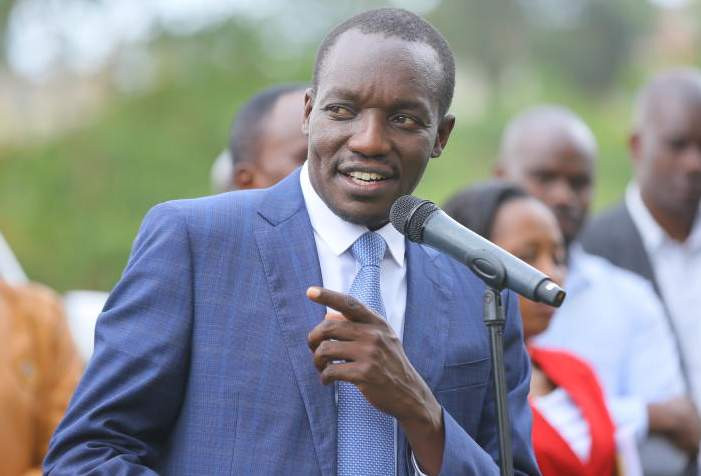 Arati also announced a purge that intends to get rid of 861 ghost workers in all departments.
"I found out that we have hundreds of ghost workers in the Kisii County Government who earn salaries for no work done, their days are numbered; we are going to clean up the payroll to have only people who are offering services to our people in the county payroll," said the governor.
"We are going to surcharge all the people who have been earning salaries in the county without working, we are also going to take action against the bosses who have allowed this to happen under their watch, this should not be happening at this time of the century," said Arati.
The governor has meanwhile preferred working away from the office used by his predecessor and instead using an office at the Gusii stadium for the time being as renovations takes place in the Governor's office.
Embu Governor Cecily Mbarire on the other hand has purchased padlocks and is keeping the keys to the county drugs store to ensure that there is no theft of medicine meant for public hospitals.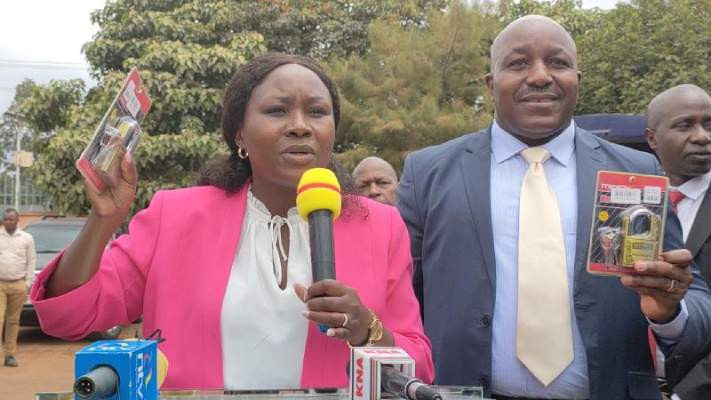 Mbarire, who launched the supply of drugs worth Sh19 million for the Embu County Hospital. warned medical personnel against stealing medicine and taking them to private clinics and pharmacies.
She said it was disturbing that county residents have been complaining over poor services at the county health facilities with little action being taken against those medical officers who failed to perform as expected.
"It is very sad that doctors, nurses, pharmacists and clinical officers who are employed by the government, will go ahead and steal drugs that are meant for poor residents. That is why I have bought these padlocks for the drugs store and I will be keeping the keys," said Mbarire.
And Nairobi Governor Johnson Sakaja ordered that all motorbikes impounded by the County Government Inspectorate be released and given back to their owners.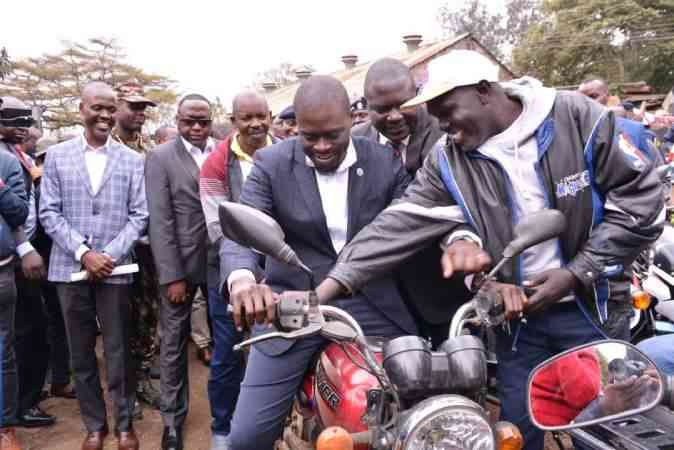 Sakaja asked boda boda operators to follow traffic rules to avoid clashing with law enforcement officers.
The Nairobi Governor assured the county's 13,000 employees that his government take care of their interests. He promised to ensure that they get their salaries on time.
"We have all been given a responsibility to serve city residents, I have been elected by the people and you have been given jobs to do, let us all do what is expected for us since I will not want anyone to make me fail in my duties during first term in office," said Sakaja.
However, hundreds of boda boda riders who went for their motorbikes in police stations in the city were turned away by police officers who demanded relevant clearance documents before they could release them.
In Homa bay, Governor Gladys Wanga has sent eight senior human resource managers on compulsory leave to pave way for an audit and investigations of human resource and payroll systems in the county, to weed out ghost workers who allegedly take home millions of shillings illegally.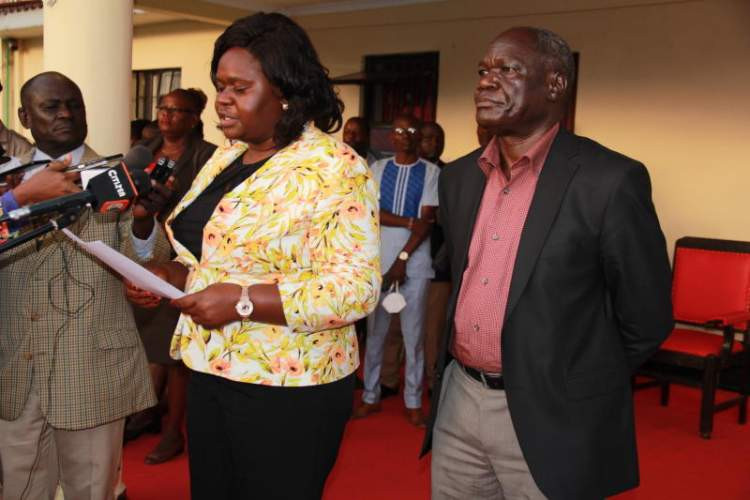 Wanga said her administration will be conducting a one-month audit intended to ensure that all county departments have the workers they need. She said it was a great concern that some people were earning pay without working.
Wanga further asked Homa bay residents to support initiatives intended to ensure efficient service delivery.
"The decisions we are making at the moment might be painful to some people but the people of Homa bay County want efficient service delivery, I promise to ensure that by the end of my 10 years as Governor, this county will have achieved tremendous development," said Wanga.
Bungoma's audit teams
And Bungoma Governor Kenneth Lusaka, who is serving a second term after a five-year break, has formed three committees to audit human resource, pending county bills and scholarships.
The committees are supposed to give him a report in two weeks.
Lusaka has raised concern over Sh1 billion pending bills in the county. The committee auditing pending bills will be out to establish which of these are genuine.
The governor said there was suspicious employment of hundreds of casual workers just before the general election.
He said his administration would check out how they were employed and whether the right procedure was followed.
"The committee auditing scholarships is out to establish the exact number of beneficiaries and the amount spent so far and also find out the amount needed to enable them complete their studies because we want this scheme to benefit the rightful individuals," said Lusaka.
Meanwhile, West Pokot Governor Simon Kachapin says initial reports have established that the county has over 1,000 ghost workers.
Kachapin, who made a comeback as governor five years after he lost the seat to former Governor John Lonyangapuo, said all county employees must adhere to good work ethics.
Machakos Governor Wavinya Ndeti has also threatened to sack county employees who misuse county vehicles.
"The people of Machakos have given me some work to do, I will not want to let them down, likewise I will not allow anyone to mess up with my performance since I will be evaluated at the end of my first term in 2027 and would like to serve a second term in office," said Wavinya.
Elsewhere, Meru Governor Kawira Mwangaza also hit the ground running, soon after she took her Oath of Office.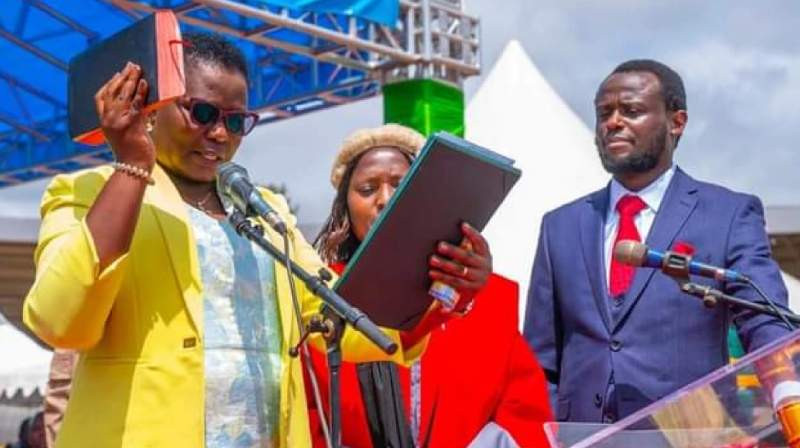 "I fully understand the gravity and responsibility that you have put on my shoulders. I do not take it lightly but I am ready for the task. I will get it done," she said, vowing to empower youth, and improve food security, health and other services.
She said she will reward staff on merit, and vowed to eradicate corruption.
"I shall not tell you to stop. We are coming for you!" she fired a warning shot to any people involved in corrupt dealings.
Ms Mwangaza started off at Meru County Revenue Board where she fired the CEO John Ntoiti.
"I have this afternoon made some changes in the Meru County Revenue Board to ensure efficient service delivery to the Meru people," said Mwangaza.
The fiery governor asked business people to ensure that they get receipts for all revenues paid to the county.
Mwangaza also ordered all items confiscated by the county over nonpayment of revenue to be returned to the owners and also banned the collection of revenue beyond 4pm across the county except for collection done along the county roads.
"My administration will be introducing suggestion boxes to be put in strategic places across the county so that residents can inform us whenever they see any county employee engaging in some unprofessional conduct with immediate action taken to remedy the situation," said Mwangaza.
And Isiolo Governor Abdi Guyo has also issued a warning to corrupt county employees to desist from sending elders to plead with them to retain them in their jobs.
Guyo said that the people who have messed up the county for the last 10 years are well known and that sending elders to him will not be of any help.
He said he had made a pledge to area residents that he was going to serve them well and would like to keep that promise.
Turkana Governor Jeremiah Lomorukai on the other hand has blamed the outgoing administration of neglecting the health sector with patients sleeping on the floor in the Lodwar County hospitals.
- Additional reporting by Phares Mutembei
Related Topics