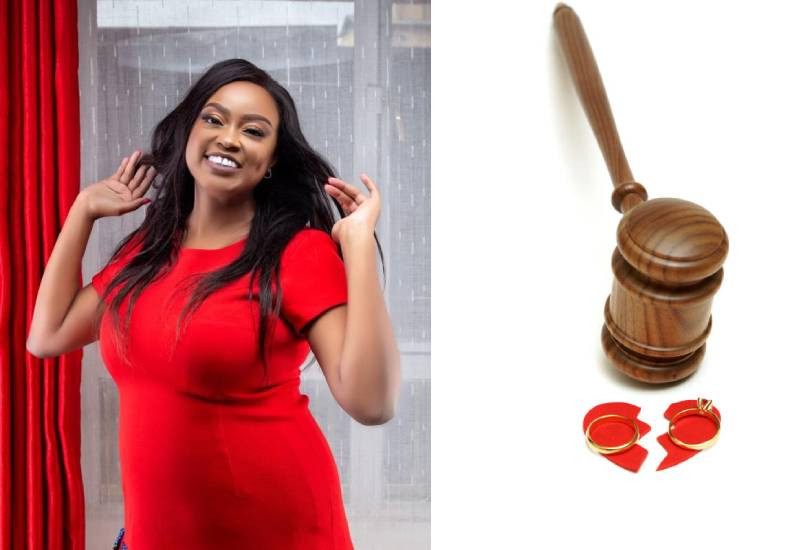 Who is Christine Muthoni…
I'm 39, a mother, and an advocate of the High Court. I'm also a published author of the book 'Conscious Uncoupling - A Personal Journey and a divorce coach.
WHEN YOU SAY YOU ARE A DIVORCE COACH, WHAT DO YOU MEAN?
Just like we have marriage therapists, I am that but the opposite. For couples who have decided to dissolve their marriages, I offer a foothold for them either individually or as a couple. I help them navigate the uncoupling process in the swiftest, most amicable, and least traumatic fashion.
HAVE YOU DONE A COURSE ON BEING A DIVORCE COACH?
No course whatsoever. I am a student of life who's passionate about relationships and the dynamics surrounding the same.
I draw my experience first from myself and from divorce clients I have handled in my profession. I am always sure to mention this whenever a client seeks to engage me in the capacity of a divorce coach.
WHAT EXACTLY IS UNCOUPLING, AND WHAT DOES IT MEAN?
Uncoupling is simply dissolving the couple status. The most common way couples do this is through break up or divorce. Both these words (breakup and divorce) conjure up images of broken families, arch-enemies at war, traumatised children, wasted resources, heartbreak, failure etc.
It is certainly not something that anyone who values peace, family, and love would enjoy engaging in. The majority of us wrongly believe that there is only one way to experience love, that all relationships must stay the same and last forever, and that a change in relationship dynamics automatically translates into personal failure.
Nevertheless, conscious uncoupling is where couples acknowledge that things have changed between them and that they are better apart, where couples are not afraid to choose themselves as individuals over and above societal expectations and pressure.
DO YOU BELIEVE THAT THERE IS A GAP OR NEED FOR A DIVORCE COACH?
There is a gap and a huge one at that. Lately, the focus has shifted from the length of relationships to the quality of relationships. If the relationship is poor, people are less inclined to tolerate the relationship. Unlike before. That is why the divorce rate has spiked.
However, the ease with which people are leaving unhealthy unions today does not mean it is not a painful process. Uncoupling is painful even when it is necessary. But we were never taught how to grieve the loss forever. Instead, we were taught that quitting is for failures.
So, we have many divorcees walking around with guilt, fear, shame, bitterness, and anger wrapped nicely in a box of stigma and a bow on top.
Somebody needs to step in and let them know that a failed marriage does not make them failures. That there is much life and love beyond uncoupling and that their feelings are valid.
Somebody to tell them that the sun will shine one day soon if they make the effort to reinvent themselves. That is the gap and that's where I come in.
WHAT DO YOU LOVE ABOUT BEING A DIVORCE COACH?
The fact that I can help couples salvage everything they have between them even when their marriage has irretrievably broken down. The norm has been that when a relationship ends, enemies are automatically born and others inherited.
Unfortunately, everything else that existed between the couple dies with the relationship. Even the children's lives are affected. But they're adversely affected by the end of their parent's relationship.
With conscious uncoupling divorce coaching, I get to show the couple other ways of being. Ways of being where they can mutually agree that their relationship is not working and it is okay to set each other free and co-exist beyond their past and their differences.
WHAT ARE THE CHALLENGES OF BEING A DIVORCE COACH?
Newly divorced couples often have a difficult time imagining how this can even be possible. But skepticism is normal and I dare even say expected when one is fresh out of a heartbreak. That is the season when they look for ruthless lawyers to teach each other lessons.
As I said, it is a season. It comes and goes. With deliberate effort, one day you wake up and realise, it was never that serious. Life goes on and it goes on better when you are at peace and ease.
WHAT IS YOUR MARRIAGE STORY?
I got married at 29. I thought marriage was just something people do when they fall in love. So, I thought life would be butterflies and rainbows forever and that that was enough.
I believe as women we do things like this not because we know what we are getting into but because that is what is expected of us. Especially in Africa.
Girls are raised to make good wives in the future as opposed to being raised to actualise our own dreams and aspirations. No matter what we do, there is always that programming that there is a man behind our ambitions. We are doing it so that we can be chosen (by some man someday).
Then after we are chosen and married, we realise that we are not prepared for most of what unfolds after. Our expectations are those of happily ever after. Real life is different.
WHAT IS YOUR DIVORCE STORY?
I was married for a decade. There really is no 'aha' moment and true enough, it is easier to stay in a miserable marriage. Walking away happens subtly and gradually.
For women especially, you find that she checks out of the marriage emotionally long before she actually physically checks out.
That's why they say 'When she stops crying over you, it's time to get scared'. It means she has detached from you. She is there but she is not really there.
TELL US ABOUT YOUR BOOK?
My book is titled "Conscious Uncoupling-A personal Journey" It was inspired by my passion in writing perfectly timed right when my marriage was coming to an end. It is said that the first benefactor to a book is the author herself. It was truly cathartic for me.
It is a sweet blend of my personal journey through separation, divorce, grieving, healing, thriving thereafter and of course sprinkled with a few legal lessons here and there.
It took two years, thinking and writing, before I launched it in May this year. It is currently available for purchase in local books outlets.
Related Topics