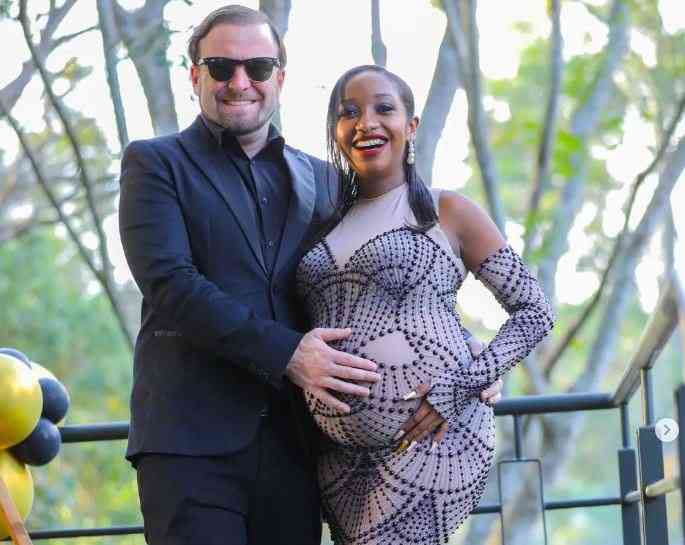 Media personality Anita Nderu and her husband, Barrett Raftery, have announced the arrival of their first child, Kaya Gacheri Catalina.
Sharing a picture of their adorable newborn with their online family, Anita said that Kaya arrived on Friday and was beyond grateful for the gift of parenthood despite its challenges.
"I am no longer pregnant. @barrettraftery and I finally got to meet our daughter Kaya Gacheri Catalina Raftery (Rap name: Nippy Suckle) on the 26th of August 2022 at 3:48am. What a whirlwind couple of days it has been. We are elated beyond words, grateful and in love and awe of our little human. We're finally back home. Our rent free house mate is about to reveal her true colors as she schools us through the 4th trimester. Parenthood 101 is now in session," she wrote.
View this post on Instagram
A post shared by Anita Nderu (@anitanderu)
The couple first announced they were expectant sometime in July, and netizens could not keep calm as most were left stunned by the creativity put in the pregnancy reveal video.
"To say I am in awe of your outpouring love for our pregnancy announcement video is an understatement. Thank you all so much! It was a labour of love and art that took months to plan and was executed by amazingly talented Kenyan creatives I have so much love and respect for, thank you once again for bringing the vision to life in such a dope way! How we did it is a story I will share soon. P.S If you guessed that was our baby's heartbeat in the video, you were right," she wrote.
Since the reveal, Anita has shared with fans her pregnancy journey with constant updates and adjustments in preparation for the baby's arrival.
"Peanut better start packing up the placenta and USB umbilical cords it's almost time to exit the rent free world of the womb to the rent free real world for 18 years. The final lap has been absolutely swamped, scary and glorious and I am so grateful for this experience. B and I are so excited to be parents and share our love and lives with our little human. Thank you for all the amazing advice, words of encouragement, real talk and expectations settings, support, gifts and positive vibes. We appreciate it all," shared Anita in a previous post.
The couple got married in September 2021, with only close friends and relatives in attendance. Before their wedding, Anita kept Barret out of social media until curious netizens figured out who he was, forcing her to introduce him.
"Everything about you makes my heart melt with happiness. I wanted to cherish my human and keep him to myself for as long as I could since the cat is out of the bag now, at least spell his name right. He is Mr Barrett Raftery," wrote Anita in a previous post.
Related Topics