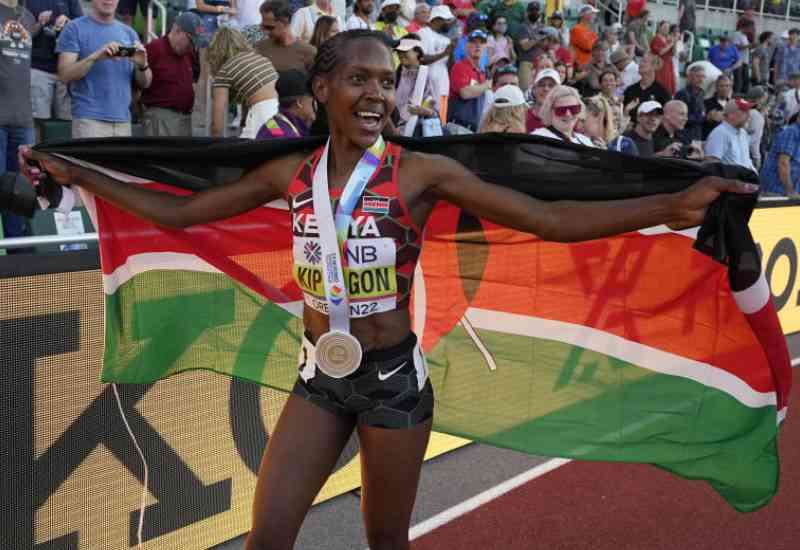 Faith Kipyegon is not a new name in the world of sports. Many refer to her as the modern-day superwoman.
Faith has proven over time that there are no limits to what one can achieve if one set their mind to it.
Her latest milestone is securing the country's first gold medal at the recently concluded World Athletics Championships in Oregon. Faith put her best foot forward and won the women's 1500 metres race.
That aside, she doubles up as the Double Olympic and World champion and she now hopes to break the world record.
Before that, Faith became the first woman to clinch two gold medals at the Summer Olympics and two at the World Championships. She disclosed that her next target is the Monaco Diamond League.
"Nevertheless, I am looking forward to getting what I am still missing in my cabinet and that is the World Record. I hope to get it soon when I am still enjoying top form," said Kipyegon.
To add to her many titles, Faith was among the athletes honoured with the Order of the Grand Warrior by the president for her exemplary performance in athletics.
She trains regularly and is a firm believer in herself, and that has helped her throughout her journey.
Faith resumed training for the World Championships and went ahead to win gold at the Olympics after taking a break to have her baby.
"Motherhood is the best thing ever. Even more than winning at the Olympics. She is the reason I keep going. She is everything," the sportswoman says of Alyn, her daughter.
"My coach, the management, officials and my doctor supported me through it until I made a comeback just as strong as I had been before," she said in a past interview.
Faith, the seventh out of eight children, takes after her father Samuel Koech, who used to run in his days.
"That was a long time ago. He used to run in local competitions where they would win blankets, lamps and such items but he never competed abroad. At least I have taken the baton and continued going," she once said in an interview.
Faith has had a long career in running, having started professionally doing so at the age of 15. She considers Vivian Cheruiyot as her hero.
She is married to her fellow athlete Timothy Kitum, a once bronze medalist in the 800 m race at the 2012 Olympics.
Related Topics