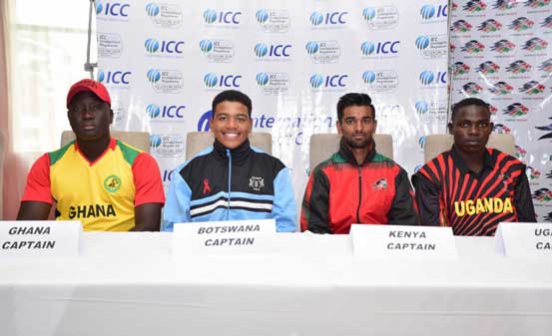 Kenya to play against Uganda, Ghana and Botswana in round-robin format.
The quest for a slot in next year's International Cricket Council (ICC) Under-19 boys Cricket World Cup Africa Qualifier begins today at Nairobi Gymkhana and Jaffrey's Oval.
Hosts Kenya, Uganda, Ghana and Botswana will battle it out in a round-robin format with the top team earning the lone ticket to New Zealand for the global competition.
The winner of this event will join Namibia who will also represent the continent having earned an automatic entry thanks to their impressive show at the 2016 Under-19 World Cup in Bangladesh.
Namibia was the top-ranked ICC Associate Member in Bangladesh after beating Nepal by 15 runs in seventh place playoffs
The feat earned them the sole automatic spot that was reserved for the best performing Associate Member at the last World Cup. The homeboys launch their quest against Ghana at Gymkhana while neighbours Uganda take on Botswana in their opener at Jaffrey's Sports Club.
Kenya's coach James Kamande said that his players are under no pressure despite being expected to impress on home soil because age-group cricket is for learning and career mapping.
"There is no pressure, all they need to do is come out and give their best because that is what is expected of them.
"One match at a time is our strategy and my players are all determined to give their best and qualify," Kamande said.
He added that he expects his players to capitalise on home ground advantage and make the opportunity count.
"We are playing at home and we should make our familiarity with the grounds count.
"However, they are young boys and it is their time to play to enjoy the game, once they get it right the victory will come effortlessly."
Fresh from winning the Africa Under-19 Division Two title in South Africa, Ghana Coach Francis Kofi said that they are on a mission to prove that the West Africa nation is not good only in football but can excel in cricket and other sports.
Botswana, under the tutelage of former Kenya international Joseph Angara are also hoping that this is the year that they will shine.
Meanwhile, Cricket Kenya President Jackie Janmohamed says that there are plans to revive the Eastern block with a series of tournaments in the region.
Related Topics