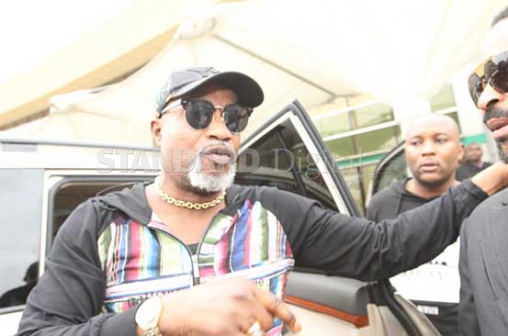 Rhumba maestro Koffi Olomide caused a scene after assaulting one of his female dancers at the Jomo Kenyatta International Airport, Nairobi, yesterday.
The incident caused uproar on social media as Kenyans condemned Koffi for the despicable act.
The musician arrived in the country accompanied by his Quartier Latin International Band for a grand concert tonight at Bomas of Kenya Main Hall courtesy of Nsanna Promotions.
A source said short tempered Koffi had engaged in war of words with one of his female dancers and his lead singer Cindy Lokole.
A man managed to capture the scuffle on his camera before police intervened and stopped the musician from further assaulting the dancer.
Koffi, who is visiting the country for the fifth time, is no stranger to controversy.
He was barred from attending Papa Wemba's funeral, after they differed following Koffi's departure from Viva La Musica to form Quartier Latin in 1986.
The singer also made headlines after he reportedly slapped a DRC journalist for asking 'personal questions' regarding controversies surrounding his life.
Koffi recently struggled to make funeral arrangements for his father, Charles Agbepa Mumba, who died in a Paris hospital, owing to the fact that for years Europe and in particular France has remained a no-go zone for him.
This follows three counts of rape and illegal confinement filed against him by three former backup dancers in 2006 and 2008. According to reports one of the plaintiffs was a minor at the time of the alleged sexual assault.
Koffi, who is among the musicians perceived to be allied to the Kabila government, faced protests by opposition activists based in European cities every time he visited for a performance.
A source revealed that efforts by renowned Congolese musicians to stage concerts in Paris have been futile due to crowd hostility.
Jumped the VIP queue
Also during the burial of Pepe Ndombe Opetum, Koffi jumped the VIP queue.
He got on the wrong side of the law after assaulting his producer Diego Lubaki following disagreement, over 3,000 Euros (about Sh9.5 million) deal.
The incident happened at Kinshasa's Zenith Hotel and was the latest in a series of clashes with promoters. "Koffi confronted the producer demanding his dues thereafter it become physical," a source revealed from the DRC capital.
However, musicians and fans feel there is still time for Koffi to redeem his image.
Koffi's show tonight, Dubbed The Return of Mopao Mokonzi - will see revelers dance to the best of rhumba and tchacho tunes.
The rhumba maestro promises an electric six hours non-stop show which he describes as bigger, better and bolder. The musician could not hide his love for Kenya, which he refers to as one of his favourite destinations and close to his heart.
"My fans should brace themselves for the best of music and sensational dance styles," he said.
He said Kenyans will be the first fans to be treated to a live performance of his new music.
"This is one event you cannot afford to miss. I intend to give Kenyans the best of original rhumba oldies that will re-ignite the lost long memories of original rhumba which for long has been considered as dead and buried," he said.
The event comes hardly five months after his recent performance at the Arboretum that saw hundreds of fans attend.
This is Koffi's fourth visit to Kenya in 14 years.
He first came to the country in 1993 and performed at Safari Park Hotel and in 2000 at various joints among them City Cabanas.
The celebrated Congolese star whose latest music 'Selfie' has dominated the airwaves said he likes the country's beauty and the hospitality of Kenyans.
"The fact that Kenya tops the list of Lingala lovers in Africa and their undying love for Lingala music regardless of the language barrier has always made me feel at home besides cementing my relationship with local fans, friends including my brothers and sisters from the lakeside whom we share similar characteristics with – making them part of my big family," he reveals, adding that for this reason he has never turned down any invitation.
However, music commentators agree that, Koffi, whose career has spanned 30 years with a string of hits under his belt, is today a pale shadow of himself.
Koffi has numerous stage names, including Grand Mopao, Mokonzi, Tcha Tcho king, Shakespeare of Zaire, Nkolo Lupemba and Sarkozy, after former French President Nicola Sarkozy.
A couple of years ago he stepped on the toes of many Catholics in Kinshasa when he added "Benedict XVI of the Congo" to his names. This was seen as disrespect to Pope Benedict XVI - the former head of the Catholic church. Worse still he placed banners at various spots in Kinshasa bearing the name. A source who lives in Kinshasa recalls: "There was a public outcry over the use of the Pope's name in his promotional material."
Koffi made his debut as a songwriter when most of his earlier compositions in the late 70s and 80s were released through Papa Wemba's Orch Viva La Musica Band.
His Nairobi fans say he has often out-smarted others by labelling his albums with coded messages.
Related Topics