Home
/
Lady Speak
Long distance lovers are a selfish lot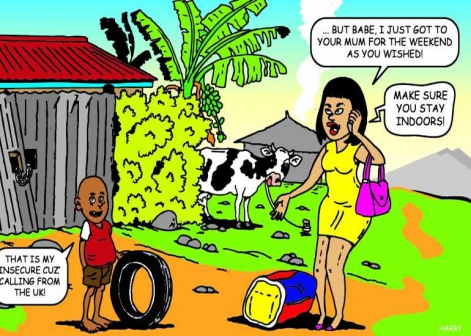 Ladies, if you have ever survived a long distance relationship in Kenya, you are fit to run for presidency as an opposition leader in any African country, especially those still under modern dictatorship. Personally, I believe it's by the grace of God I came out alive from one such relationship.
I will never again put myself in such a situation, even if the person in question is a prince. Okay, I am lying. I would think twice if a prince approached me for a long distance relationship. I know Tony Mochama will call me a gold digger because of this but who cares? After all, I am approaching that age where money can buy love.
These men who insist on long distance relationships are the devil's agents. Why would you make an innocent woman commit to a ghost hundreds or thousands of kilometres away?
If at all you decide to relocate for whatever reason in the initial stages of your relationship, don't expect your woman to behave like a child in boarding school and is expected to behave herself as she waits to see her parents on visiting day. Some of you men even go ahead and plant spies on the poor women. Not even a girls' night out is allowed, let alone a male friend!
I have a friend whose boyfriend sends her to his mother every weekend just so he's sure she doesn't go elsewhere. Remember this is just a relationship, not even a marriage.
Personally, it would take me three days to get all the information I need from a potential mother-in-law. From the fourth day onwards, I will be gossiping or most likely be the subject of gossip. But you and I know gossip is a sin, so please, do not put us in a compromising situation with the moral police.
No one wants to go to hell because of a long distance relationship. If possible, these relationships ought to be put to a permanent or temporary halt the moment the man boards a plane, ship or whatever to that other land miles away from you. I am concentrating on the men today because I know what they can put a woman through. Men, if you want to hear about the ladies I suggest you direct your thirst to the man who writes below me. He speaks on your behalf.
These men will monitor your every move from whichever part of the globe they are in. On the other hand, they will never tell you where they are or what they are doing. In most cases, they will be out of reach on their phones even for days and when they suddenly reappear, they want to talk to you as if they have just woken up beside you after a two hour siesta.
Men, if you are going to question my one hour absence from home, it is only fair if you explain your two-week absence from all the social platforms present. We would wish to know who you were with and what exactly you were up to. If possible, your explanation should come complete with pictures, videos and sound clips.
In fact, you should be going live anytime you are out socialising with friends so that we too can monitor your every movement.
If you accepted to get into a long distance relationship with me, let us both suffer the agony of not knowing where each one of us is. Do not bombard my friends and relatives lines asking them what I am doing and whom I am doing it with. I do not call your dean neither do I call your boss at work. In fact, not even the Kenyan Embassy in the country you are in knows we are in a relationship. You make us go through hell then come back married or engaged.
Related Topics