Beryl Wanga Itindi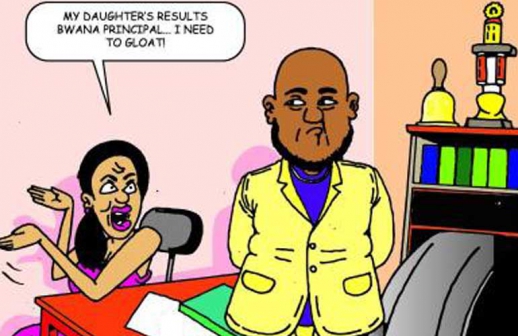 The Kenya Certificate of Primary Education (KCPE) results are out and, as usual, some families are celebrating while others are devastated. During such a time many moons ago, my family was in the same situation.
Everyone was eagerly waiting for my results, except my mother. Not that she was not aware of the results, she was much aware. In fact she had been the first and last one to send me huge success cards during the examination.
The only reason she was not waiting for my results with bated breath was because she had made sure that everyone in the neighborhood knew I was not a top student in class. At least that way, she was sure no one was going to compare my results to those of their children.
There is nothing as traumatising as having almost every parent in your neighborhood waiting to compare your results to their children's. To make it worse, there were no mobile phones in those days and so results would just be pinned on a school's notice board for all and sundry.
People would rush to your school to have a glimpse of your performance especially if your parents had made it clear that you were a 'National material'. I am not sure how they are referred to these days now that national schools are everywhere unlike those days when they were limited, hard to join and were for the chosen few.
I must admit that my mother played with people's psychology then. Thank God her quick thinking saved me from the numerous judgmental eyes that were ready to pounce on any candidate. She was this talkative woman that could say anything and everything, that is how she ensured all the Toms, Dicks and Harrys did not look forward to my results. She was at the fore front ready to pounce on anyone who would use my results to bruise my ego.
So on the day the results were announced, my father went to my former school and came back with my results. Yes, I did not manage the cut points for a national school but secured myself a provincial school.
READ MORE
As neighbours whose children had been candidates walked from one house to another comparing notes, they avoided our house like the plague not wanting to associate with failures. My mother, on the other side, was overjoyed.
Two days later, I had my full results with me, my mother placed them on our coffee table and waited in vain for any nosy neighbor to walk in and inquire. When she realised no one was interested in my results, she changed her game and went and sat outside the door placing my results on a stool and securing them with a piece of wood so that the wind did not blow them away. Still, no one bothered to ask.
That is when she divorced her patience and decided it was her time to go door to door with my results in one hand and my hand in the other. I had a long day smiling at every statement she made about my hard work to neighbours.
I knew my mother well though, her actions did not surprise me a single bit. In fact, they made my life even funnier and crazier. She is one of those human beings sent right from the epicenter of heaven.
I am writing this to encourage all the students who have just received their results. No matter what you scored, no matter who you pleased or did not, never take your eyes off your goal. A beautiful future awaits you!