BERYL WANGA ITINDI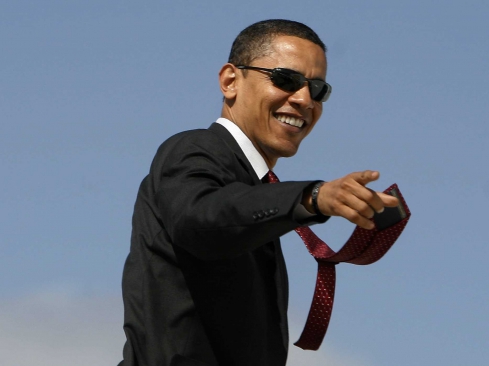 We too at Kamayole want Obama not to pass us by
Finally, we have less than a week to see 'our son'. I hear people call him Potus (President of the United States). Initially, we'd heard he was going to be around for eight hours; but the degree of preparations that went on was still on high gear.
The improvement of roads that he is expected to use can be described from here to the backyard of Timbuktu and back, leave alone the beautification of things that maybe he might not even lay his eyes on.
Oh and the grass, yes, the freshly planted grass along Uhuru Highway with the warning sign 'Do not step on the grass'. It took me a while to see it. I thought the sign was misplaced. Then I remembered I was in Kenya and popped my eyes wide open for a better view, that's when I saw the 'green grass'.
Someone please tell me what technology will be used to make that grass look like grass before Potus makes a landing.
Then I saw the tiny rocks that had been 'planted' some years back then 'uprooted' by God knows who! Or did they disintegrate like we were taught in Geography? What kinds of rocks disintegrate anyway? Backolith? Latholith? What other kind of 'olith' were we taught again? Whoever 'harvested' them last time must be smiling like an emoji.
Anyway, we here at Komayole are really praying that Potus makes a surprise visit to our place and use the Manyanja Road via Outering Road; and please, public transport should not be paralysed.
READ MORE
We want him to see how good we are at driving on the left side of the road as we respect other road users. Those four donkeys that are always jogging to and from Bee Centre and Embakasi should be present on that day too.
That cameraman who walks all over Umoja with a camel that smiles more than the person posing for the photo should also be left to run his business.
To my beloved Forward Travellers. On that day, hoot as normal like you are just entering the home of a prominent full-blooded Luo male. That way, Potus might just decide to sponsor us all, or better still adopt us. I am sure the road to Kogelo is much better than all roads in Komayole put together.
Unfortunately, no prominent person ever gets the chance to see this other side of Kenya. They are all made to pass through the 'face lifted' Mombasa Road to wherever they are headed to.
Outering Road also leads to town by the way, and it's probably faster. Don't these prominent people get bored of using the same route daily? Pork (President of the Republic of Kenya) passed through Jogoo Road once or twice, and he must have developed some backache because he kept his distance after that.
These old men in Eastlands must have been very faithful to their partners during their youth. You mean none of you veered off his marriage and fell in love with a white foreign woman whose womb is blessed to hold great leaders for nine months? Anyone in Ruai? Saika? Kangundo Road? Even Mwiki Kasarani? Here in Komayole the farthest we can hit is Sudan.
You see, we sometimes run into Sudanese in the Double M mini-buses when we have been paid our dues and abandon Forward Travellers.
We hope that one day one of us will be lucky enough to sire a powerful Sudanese who will give our roads a face lift when he/she will be coming home to see where he/she was conceived!