Wangeci Kanyeki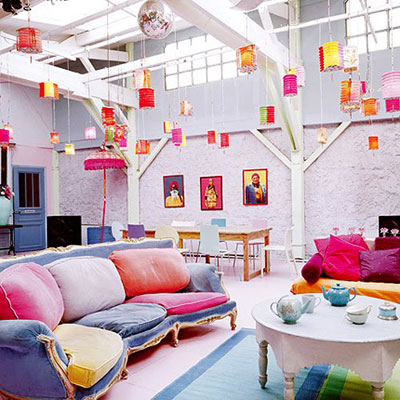 If you have never thought about it, observe how colour affects your mood. From the clothes you wear to the car you drive, to the paint colour on your office wall.
A lot of purchasing decisions we make are based on colour preferences. Your living or working space is no exception. I once entered a gym with every intention of fulfilling my new year's resolution to be healthier.
When I walked in, I was greeted by a green colour painted on the wall. It was so repulsive, I could not bring myself to workout on the treadmill in that kind of environment. I never went back and I suppose they never understood my reason for not returning.
Colour not only provides visual pleasure or displeasure for that matter but it has both physiological and psychological components. Certain colours will lift your spirits while others dampen your mood.
According to Billy Mugambi, an established local artist, "today's urban culture is experiencing an increasingly sophisticated and aesthetic-driven colour revolution. Brightly coloured interior walls and panelling have replaced the traditional creams, beiges and off-whites and Kenyans have become bolder with use of colours".
He says men can be seen in pink and yellow shirts while the ladies are wearing luminous coloured braids and nail polishes. Even soccer and rugby players have moved away from the conventional black boot designs to an array of brilliant palletes that look quite stunning.
"In construction, floor and wall tiles as well as corrugated roofing sheets are being made available in a generous array of eye-catching colours," he says.
READ MORE
Colour has the power to evoke specific emotional responses in the viewer based on personal, cultural and even universal trends. Warm colours such as reds, oranges and yellow stimulate people, whereas cool colours such as blue and green have a relaxing calming effect.
Choice of colour should reflect five psychological factors, namely cultural association with colour, the profile of the audience and its colour preferences, the character and personality of the organisation represented, the occupant's personal relationship with colour and an awareness of current colour trends.
A little understanding of the psychological effects of colours will offer you some guidelines on the colours to select. That notwithstanding, there are no hard rules; your own response to particular colours should be the basis of your choices.
Below are some factors for your psychological consideration when selecting colours for interiors:
Cultural association with colour
When designing, beware that different colours hold different meanings to different cultures. According to a colour symbolism chart by Jennifer Kirnin, in Western cultures, red colour is associated with passion, danger, excitement and love, hence its use on Valentine's Day. In Eastern communities, red stands for purity hence the Indian bride will be dressed in a red sari. In some South African communities, the red colour denotes mourning.
Hence when selecting and designing colours, it is important to understand what emotion that community associates the colour with.
Mugambi says that Kambas, for instance, are known to prefer bright colours like yellow and green while the Maasais are associated with ochre red. The Dutch, on the other hand, are associated with the unmistakable orange colour.
Audience profile
Always consider the users of the living or working space. Like the calming effect of the ocean and the sky, hospital rooms will have colours that peacefully calm down the patients such as tranquil blues and calming greens.
Though people are generally more productive in blue rooms such as libraries, study rooms and offices, certain shades of blue can be cold and depressing. A blend of warm shades such as yellows and oranges can neutralise and lift the depressive mood.
A space for teenagers will require vibrant youthful and exciting colours that will resonate with that age group and present a fun attractive space.
Character and personality of the organisation
Most retail outlets will decorate in brand-led designs based on the colour on their logos whose colours are carefully selected based on the organisational culture. Blue symbolises loyalty and dependability and many banks and financial institutions include blue in their logo colours.
According to Eugene Ngugi, the Managing Director of Planning Interiors Limited, in the case of commercial (business) environments, the interior colours used must enhance the client's brand ethos and provide an appreciable return on his investments.
An organisation dealing with children's products may use whimsical luminous colours such as lime and purple, orange and yellow to attract it audience.
A ladies retail shop will use feminine colours such as soothing pink and lavender, which suits their clients while a religious organisation may choose to use royalty colours such as purple or royal blue.
Food outlets such as restaurants and hotels tend to use red in the eating areas, which is an emotionally intense colour that stimulates appetite and increases the heartbeat and can be used to create a romantic setting in a bedroom.
Occupant's personal preference
Choosing a right colour means finding the right colour hue that makes you feel comfortable and at home with it. Most people have a natural tendency towards a certain group of colours such as the warm sun colours like oranges, reds, yellows and browns, which make a space feel cosier.
Using warm earthy browns in tall, chilly and uninviting rooms creates a psychological rise in temperatures and makes them more welcoming. Deep warm pink colours will not only perk up a boring bathroom but will provide a sense of psychological warmth.
The amount of light in a room has a great effect on colour and will affect its tone, warmth and depth, so you need to factor in the lighting component when selecting the colour density. "Consider the time of the day the room will be in use, climatic conditions and the geographical setting around the room when selecting colours of a room as well as the personal tastes and preference of the occupant," says Mugambi.
Colour trends
In Europe and other regions with distinct weather patterns such as winter, spring, summer and autumn, colour trends change with the season.
Colour coding experts study various communities and come up with the mood chart of the colour hues that various people groups prefer to use at a particular season in time. Manufacturers then produce furniture and furnishings in those shades.
According to Ngugi, though global trends are moving towards modern sterile looking interiors with plenty of white colour and clean lines, Kenyans, however, prefer warm bright colours which are probably a result of our tropical habitat filled with rainbow coloured fruits such as mangoes, bananas and oranges.
It could also be a reflection of our essence as community-oriented people as opposed to the more individualistic trends seen in first world countries.
Our art is a perfect expression of this trait as many local artists use bold bright colours as their preferred mode of expression.
There is also an emerging emphasis on higher quality more natural finishes and sustainable green designs. "Manufacturers are now producing paint finishes and tile products to meet this demand for natural finishes or a natural stone finish look," he says.
Photo: somethinglovelyhere.blogspot.com