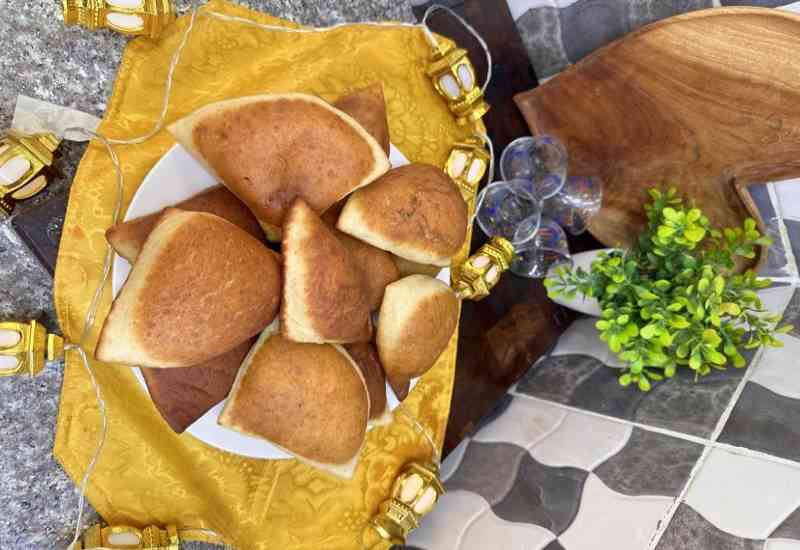 Today we make mahamri (mahambri), a leavened bread. This delicacy should not be confused with mandazi. Mahambri are hollow, while mandazi are fleshy. Mandazis are made with baking powder, while mahambris have yeast.
Ingredients:
3 cups flour
1/2 cup sugar
2 tablespoons vegetable oil
1/2 teaspoon cardamom powder
1 tablespoon instant yeast
1/2 cup yoghurt or lala
1/2 cup milk
1/4 cup coconut cream
Vegetable oil
Method:
In a bowl add the dry ingredients.
Make a hole in the centre, and pour in the yoghurt, coconut cream and milk.
Knead until the dough is soft.
Now add the vegetable oil and knead until you get your desired consistency (about 10 minutes).
Shape the dough into about eight balls and cover with a wet cloth.
Allow them to prove until they become double in size.
Roll each ball flat (like a chapati) and cut into four quarters and set aside for five minutes.
In a wok/karai add the oil over medium heat.
Once the oil is hot fry the mahambri.
The white line that appears between the maham bri means they are just perfect.
Enjoy with kuku wa kupisha, viazi vya rojo or tea.
Related Topics