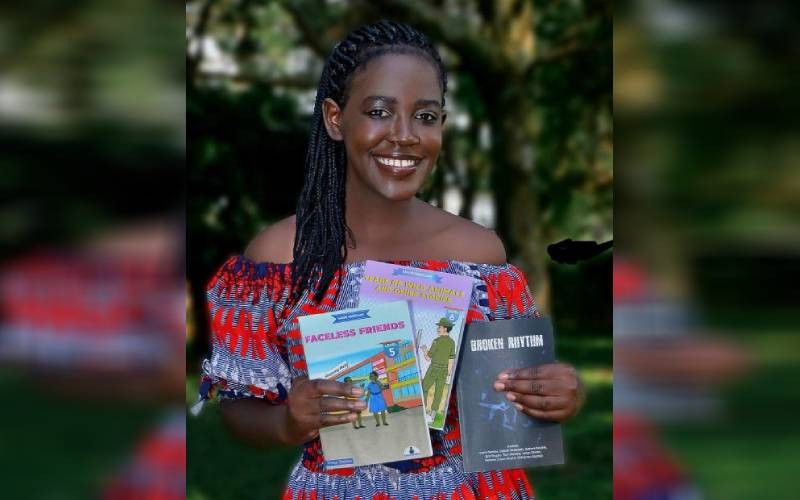 If you ask a lot of children in Grade Five what their favourite book is, they might tell you that it is Faceless Friends by Vivian Sharon Odongo.
The book's blurb reads, "Musembei and Diana have made friends on social media, but they do not tell their parents or guardians. Some of the friends have profile pictures of famous people they see on TV. After chatting for a while, Musembei and Diana start trusting their new friends who seem to be caring and understanding. The friends even offer to buy them nice things. But there is a catch; they want Musembei and Diana to fulfil a deal before they receive their gifts..."
It is a fun read with modern themes, teaching children about safety measures while using the internet. It is a supplementary read in line with the Competency Based Curriculum (CBC)'s requirements for teaching children about cyber safety.
The book, which was the first one Sharon ever wrote, has been her most successful book. "Children like it a lot so that motivates me to do more," Sharon told Eve.
And done more, she has. She has written four other books, three of them as co-author, including Grandma Is Sick, Tears of Wild Animals and Other Stories and Broken Rhythm.
Her fifth and latest book is a guide book to The Samaritan, (The Samaritan is a set book).
The surprising thing about Sharon being such a prolific author at only 27, writing is not her main job, it is what she does on the side. She is an agriculturist, currently pursuing a Master's in Agricultural Heritage from the University of Florence in Italy.
However, she has an enduring love for writing. "I was writing short stories on Facebook when I met a certain editor. He is the one who approached me and told me that he saw potential in me to write books, so I started writing after that," she says.
Discovering that she can write has been her biggest accomplishment, but her love for stories started at a young age. "My mum loved reading books and she bought a lot of magazines. I remember reading Eve on Saturday and Crazy Monday and I loved them. I think that shaped where I am now in terms of writing," she says.
The headteacher at the primary school she was attending, Susana Millenium Academy in Migori County also fanned that flame. Her love for the written word had taken root.
She had not decided what she was going to study after school.
"I consulted a cousin, and she advised me to do agriculture. I do not regret it, because I have grown in the profession. I am okay where I am. I am able balance both of them," she says.
How does she manage to juggle both?
"For me writing is not so demanding, I can write from 10 pm to 1 or 2 am, and then during the day I work on my career. And I don't write every day, so during the weekend I can try to write and then on weekdays I'm at work so doing both isn't difficult," she says.
One may picture a prolific author as having a ritual, a special place where they write from and a strict writing process but not Sharon.
"I just come up with an idea and start writing!" she says with a laugh. "I don't normally plan. I know some people plan and plot but I just wake up and start writing. Sometimes I get ideas in the middle of the night, so I have to wake up and put them down on my phone or something. And then I will write it out later. I get ideas from everywhere."
It may come as a surprise to some, but writing for children is not easy. "Writing for children is difficult because you have to write at their level. So at first, you might find yourself writing lengthy words and sentences but for kids, you have to shorten them. With time, after you have learned how to do it, it becomes interesting," she says.
As an author, she is also a reader, with Meja Mwangi being the author she looks up to most.
"I read one or two books a month. I am also in the Kakamega book club and at the end of the month we have to discuss a book. I have so many books I love but my favourite one is Going Down River Road by Meja Mwangi," she says.
She is usually reading a couple of books at a time, so one of the books she is reading is the book club one, which is the Reunion by Kekelwa Nyaywa.
What is her advice to aspiring writers? "Just write. So many people say, 'I want to write a book' and my advice is, if you want to write, just write and see where it goes," she says.
She is currently working on a Grade Seven storybook that is a CBC supplementary read and intends to keep writing until there are no more books left in her.
"I plan to keep writing as long as I can do it," she says.
Related Topics