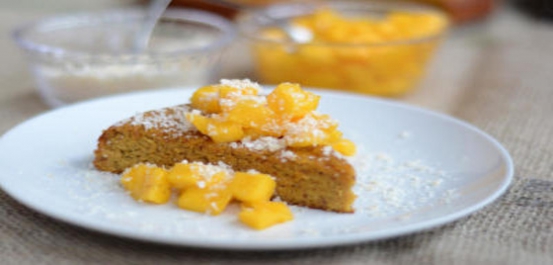 A friend recently asked me to bake a cake for her. She had guests coming to dinner. With mangoes in season, I thought this would be a nice and different cake to bake. I tried it twice and was happy with the results. To say that she was thrilled is an understatement.
My own family keeps asking when I will bake it again. It was friendly to the pocket - all I had to add to my shopping list was the mangoes. I blended some mango to a pulp and combined it with the whipped cream for the topping...yum yum!
Prep time: 20 mins
Bake time: 30 mins
Ingredients:
½ cup sugar
1/3 cup vegetable oil
1 egg
½ cup, 2 tblspoons all-purpose flour
¾ teaspoon baking powder
¼ teaspoon salt
¼ teaspoon cinnamon
¼ teaspoon nutmeg
¾ cup mango, peeled and chopped
Confectioner's sugar and whipped cream for topping (optional)
Directions:
Grease a 6-8 inch round baking tin and preheat your oven to 190C or gas mark 5.
In a bowl, beat the sugar, oil and eggs until well blended. In a separate bowl, combine the flour, baking powder, salt, cinnamon and nutmeg. Once combined, gradually beat in the sugar mixture and mix well, finally fold in the chopped mango. Pour the mixture into the baking tin and bake for 25-30 mins or until a toothpick inserted in the centre comes out clean.
Remove from the oven and allow to cool for 10 mins before removing from the baking tin onto a wire rack to allow cool completely. Sprinkle with confectioner's sugar and whipped cream if desired.