Lolita Bunde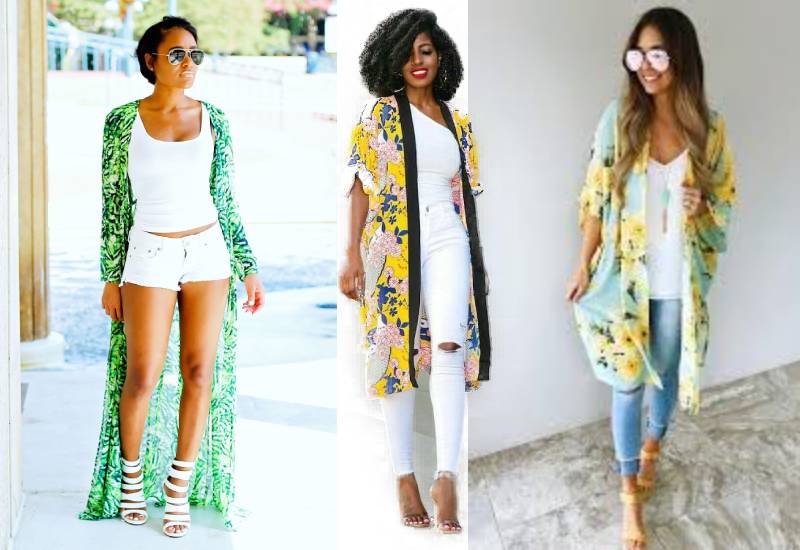 When Kimonos first came into fashion, styling this traditional garment proved difficult to most ladies considering the fact that it doesn't easy to blend with other pieces, not to mention how light it is. It is difficult to pull a kimono during cold seasons, but with some little creativity and layering it can work just fine.
However, that was then, Kimono has since made its name in the fashion industry and taken over the streets with a bang. More ladies are now leaning towards this laid back look and nailing it.
Kimonos are inspirational, beautiful and give quite the finish when mixed with other pieces properly. Here are five tips to help you style your kimono like a pro:
Go the casual way
When you want to pull the perfect kimono look, keep it casual. Avoid going with strong pieces that will make your outfit look overdone or not properly planned. Kimonos are already extra with all the motifs and patterns going on, in order to balance and tone it down go with casual pieces like jeans trousers or shorts.
Jeans are neutral and they will let your kimono pop with colour and keep you comfortable all day long. For the top part, depending on whether you are going with high-waist pants or low-cut jeans a crop top or normal tank top will do respectively.
Remember to put on a plain top without prints or mixed colours and let your kimono do all the talking.
Match it with a bodycon
Nothing screams perfection like a bodycon dress or skirt outfit properly matched with a kimono. When it comes to styling outfits, it is all about balancing proportions and giving your whole outfit some structure.
Kimonos are generally oversized and flowy, in order to balance this excess material you have to match them with smaller pieces and bodycons do this job perfectly.
As mentioned before, kimonos are generally full of colour and patterns and pairing them with neutral coloured bodycons would give an amazing combo and finish. This outfit can especially work for dinner dates and other cosy meetings.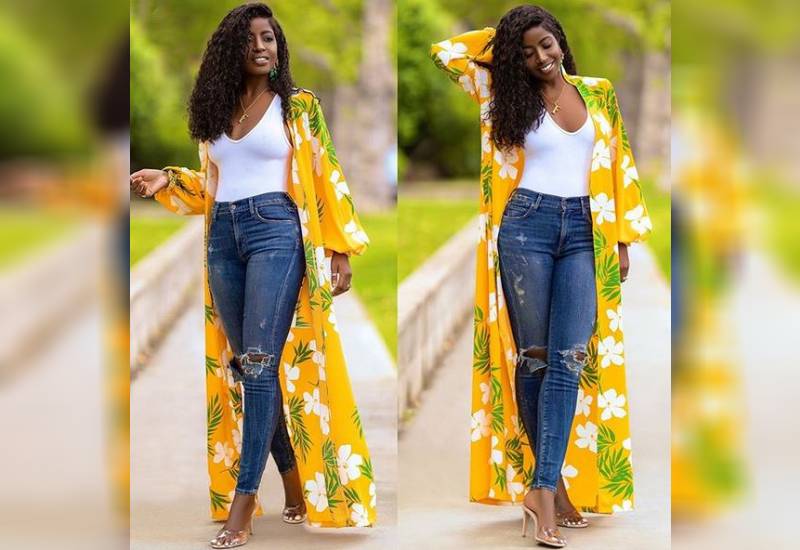 Try layering your outfit
If the casual looks don't work for you, maybe you can try and match you kimono with other heavier pieces like a turtleneck and jeans pants, although fabric pants can work too.
The turtleneck can be of stretchy material or sweater like, depending with how thick you want to go. Considering most kimonos incorporate a lot of colour and patterns, you will want to keep the rest of your pieces subtle.
For instance, you can go with a black turtleneck and pair it with a charcoal black jeans trouser and throw on your kimono. Your outfit will be simple and chic and to complete this look you can add some boots to give it an edge.
Accessorize your outfit
When matching your outfit pieces, don't shy away from accessorizing when putting on your kimono. Considering all the colours and patterns in most Kimonos, it is normal to feel adding accessories would be a little extra but it really isn't.
You can always match your kimono with some dangling earrings, a chunky necklace or a hat. Kimonos generally give the Boho-like vibe and adding some little spice to it wouldn't hurt.
So long as you remember to tone down on the accessories, do not go all out on accessories while putting on your kimono. A chunky necklace, dangling earrings and a hat can only work one at a time.
At most, go with two of your favourite accessories and slay. A belt can also give your kimono some structure in case you don't want it free and blowing into the wind or you are going for a gown like look.
Flare on Flare outfits
Sometimes breaking the rules is all it takes to creating the perfect outfit. When doing a kimono, you can try matching your oversize kimono with a flared pants.
It might seem a little risky but it would be a worthwhile one, the flare pants and kimono work blend well so long as you keep your top simple and small. You can do a fitting crop top so that the focus is not entirely on your baggy look.
Also ensure to keep your pants and top solid to avoid looking tacky and overdressed. Lastly try and work with the same colour scheme to make your outfit look more chic and easier on the eyes.