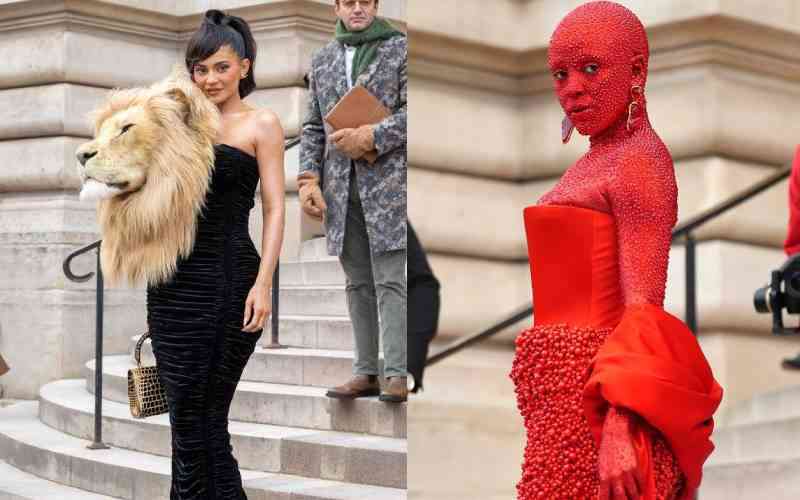 Kylie Jenner spotted a huge lion's head attached to her black dress as she made a quirky appearance at the star-studded Schiaparelli show during Paris Fashion Week.
Her look has the internet divided.
The reality star, 25, turned heads with the huge stuffed accessory as she posed up a storm heading into the venue on Monday.
The fake animal was sewn to the front of a chic figure-hugging black velvet dress that had a stylish strapless design
Kylie accessorized with a pair of statement gold shoes with out-there toe markings and a snakeskin bag.
The beauty wore her dark tresses in a sleek ponytail and opted for a typically glamorous makeup look.
Diane Kruger commanded attention as she arrived at the star-studded Schiaparelli show during Paris Fashion Week yesterday.
The actress, 46, looked sensational in a quirky black and white mini dress while posing up a storm before taking her seat in the front row.
The denim frock boasted a striking print as well as bright gold buttons and she layered it over a black sweater.
She completed the stylish look with a chic beret and carried the gold colour story into her accessories.
Diane accentuated her features with a gorgeous palette of make-up and slicked back her blonde tresses with a single statement curl.
Doja Cat didn't disappoint either as she arrived at the fashion week.
The songstress, 27, commanded attention in head-to-toe red body paint and completed the bold look by covering her body in 30,000 Swarovski crystals.
The outfit - which took five hours to perfect - also featured a red satin corset along with a lavishly beaded skirt and knee-high boots.
She added extra drama to the already out-there look with a long shawl and large ruby earrings.
Related Topics