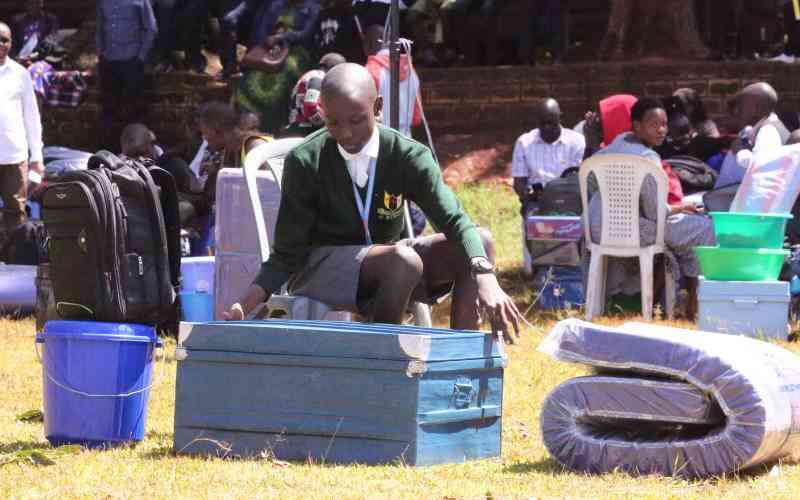 With secondary schools gearing up to admit a new lot of Form One students from Monday, many school principals are facing a financial dilemma forced to run the institutions with almost empty coffers.
Even as government aspires to achieve 100 per cent transition from primary to secondary education, most schools are running on debt as high inflation rates make it difficult for their management to run operations with the current recommended fees.
Accumulated school fee arrears running into millions, high inflation rates that have pushed up the cost of living, severe drought in parts of the country, and stretched facilities are some of the issues posing challenges to the school principals.
Several secondary school principals who spoke to The Standard said their institutions have accumulated fees balances running into millions of shillings, while the cost of food has escalated, making it a difficult task to manage the institutions.
"We are currently operating under Dr Kilemi Mwiria committee recommendations of 2013 that set the current school fees structure, which is no longer in conformity with the present high inflation that has pushed up the cost of essentials," said one principal.
The principals who spoke separately and on condition of anonymity said they expect to admit new students from next week in line with the government's expectation of 100 per cent transition, but said it will be an ardous task managing the institutions with the current high cost of goods.
They said for the last two years, the school financial calendar has been disrupted due to interruptions caused by the Covid-19 pandemic. With four school terms per year, they said, most parents have not been able to clear school fees for their children.
"The government gave directives no student should be sent home for lack of fees. At the moment, we have accumulated arrears and do not know how we shall recover funds owed by candidates who concluded their Kenya Certificate of Secondary Education (KCSE) and have collected their certificates," said a Principal.
The official said they cannot withhold the documents since the government gave directives that learners should collect their documents. The head teacher said they are yet to recover over Sh20 million in fee arrears from former students.
The head said construction of additional classrooms in secondary schools to accommodate Junior Secondary School will help after the government announced that Grade Seven will be domiciled in primary schools.
"The additional Competency Based Curriculum (CBC) classes will help, but the challenge is on boarding. We are not allowed to charge extra levies but purchasing additional beds and making repairs to accommodate additional learners in the 100 per cent transition plan will be a challenge," said one of the heads.
Another principal noted that the severe drought that has hit parts of the country has led to high prices of food commodities.
"With the current inflation rate, purchasing a bag of maize is at Sh5,500 while beans costs over Sh11,500. Transport charges have also increased due to the high cost of fuel, yet there is no adjustment in school budgetary allocations," added the school head.
The Principal said fast-changing food prices have seen suppliers of goods and services make upward adjustments in prices, hence disrupting allocations made at the beginning of financial year.
According to the principals, the average cost of basic needs have escalated.
They cited sugar, which used to cost between Sh5,000 and Sh6,000 but now retails at 9,500 per 50 kilogramme bag, cooking fat from Sh4,000 to Sh7,000, maize that used to retail at Sh3,000 now costing over Sh5,200, and beans, which used to sell at Sh7,000 but now at Sh11,000 among others.
The principals said the fee structure that was set by the Dr Mwiria-chaired task force needs to be reviewed and shouldered by the government since parents are also affected by the harsh economic situation.
One principal from a day school within Eldoret said parents left accumulated fee arrears amounting to Sh2.5 million meant for food programmes.
"Majority of the parents have relocated to the rural areas and we do not know how we shall recover the arrears left behind by Form Four candidates," said the principal.
Kenya Union of Post Primary Education Teachers (Kuppet) Nandi Executive Secretary, Paul Rotich, and Uasin Gishu Chair, Sostein Bellat, urged the government to consider doubling the free secondary school capitation funds and to also release the funds on time to enable schools be well managed.
"Inflation rates have shot high yet government annual free education funds have not been reviewed for a long time. There is a need for the government to double allocations," said Mr Rotich.
"With the expected 100 per cent transition, it will be a challenge managing schools that already have stretched facilities, especially boarding," said Bellat. "The government has not reviewed boarding rates since 2014 and there is a need to address the high cost of basic needs in schools."
Bellat further noted that staffing will be a challenge if new teachers are not hired to replace those deployed to Junior Secondary School.
Related Topics