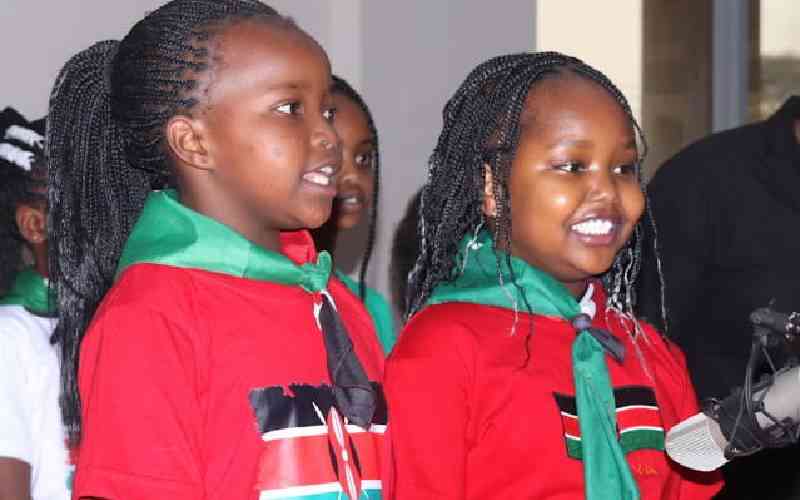 Grade 3 learners from various private and public schools in Nairobi showcased their ongoing learners progress to their parents on Thursday as school term came to an end.
This was in line with the Kenya National Examination Council (KNEC) guidelines on the Competence-Based Curriculum (CBC) where the learners must undergo certain assessments.
The Moi Educational Centre hosted parents of, among others, Mwiki Primary School and Goodrich International Academy to witness their children's progress.
Deputy Principal (Administration) Mathews Echoka said the institution is making strides in adhering to the KNEC guidelines.
"This year's theme is 'molding a patriotic citizen for peaceful co-existence'. Under CBC, teachers are supposed to teach kids pertinent issues, such as the need to embrace the nation, despite our ethnic, religious and other differences," Ms Betty Limo, the Senior Teacher (Junior School), said
"Grade three pupils recently visited some needy people and put a smile on their faces by donating foodstuffs and spending time with them," she said.
Ms Limo added: "We are glad that CBC provides opportunities that help the needy benefit from school donations. Caring for the needy is part of patriotism."
She said last year's theme of the assessment was about cultural activities for environmental and social well-being.
Limo said that children were taught to love and appreciate their respective ways of life, but also to respect other cultures.
She noted that children are born predominantly as blank slates, where anything can be written.
"It is up to teachers and parents to imprint in them useful knowledge and ethics that will ensure peaceful coexistence," Limo said.
Joseph Kamau of Mwiki Primary School said: "Raising a patriotic citizen is a core responsibility. The children demonstrated their patriotism when they took to the stage with patriotic songs, dances and poems."
Related Topics